/ DIY
Circuit-bending a repurposed synth. © Quentin Chevrier / Makery
Bricole it Yourself #1, it was cool
Makery held its first Bricole it Yourself ("DIY") jamming session on Saturday, January 31. The concept : 15 people gather around a table to make anything and everything all afternoon, before being joined by a curious few for a friendly drink.
Words and photos by Quentin Chevrier
On the far wall of the common room at Les Ekluz (cultural and digital factory where Makery lives), the large windowsill displayed the elements : on one side, reclaimed materials to be used, cut-up, broken… (public bicycle saddle, old Macs, helium tank and balloons, video cassettes, shoes…) ; on the other side, electronic components to be creatively employed and handled with care. Some brought their own tools, while others searched for inspiration in the reclaimed pile.
EKLUZ – Photos from EKLUZ's post | Facebook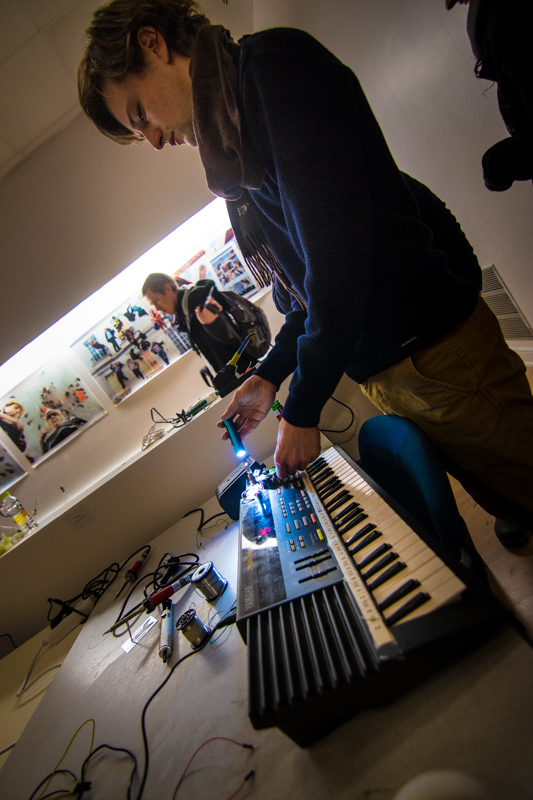 Valérie and Jennifer experimented with controlling RGB Neopixel LEDs via Arduino.
Meanwhile, Patxi tested a particle sensor by putting out a candle inside its cardboard box. The smoke rose through a filter, then through a sensor connected to an Arduino, which detected whether or not the filter was properly doing its job. Patxi would like to adapt this open source particle-filter test for a 3D printer.
Benoît tackled step-by-step remote-controlling a motor mounted with a webcam. The Dragonframe software takes a photo, a bit of sound, the motor rotates one notch, takes another photo, the motor rotates another notch, and so on, until it completes a full rotation to achieve a 360° stop-motion portrait.
Bricole it yourself #diy #360 #arduino #motors #makery #bricoleit
Louis chose to build a sort of USB Polaroid, in which a Raspberry Pi and its camera wait for the command to take a photo. Once the command is given, the countdown begins (bottom left in the image below). 5 seconds later, another photo is taken and saved onto (any) USB plugged into the Raspberry Pi board. Basically, it's a "Polaroid" digital camera whose photographs are only visible once the USB is read on another computer. The original plan was to save the photo on a diskette that would eject from the reader like a real Polaroid photo, but obsolete technology got the better of this retro idea.
EKLUZ – Photos from EKLUZ's post | Facebook
Mélanie discovered Littlebits and the simplicity of building things without coding or soldering using these little electronic Legos.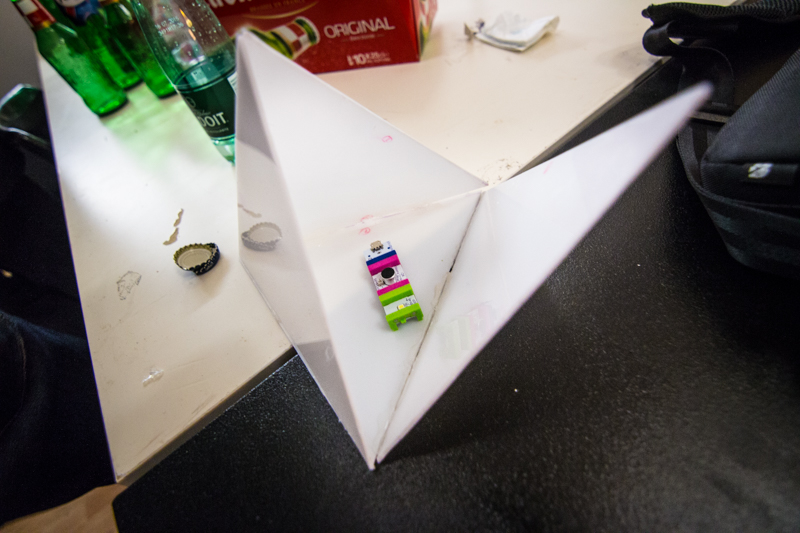 Julien (of Dood Studio) and Cyril (of CKAB), both 3D-printing professionals, had fun creating a manual 3D printer. Using a few buttons and a joystick (connected to an Arduino and a Raspberry Pi), they controlled the printer's motors and dispensing the material. The experiment was just as funny as it was telling—all the manually controlled print-outs were complete failures.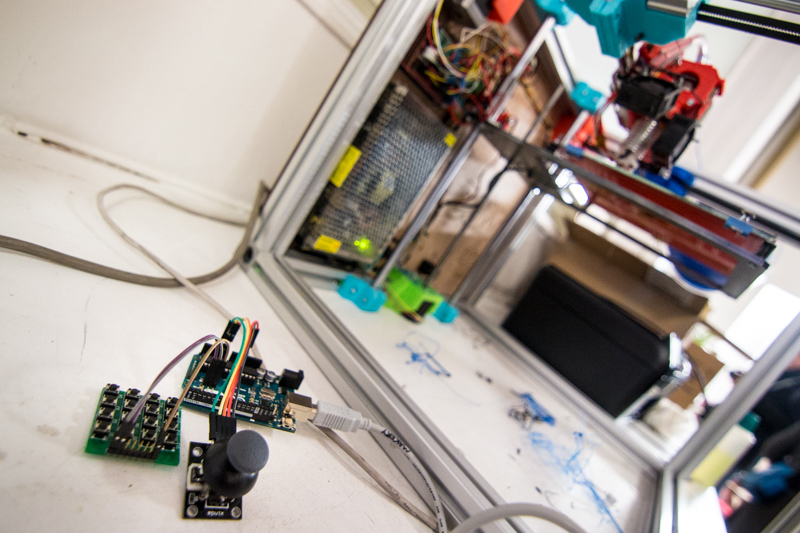 Alice tackled an old Macintosh hard disk by disassembling, Dremel drilling and reassembling it into a small luminous robot.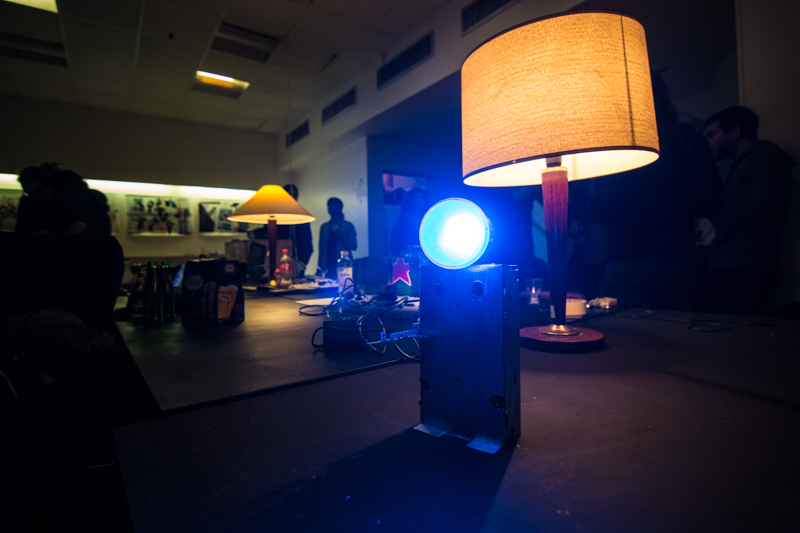 Ariel was originally interested in hacking an old sound toy, but the electronic board was beyond repair. He finally turned his attention to a VHS cassette, using a repurposed DC motor from a printer to spin the magnetic tape hanging out of the cassette. The result was a long and agonizing display of technological suicide. When the system was triggered via USB connection to a Macbook, we were treated to a disturbing display of inter-machine torture ! Ariel took the time to document his installation on video.
Rendez-vous in March for the second edition of Bricole it Yourself, which will also take place on a Saturday at Les Ekluz.