/ Lab Life
YCAM cultural complex in Yamaguchi (Japan), from digital arts to fablab. © Cherise Fong
In Yamaguchi, YCAM embraces digital arts, from prototype to lab
A huge complex dedicated to digital arts and media, YCAM in Yamaguchi opens its artistic production to prototyping and open source, beginning with its in-house fablab, Edu Lab. Intimate portrait of a massive space.
Yamaguchi, from our correspondent (words and photos)
The Yamaguchi Center for Arts and Media (YCAM) is first and foremost a place. With its population of 200,000, the small city of Yamaguchi in southwestern Japan offers three poles of pleasure: Yuda Onsen (touristy hot springs), the big shopping mall, and YCAM—an extraordinarily long steel building containing several exhibition and performance spaces, laboratory, foyer, cinema, patios, restaurant, children's playspace… and the Yamaguchi City Library. No doubt YCAM is a destination in itself.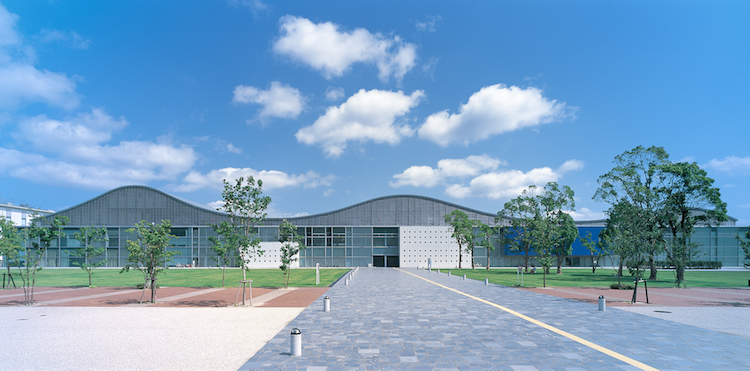 The building. © Yamaguchi Center for Arts and Media [YCAM].
Cultural complex dedicated to media
Designed by the architect Arata Isozaki and opened in 2003, YCAM was an initiative of the city of Yamaguchi to create a local cultural complex, which finally specialized in media. YCAM now sits at the heart of a district extensively wired in cable broadband, which it shares with TV, radio and IT companies. Artwise, YCAM's first consultant in realizing its ambition to be an international cultural center was none other than the internationally renowned collective Dumb Type.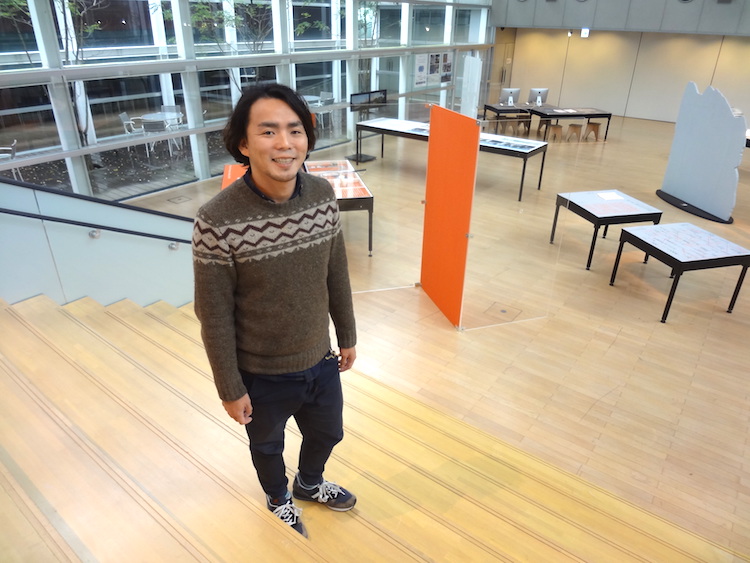 Today, YCAM is run by a young and dynamic team, including assisant curator Tsubasa Nishi. This former contemporary art student of Tama University, studying under Yuko Hasegawa (chief curator at the Museum of Contemporary Art Tokyo), came to YCAM for the first time in 2012. During an intensive two-week internship leading up to the opening of an exhibition, he was hands-on everywhere, working closely and forming relationships with the staff, curators, educators and technicians. Currently his main responsibility is planning and coordinating projects, moderating discussions between artists and technicians before their real-space encounter.
Space designed for open communication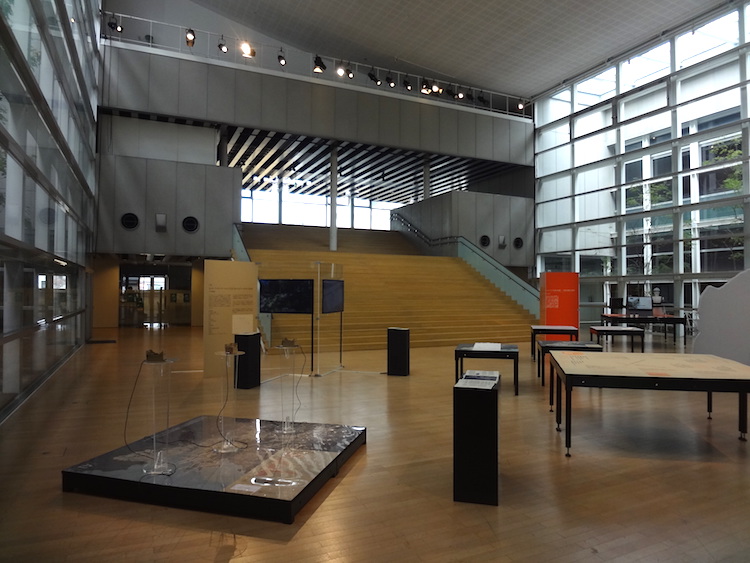 For Nishi, YCAM is characterized above all by flatness—its organization, human relationships, the building itself.
"What impressed me was the flexibility, the flatness of the space. There is no hierarchy, the concept is physical as well as metaphysical. It's a bottom-up team that works together organically. We are all in the same room, with the directors sitting at the same level, so it's a nice atmosphere. This comes out of not just our positive relationship but the fundamental structure. Everything is built around open communication, transparency." Tsubasa Nishi, assistant curator at YCAM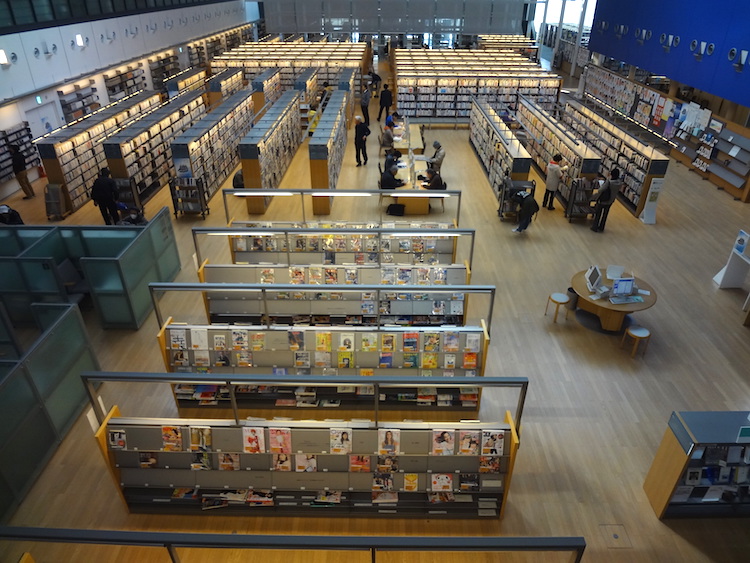 In line with the municipal vision, Yamaguchi City Library is directly integrated into YCAM, occupying a vital one-fourth of its fluid, open space. The public library is also the starting point for many local residents' discovery of media arts, as they venture into the rest of the complex, asking the staff questions as they wander and browse. It's a certain advantage for the YCAM team, who are always trying to attract a wider audience to their events and activities. On the other side of the building, a large park welcomes families, whether they come for a weekend picnic or to eat at the Italian restaurant located on the ground floor.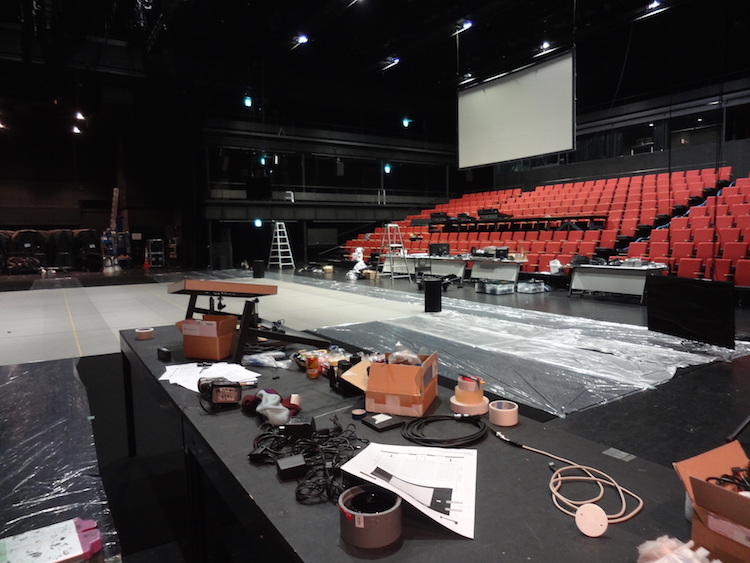 Experimental artworks in the spirit of open source
Despite YCAM's evident luxury of space, there are no housing facilities for the artists-in-residence who visit throughout the year. No matter, as the artists are quite happy to do their research without distraction at a center where no one comes to disturb them, before going back to enjoy the hot springs near their hotel in Yuda Onsen. In 2008, YCAM invited three artists and international collectives to create site-specific installations and animated films at selected hotspots for the "Yuda Art Project".
Among other projects commissioned and exhibited by YCAM since its opening are several sound and audiovisual installations by Ryoji Ikeda, Otomo Yoshihide and Ryuichi Sakamoto, interactive installations by Carsten Nicolai and Daan Roosegaarde, animations by Shinchika and the famous Cloud Forest, a sound-enhanced fog installation by Fujiko Nakaya and Shiro Takatani.
Perhaps unsurprisingly given its dedicated children's play area, YCAM even transformed the foyer into an "art park" especially for kids in 2012. In late January 2015, the center presented Dividual Plays, a dance performance that offers a glimpse of the recent research in motion-sensing robots led by Yoko Ando of the Forsythe Company.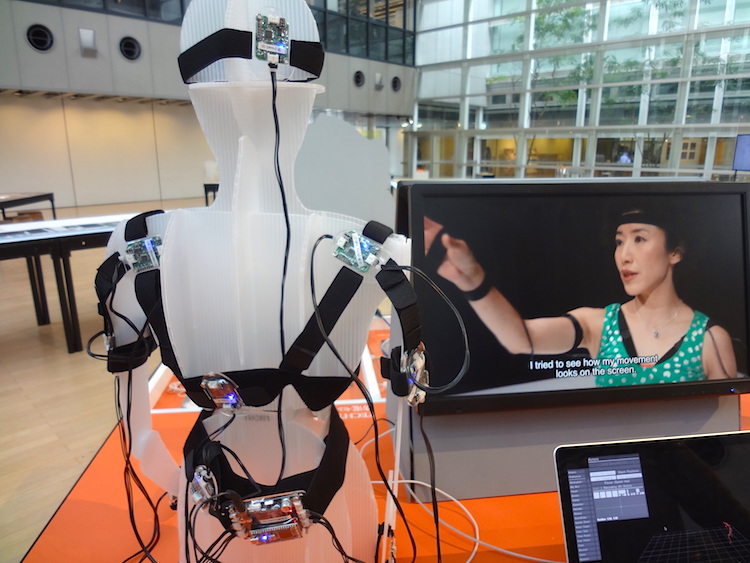 Trailer for "Dividual Plays" (2014) :
From inspiration to realization
As YCAM is just as much an exhibition space as it is a place for research and development, the majority of projects presented are artworks initiated by the in-house team, while the curators invite artists to come and create a piece using the new digital tools. They also work with artists and programmers that they discover through open workshops.
"We plan our own activities, then we research the artists who are most suitable for the project," Nishi explains. "Our basic activity is building up knowledge and techniques by ourselves. Here there are always not only researchers and curators, but also technicians, engineers, programmers. We want to share ideas around new technologies. There is no strict direction. We produce works, but the basic techniques are open source. We can do very rapid prototyping, through cycles of trial and error, we have a good ecosystem. From inspiration to realization, it's a very short time."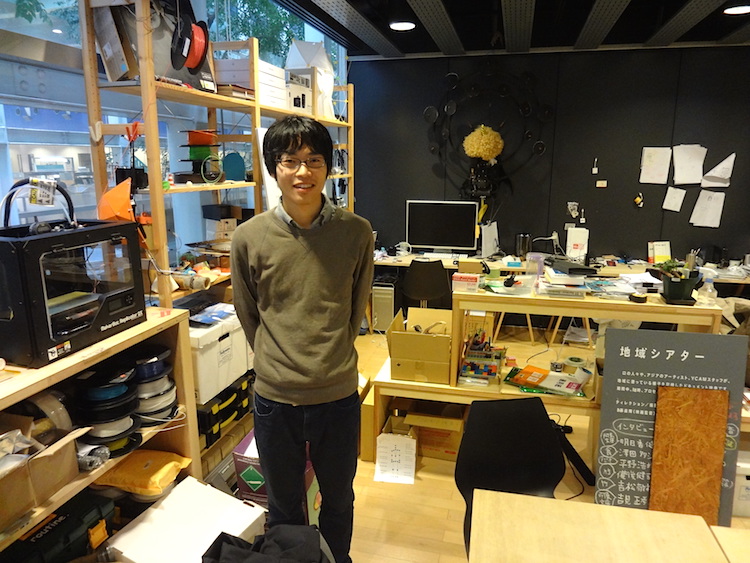 Of course, YCAM also has a more straightforward fablab that is open to the public : Edu Lab, managed by educator and researcher Mitsuhito Ando. Inside we find the obligatory 3D printer, paper lanterns held together with bamboo and 3D-printed joints, a Kinect hacked to serve as a 3D scanner, a surrealist sculpture created by FabLab Hamamatsu, lots of wood and even an entire box of discarded deer horns reclaimed from the region.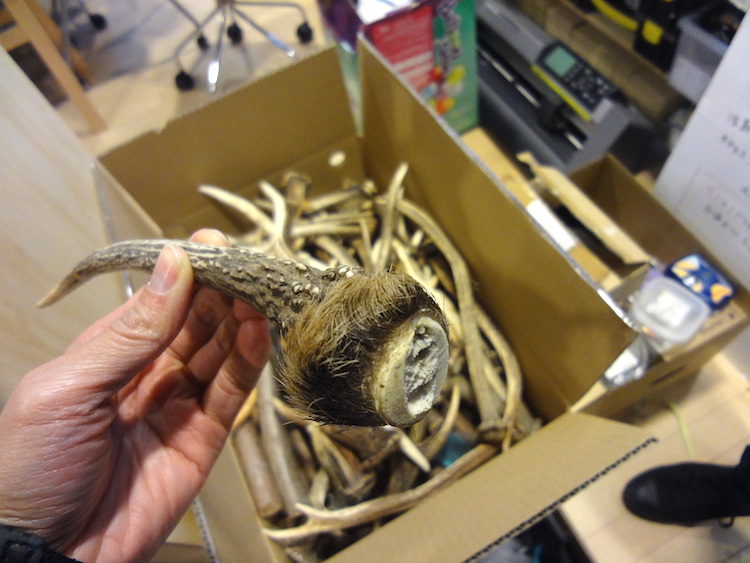 In the near future, Nishi wishes for more collaboration with both local citizens and ambitious new media amateurs, not only from Yamaguchi but also in Hiroshima and especially Fukuoka, the biggest city in Kyushu : "I see some alternative spaces starting up, but they're weak and isolated. Our center can do more things, create a network, stimulate and feed the community with all our resources. It's the next step—to think of Yamaguchi and Fukuoka as a whole."
YCAM is open to the public 10:00-22:00. Closed Tuesdays and holidays.
Admission is free, including exhibitions.
Tickets can be purchased for film screenings and special performances.
Childcare is also available for a small fee during library hours and evening performances.
YCAM is wheelchair accessible. Parking is available for 170 vehicles.