/ Lab Life
Fablab Dazaifu in Kyushu, Japan. © Cherise Fong
Kyushu, three fablabs on Japan's third-largest island
Far from the lights of Tokyo, the skyscrapers of Osaka and the temples of Kyoto, the southernmost island of the Japanese archipelago is bubbling with new fablabs. Kyushu, better known for its natural hot springs (from volcanic sand to melting mud to boiling waters), has its own reserve of digital hot spots—beginning with three local fablab members of the FabLab Japan network.
Kyushu, from our correspondent (words and photos)
Do It With Families in Dazaifu
Located a few train stops away from the tourist town's historical center, 4-month-old FabLab Dazaifu occupies a space that is saturated with light and wood. Its laser-cut logo represents the Japanese name of the lab in ultra-modern katakana script and kanji characters, which greet visitors as soon as they walk through the door. While the tourists flock to the city's ancient ruins, shrines, temples, one of Japan's three national museums and a Starbucks architectured by Kengo Kuma, some residents take the more progressive path toward personal digital fabrication in this friendly neighborhood lab.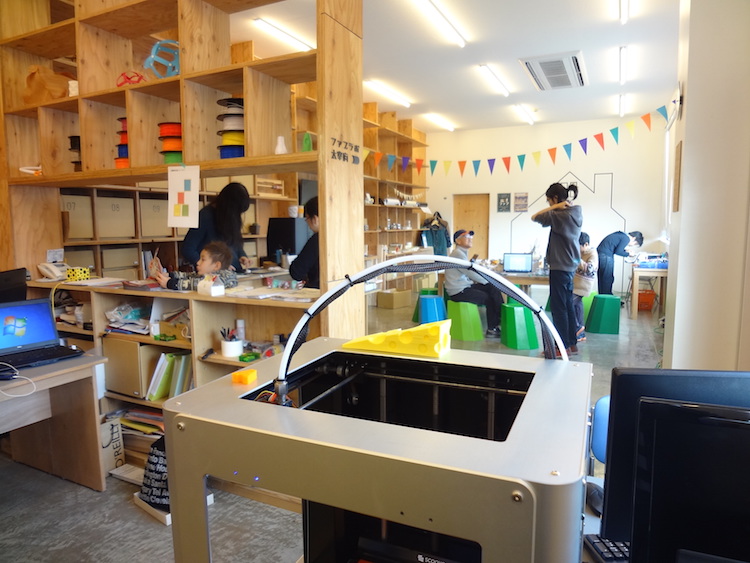 Among them, 8-year-old Sota Hashimoto came with his grandfather to make a simple switch with an LED and a light sensor. All by himself, the boy collected the elements and asked a staff member to help him with the soldering. It wasn't long before the mini-lamp was switching on and off under Sota's little thumb.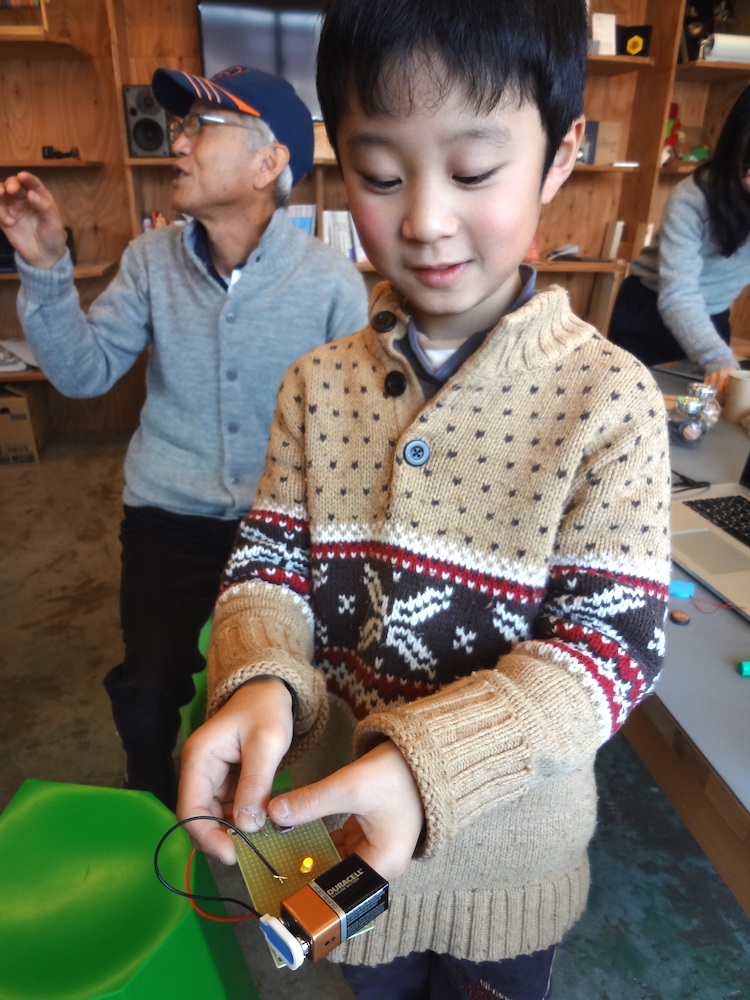 The child's enthusiasm and independence is no doubt linked to the benevolent influence of the space itself, nested in the headquarters of Elekit (EK Japan), the famous manufacturer of electronic kits for children since 1974. All of the lab's equipment (3D printer, laser cutter, CNC, digital sewing machine, etc.) and full-time staff come from GooDay, a big DIY store founded by the same man behind Elekit. Today, both Elekit and GooDay are helmed by his grandson, Takashi Yanase, who had the idea to open FabLab Dazaifu in September 2014, inspired by the fablab concept of "make almost everything".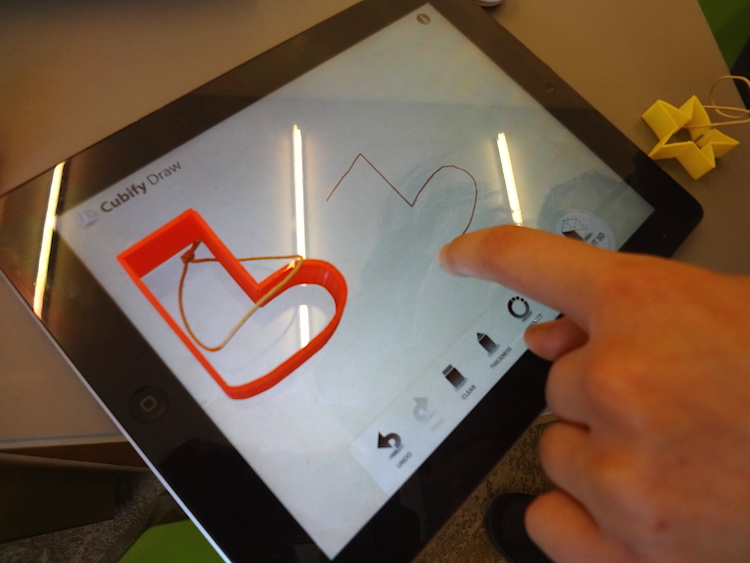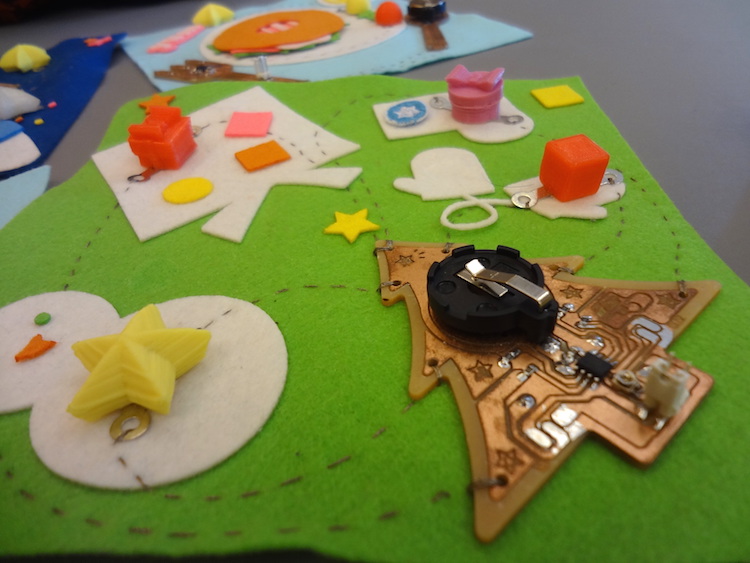 According to fabmaster Miki Nakazawa, FabLab Dazaifu's primary focus is reclaiming all kinds of materials for creative upcycling, to learn, make and share together. Ito Shinichiro, former intern at Waag fablab in Amsterdam, volunteers at fablab Dazaifu to spread the original DIY spirit of making everything together : "It's not just about digital fabrication, it's about making. The idea is how to integrate digital fabrication into the whole maker culture. Like DIY or Do It With Families (DIWF)."
Stimulating the neighborhood in Saga
Upon exiting the train station in Saga, it feels like a ghost town. Even the shops on the main commercial avenue are closed, and few pedestrians roam the streets. But a 20-minute walk south leads to a small, quiet road and the welcoming storefront of FabLab Saga.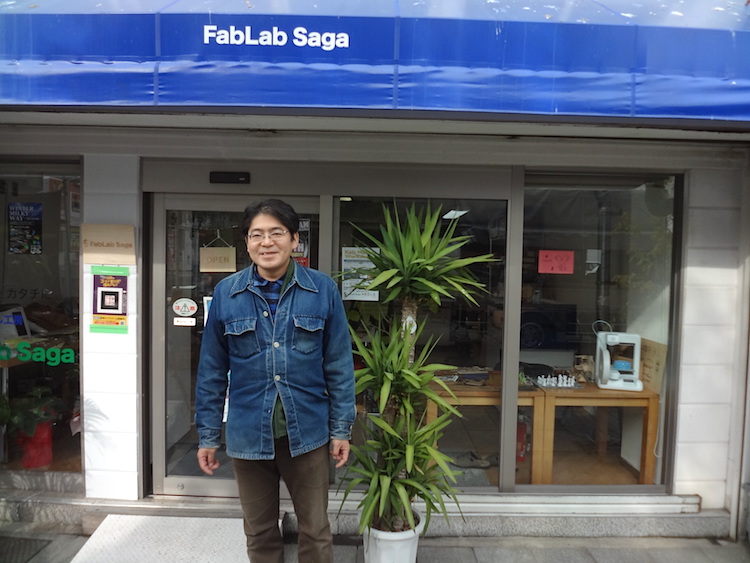 This "one-man lab" is the solo operation of Kazuhiro Jinnouchi, a Saga native who was dismayed to see his neighborhood shops close over the past years. However, he noticed that the remaining few used the same kind of signboards, which could be easily laser cut. As an IT strategist working in a nearby office, he also recognized the potential of fablabs to attract and bring people together. He opened fablab Saga in July 2014.
Inside, a middle-aged model airplane hobbyist uses the laser cutter to fabricate the different wooden pieces of his latest creation, with a digital precision that he is delighted to discover for the first time. Up until this day, he had been cutting the wood by hand. Of course, there is no going back to analogue now.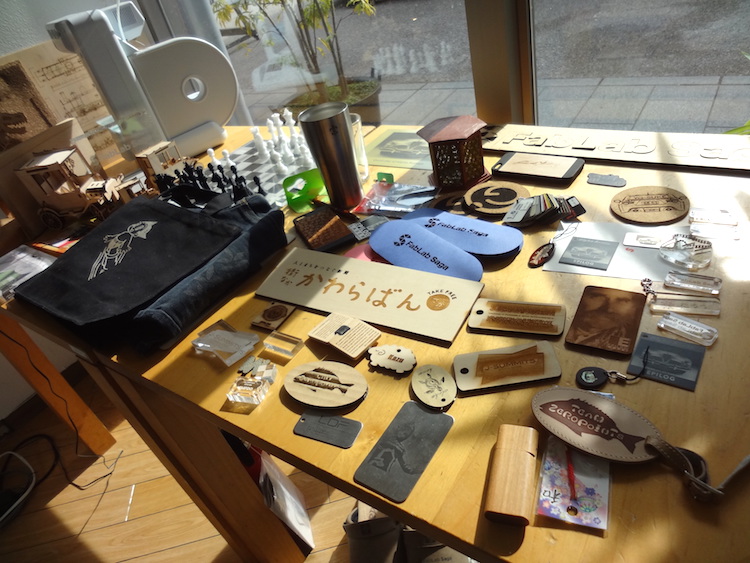 Among other clients of the lab are a man who designs cute 3D-printed figurines, a professional calligrapher who designs laser-cut wooden iPhone cases, an English teacher who fabricates learning materials out of plastic, and other local businesses that print their logo on leather, textiles, etc. The lab even has a CNC for milling reclaimed wood.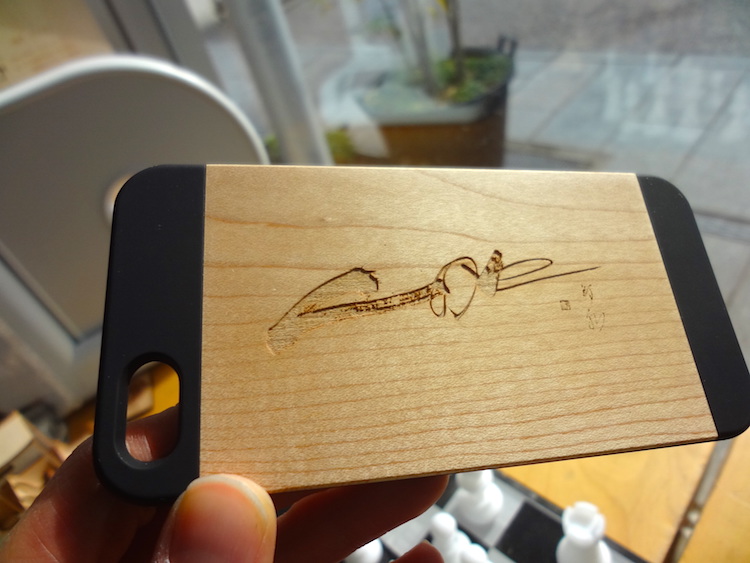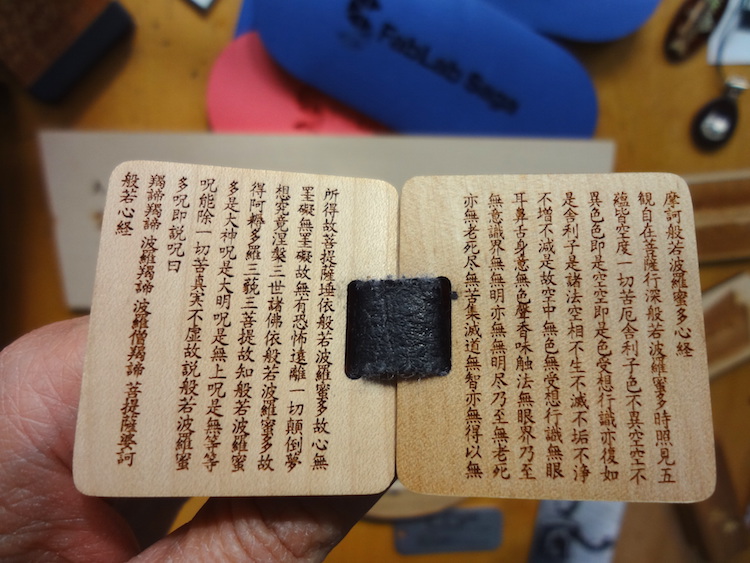 Buddhist prayer laser cut into a mini-folio.
Soaking in the public bath in Oita
FabLab Oita's logo alludes directly the region's reputed hot springs with the ubiquitous icon of a steaming pool of water, except that the vapor emanates from a mechanical gear, or a boiling pot. The branding of the space extends to the concept of the public bath, where people come to pool their ideas, spring inspiration and sweat it out together.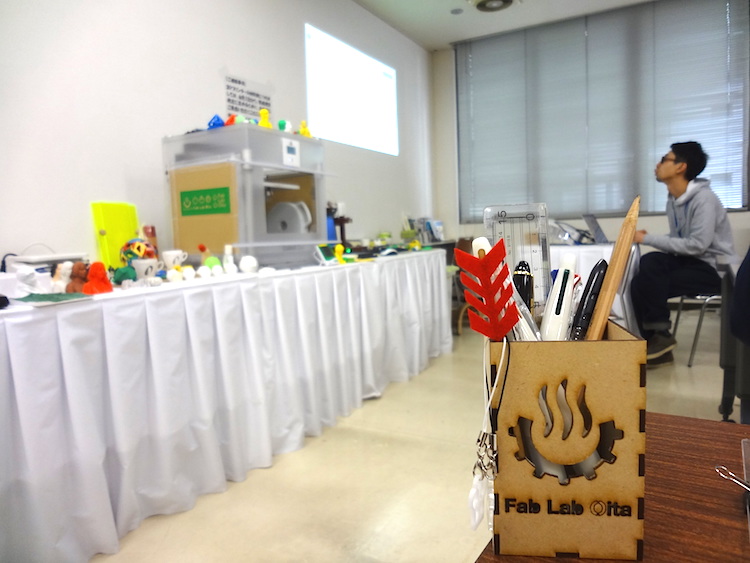 This afternoon, fabmaster Daisuke Toyozumi is giving a beginner's class in 3D design and printing for teachers of blind children. The educators learn to make six-sided dice and other geometric shapes that will help the children to understand numbers and simple geometry through touching.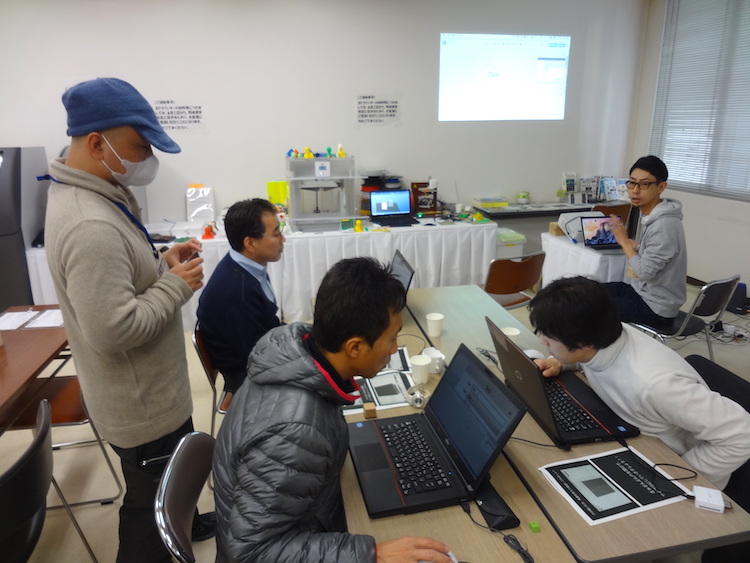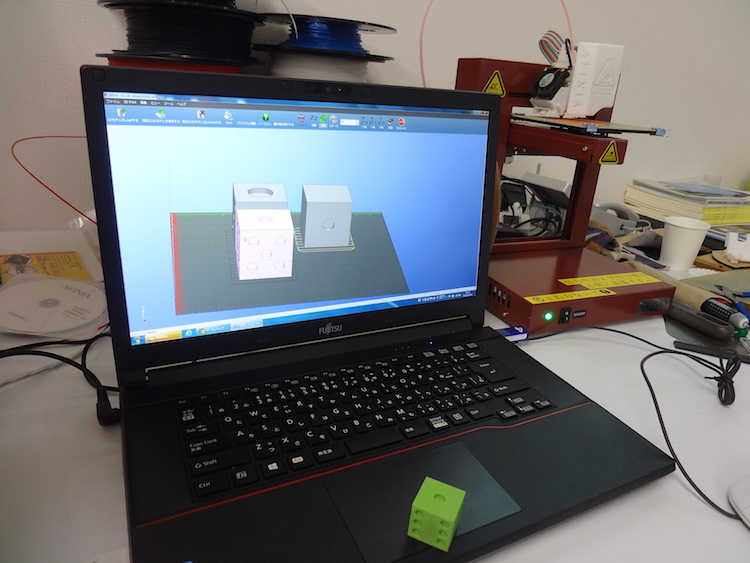 Unlike most labs in Japan, the one-year-old fablab Oita is a direct initiative of the local city government, which has been pursuing its mission to introduce new media technologies to its citizens for the past 30 years. The fablab's 347 members (on Facebook) live all over Japan, and about 20 come to the Friday night meetings. The lab is lucky to be incubated in a cluster of IT companies called Softpark, located not too far from the train station. Fablab Oita's educators also reach out to the community by giving offsite talks and workshops.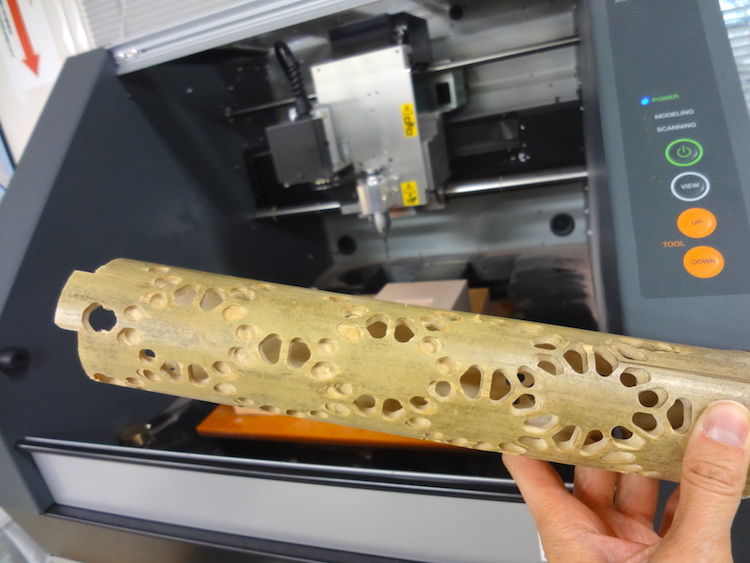 Meanwhile in Fukuoka, Kyushu's largest city with a population of 1.4 million and an international airport, other little labs are popping up on the map, such as FabLab Fukuoka (still in beta) and Hakata Zukoushitsu (Hakata arts and crafts room), which are actively collaborating with other labs on the island.
On January 24-25, 2015, all are welcome to join the fablabs of Fukuoka, Dazaifu, Saga, Oita, Sendai, Kyushu University and FABtra for an open weekend of fun activities at Fabby Fabrication Fukuoka, which will introduce the mainstream public of potential makers to the creative thrills of fab culture.