Publishers play nicely at publishing hackathon in Paris
From December 12-14, Le Labo de l'édition in Paris hosted its second hackathon on the theme of book applications, as a new way to imagine reading in digital media.
No board electronics or 3D printing for Labo de l'édition's second hackathon—just pencils, tablets and a lot of sketchbooks. "We tested several different formats, like masterclass, round tables and bookcamp, but the exploratory concept of the hackathon was perfectly suited to rethinking the book," says Nicolas Rodelet, in charge of this hybrid gathering somewhere between lab and incubator, launched by the Paris city council to support the publishing sector's transition to digital.
When publishers start tinkering
Over 48 hours, some 30 participants—students, authors, creatives, academics, developers and other publishers—focused on how books have evolved and how the publishing industry can renew itself. The originality of this hackathon was that French publishing giants such as Bayard, le Seuil, Autrement, Le Robert and Albin Michel offered up their precious raw material—texts, graphics, illustrations and even maps. They also actively participated in the prototyping of new narratives, and not just as observers or mentors. "Here, the publishing partners and the participants are really at the heart of the action. They dove right in, focusing on the doing part, without wasting any time on producing content," says Rodelet.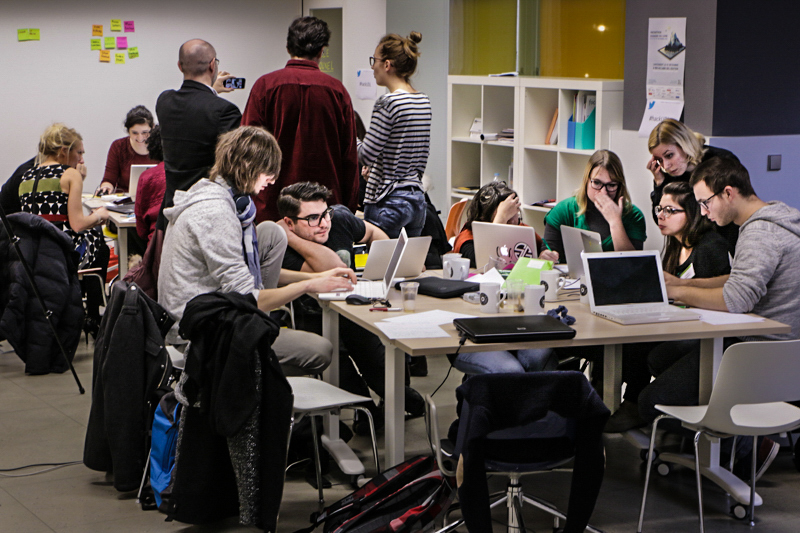 One team challenged itself to create an interactive map. A cartographer, the publisher, a graphic artist and a developer started with the L'Atlas de Rome, published by Autrement. "We deconstructed all the maps in order to reconstruct them dynamically, without overdoing the flashy photos and other media that are often unnecessary," says the cartographer. Instead of merely juxtaposing the maps, they revealed the city's evolution little by little, from the small antique village to the modern metropolis. Their second animated map was just as smoothly synchronized, complete with soundtrack and commentary to relive hour-by-hour the pillaging of Rome by Charles V on 6 May 1527.
Another team's enthusiasm was dampened sooner than expected. Three graphic artists were just discovering the joys and hazards of prototyping as they tackled young adult fiction published by Bayard, when their technical worries hit a wall: "We may be graphic artists, but we can't do much without developers !"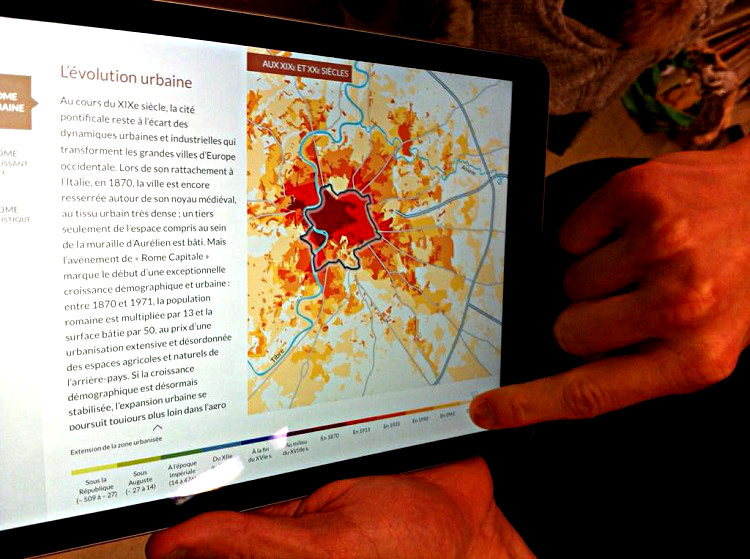 Publisher-hacker ? Dream on
Nevertheless, technical mentors are standing by. "For the digital comics hackathon we organized last June, beyond issues of animation, turbo media and scrollables, the main idea was to evolve the ePub standard with developers who made their code libraries available, based on their experience with open source." But it's another step to convince publishers to go open source. Even if the big publishing houses were quick to understand the advantages of playing nicely at the hackathon to get good ideas, they remain just as shy about unauthorized commercialization of their works and the possible violations of the all-sacred copyright. As such, the hackathon was prefaced by a charter specifying that the projects be conceived "strictly for non-commercial experimentation". But as good sports, the publishers specified that the prototypes could "be considered collaborative works that may eventually lead to a contract between its various authors."
Digital evolution
Digital creativity is often crippled in Paris' publishing mecca of Saint-Germain-des-Prés. "Many of the participants from the big publishing houses know very well that they'll have to convince the in-house hierarchy," Rodelet admits. "While everyone agrees that the industry needs to embrace digital, the whole question is how." Some, however, already have a head start.
Albin Michel, lurking in the editorial crossroads between paper and digital, limits its public audience to about 50 people, with a presentation on Les Petits Débrouillards series and well-oiled marketing between support, interface and social networks. Florence Dell'Aiera, Albin Michel's associate director of digital development, takes on grand airs that load the atmosphere with corporate speak, causing some uneasiness among the audience.
Next step : "Why not a hackathon on the media or school textbooks ?" Rodelet suggests, who in addition to all publishing projects, also manages new media projects with his micro-team. "There's no shortage of topics, we just need more time !"
A summary of the publishing hackathon will be presented at the book fairs Salon Demain Le Livre in February 2015 and Salon du Livre de Paris in March 2015.