/ Lab Life
La pièce maîtresse du fablab Plateforme C, une CNC «augmentée», fruit d'un atelier entre l'école d'architecture et l'IUT de Nantes. © Ewen ChardronnetPlateforme C's CNC in Nantes, the fablab's masterpiece. © Ewen Chardronnet
Visiting Plateforme C in Nantes
One of France's oldest fablabs, Plateforme C in Nantes, moved into its new space one year ago. But PING, the local organization behind the project, is celebrating its 10th anniversary this month, including five years of digital fabrication.
(Nantes, from our correspondent, words and photos)
Ping was one of the very first fablabs in France, and it's a real pleasure to see how it has developed over the past two years with renewed dynamics. I remember our conversations at Futur en Seine 2009 in Paris (a French festival), where Hackitectura and the budding fablab from the Sevilla school of architecture were presenting Wikiplaza with "spaceware" fabricated at the CNC. It must have been the first public demonstration of French fablabs' potential.
Ping, which had already been working with groups in Spain and Latin America, was just starting out as a fablab. As project leader Julien Bellanger recalls : "We built our first RepRap in March 2010 with help from Alexandre Korber from the tmp/lab hackerspace. After that, we built lots of 3D printers. For a while, we didn't get much use out of them, we had a lot of unfinished printers… For the first five years that we were in Breil, we opened only on Thursdays. We were mostly coding, Pure Data, Processing, then Arduino. Since Plateforme C opened on October 16, 2013, we're open all week."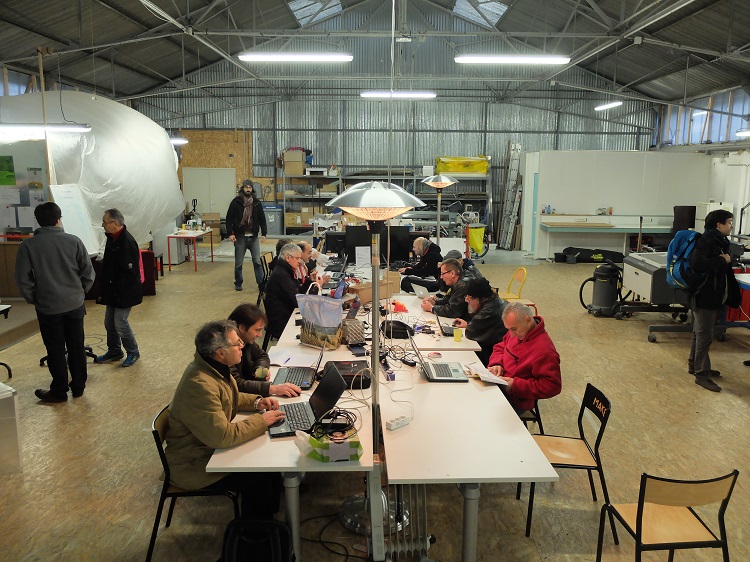 The Quai des Antilles warehouse, home to Ping's fablab Plateforme C.
A fablab at the heart of Nantes' digital ecosystem
Plateforme C is located in Quai des Antilles, a completely refurbished 290m2 warehouse. The space dedicated to 3D printing is equipped with three Asimov printers from the RepRap family, designed in Brest by SmoothieBoard, the electronic board that controls them.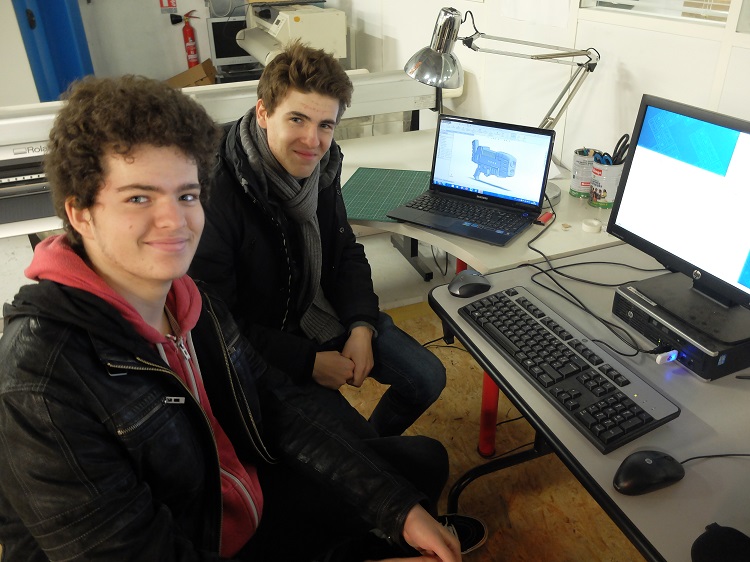 Titouan and Arthur, seniors at Eugène Livet high school, have come to Thursday's OpenAtelier (OpenWorkshop) to print a gun for the game Warhammer 40.000. It was their school's computer science and digital technology program that brought them to Plateforme C. "Our idea is to make a small model of the gun as a way into the fablab, to see how it works, but eventually we want to make a whole costume."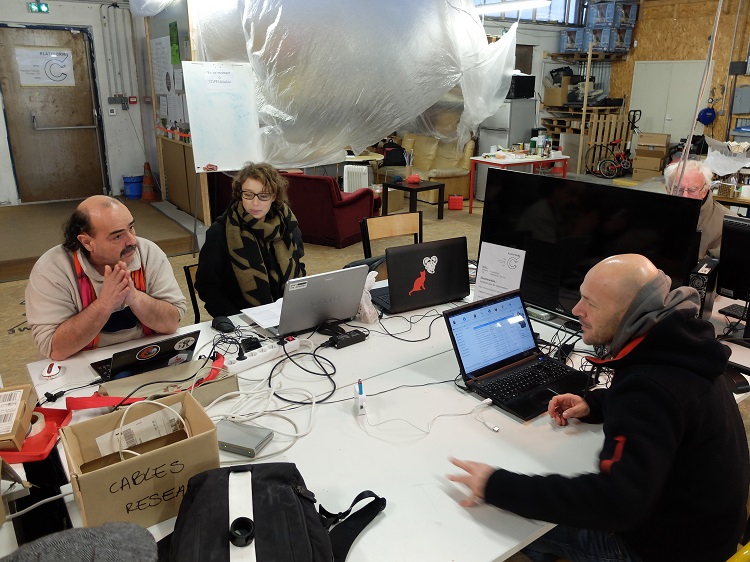 Plateforme C is supported by the regional innovation platform Design'in Pays de Loire and collaborates with the Nantes Atlantique school of design, Nantes school of architecture, Nantes institute of technology and Livet high school. "The schools come for educational projects. In order to access to the space, each teacher must explain their project and lead a workshop. The pilot group for each quarter requires that each school announce their workshop in advance, so that potentially another student from another school can participate. There is no membership for the schools, as they contribute in engineering, in documented projects, as well as directly to the space itself."
Customized CNC, electro mess and even biohacking
The fablab's masterpiece is the great CNC. "It's a major project, as it was built during a workshop that brought together the school of architecture and the institute of technology. Philippe, 57, a systems administrator who loves electronics, took it upon himself to improve the electric system and integrate electric security, limit switches and a vacuum system, with the help of another maker, Eric. This season, theyare finalizing the millingcalibration.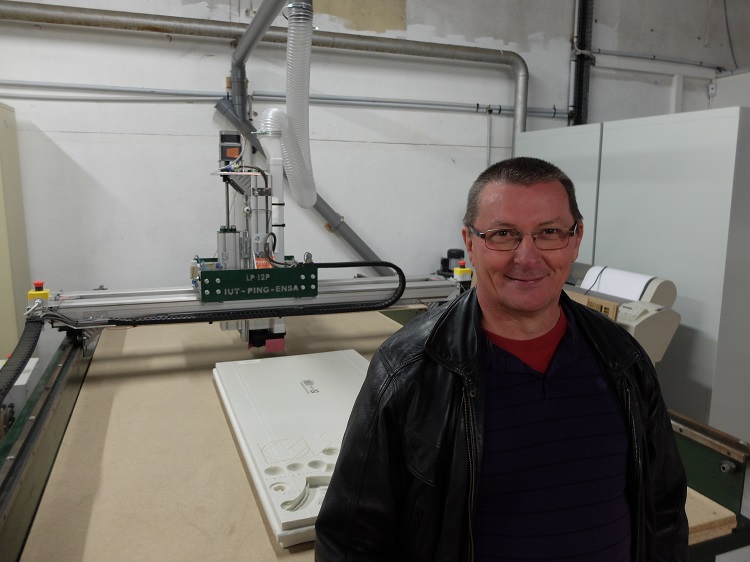 "It's a milling machineon 2.5m x 1.22m planks, the standard size for boards sold in big stores. Eric from Ping, along with the school of architecture and the institute of technology, tackled the mechanics—the frame and carriage, installing the motors. But there's a lot of work to do before we get to the fine tuning," says Philippe.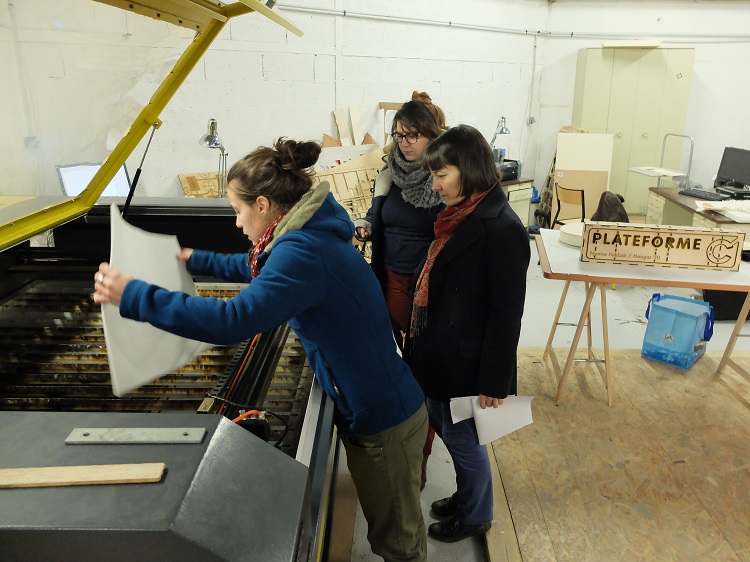 Over at the laser printer, Maëlle, a new fablab staffer, works with other girls. "Laurent Berthelot, the managerof Plateforme C, and the rest of the team replaced all the Chinese electronics with SmoothieBoard. A member developed the Inkscape plug-in to control it." Julien adds, "As all the machines are equipped with the same open source electronics, the idea is that eventually, when you do your project, you can separate a particular piece, which would go to the laser printer, the 3D printer, or the CNC, since all the machines are on the same network."
Plateforme C also has dedicated spaces for storing equipment and projects, as well as two 20m2 studio workshops for electronics and good old-fashioned DIY. There is even a laboratory table. "We thought we would do a bit of biohacking. In our first bio-electro workshop with Michka Melo, a member of La Paillasse in Paris, we made microbialbatteries."
Opening more and more
According to the fablab team, every Thursday during OpenAteliers, 40 to 50 people show up between 2 PM and 9 PM. Indeed, despite December's polar frost, there are quite a few people here, including a fair number of senior citizens. "Ping's fablab opened in Breil around 2008-2009, next to a model airplane club," says Julien. "As there aren't many electronics clubs in Nantes, when we started to do Arduino and electronics, older people started coming."
Nantes' premier fablab strives to become always more open. Maëlle would like to improvegender equalityamongmembers. "Spontaneously, the girls end up at the software and the boys at the machines. We try to explain that things don't implicitly need to be that way," she says with a smile. Julien adds that in the near future they would like to advocate a "communalist" approach.