/ Proto
«Jeu de mains», a video game where the interaction happens off screen, was carried out at the Plaine Images Tourcoing. © Charles Blondelle
Video game prototypes unlike any other
This weekend in Lille, people can play 12 prototype games resulting from a gamejam that brought together 150 artists, students, game developers and designers.
In early November, 150 artists, students, game developers and designers met at La Plaine Images in Tourcoing for a 48-hour gamejam organized by Game IN (trade association of video game companies in northern France) and Pictanovo during the Zoo Machines Festival. This intensively creative session of improvised participative workshops resulted in 12 offbeat games, in response to the theme of new gaming experiences beyond the screen. Next weekend, these games will be playable by the general public at the Natural History Museum and Hybride in Lille, France.
«Jeu de mains» and social interaction
"What's particularly interesting about these games is that they are both simple and reintroduce social interaction with the traditional multiplayer aspect," says Marc Lavigne, executive officer of Game IN. "It's the case with Jeu de mains, developed by the artist Tatiana Vilela and her team. The objective of the game is very simple: touch your partner's hand through a black fabric, while preventing your opponent from doing the sane thing."
«Jeu de mains» at Zoo Machines Festival :
The game's box interface, made of a padded, cotton-like material that opens up to players with lip-lined rabbit holes leading down into its empty center space, reinforces the curiously organic, sensual, almost intimist nature of a particularly tactile game. "It was already the case with the game that Tatiana designed last year," recalls Lavigne, referring to Ad Sono, where two players facing each other had to simultaneously press five buttons strapped onto their bodies according to a musical and luminous choreography. "The idea was to build excitement around touch, but without touching a controller."
Diminishing reality of "The Infinite Viking"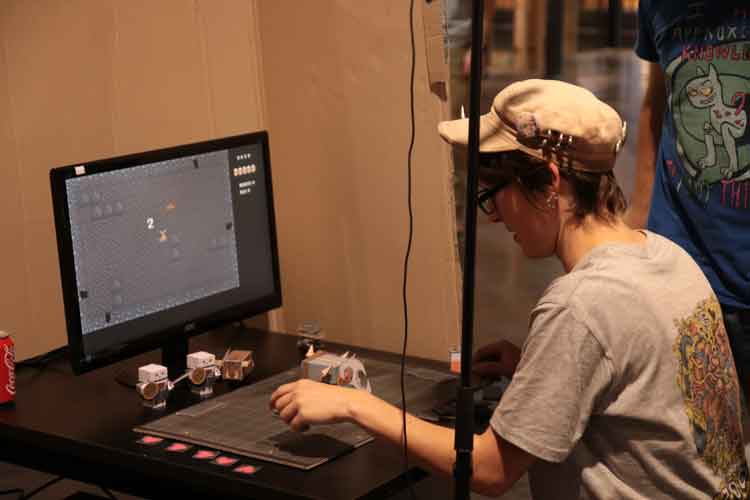 Based on the concept of diminishing reality—"to counter the trend of augmented reality," emphasizes lead programmer Kevin Bradshaw—The Infinite Viking transposes the usual game option of two players against the computer through an interface in which the action is invisible to the player who moves the avatar on the screen, and who therefore relies on the other "sighted" player's oral instructions. Moreover, the "blind" player doesn't use a controller, but paper figurines representing the characters and the scene of the game. Their manual movement is captured by a webcam and translated in real time into the on-screen video game.
"All the difficulty and richness of the game lies in the lag time between what the first player sees and the what the second player does," Lavigne explains. "You can't go too fast or too slow, you have to be perfectly synchronized. It's this concept of 'diminished' interaction that makes the game more fun."
"The Infinite Viking" by Kevin Bradshaw :
Looks like fun? Test-play the 12 games on Friday, November 28th (7pm-11:30pm) and Saturday, November 29th (12pm-5pm), at the Natural History Museum and Hybride in Lille, France.
More info on Zoo Machines website