/ Lab Life
View of the new SENAI fablab of Rio de Janeiro, open to students only. © Fabien Eychenne
SENAI, a «pro» fablab for students of Rio de Janeiro
Its equipment is a dream come true for many makers. The first SENAI fablab, named after Brazilian technical training centres, has just opened in Rio de Janeiro. This fablab, only accessible for students in robotics and simulation from the SENAI network, heralds a network of Brazilian educational labs.
(Rio de Janeiro, special envoy, text and photos)
We were at the opening ceremony of the SENAI fablab in Rio de Janeiro, probably one of the best-equipped fablab we have come across. SENAI is a technical training centre financed by a contribution from the entire industrial sector. Students educated in SENAI centres located throughout the country come out with diplomas of technicians from multiple sectors.
First educational fablab in Brazil
In France, this training is equivalent to a technical baccalaureate. SENAI students join the centre at 14 and leave three years later. The Rio de Janeiro SENAI, where this new fablab is being set up, is specialised in "robotics and simulation" trainings. It is the first professional educational institution in Brazil to create a fablab within its walls.
During the opening ceremony of this 450 m2 area, Eduardo Eugenio Gouvêa Vieira, the president of Firjan (Federation of Rio de Janeiro industries) reminded us of the main concern behind the creation of this place: "Create the first professional educational institution to set up a fablab as a strategy in terms of training processes and also to develop an innovation culture."

The physical location of the place is only the tip of the iceberg. It is part of a strategy aiming to rethink teaching methods within the technical training institutes, and where the SENAI Rio fablab would be the first pilot.
Learning Communities
The methodological programme presented, put into practice for several years already, is ambitious: relying on the project method to learn in context, with teachers acting as mediators, with an interdisciplinary logic and by creating learning communities.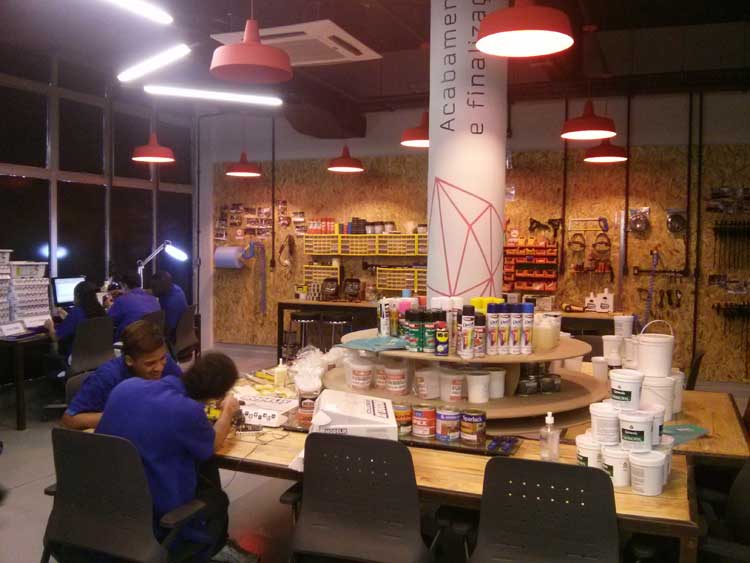 For Bruno Gomes, in charge of the programme, "it is about going the extra mile in the self-sufficiency of students to develop their creativity so that they can offer solutions to problems encountered in industrial projects". The use of the fablab must enable to speed up the existing project method by bringing together in a single place knowledge learning and the simultaneous implementation of knowledge. Brazil is lacking qualified technicians and the stated objective is to train new students in rapid prototyping techniques, digital fabrication, programming, but also to focus on collaboration and creativity.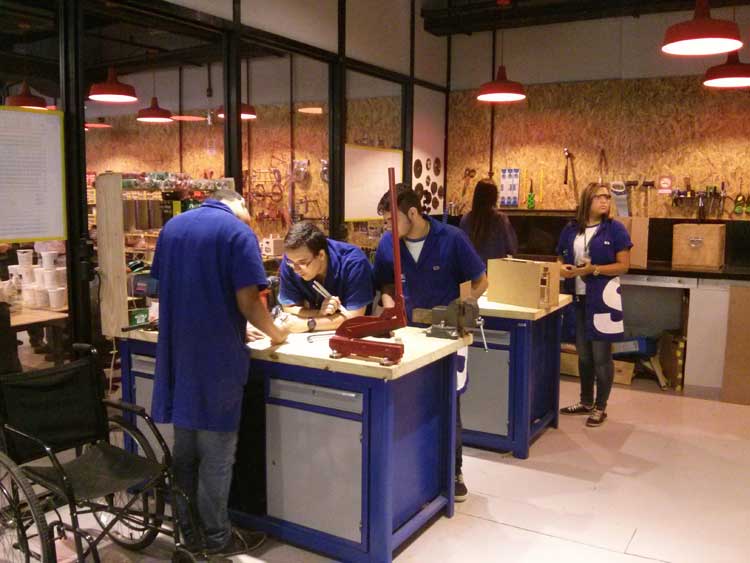 A 20 hour introduction and a 160 hour course for the most motivated, in groups of 25 to 30 students, are set up. The diploma will be called « assistante de projetos fablab-maker » (fablab-maker project assistant). For the first year, the target is set to 500 students. Only a fraction of them will attend the 160 hours of training. Nevertheless Bruno Gomes says the aim is to open two other locations in 2015 in order to increase the number of students to 1,500 in 2016.
The fablab is wealthy. One finds the varied equipment of an MIT type fablab but in XXL size. Three large laser cutting machines, a wood workshop equipped with several milling machines and routers, dozens of 3D printers including some capable of printing with metal and even with paper (!). The place is filled with technical Lego, Little bits, Arduinos, creation kits…this fablab would make any maker green with envy. "Would"because even though this place wants to be the spearhead of fablabs dedicated to education and technical training, as a pilot to be developed subsequently in other SENAI centres and as a member of the global network of fablabs, it will not be open to the public.
Why not? According to Bruno Gomes, Brazilian law which is very strict when it comes to students, forbids them from working during their studies and even from acting as "consultants". The opening of the lab would mean students would contribute to help the general public. Ironically, in another room of the same building stands the OpenLab, admittedly slightly less well-equipped, but the mission of which is to welcome communities as well as offering services to companies. Except that one does not come across students over there…