/ News
Makery at the chefs' table. © DR
We tested the 3D-printed recipes of a Michelin-starred chef
Introducing 3D-printed gastronomy! For its second edition in Paris, 3D Printshow set up a kitchen at Le Carrousel du Louvre on October 17 and 18. Makery taste-tested for you…
What's the ultimate fad in 3D printing? Hint: Bon appétit! The trend was not lost on 3D Printshow, which held its second edition at Le Carrousel du Louvre on October 17 and 18. In its own niche behind 3D printing giants such as Autodesk and MakerBot, the show's dedicated kitchen space resembled a parlor Michelin-starred restaurant.
(Pleasant) surprise: FabLab Maastricht dished out its very own prototype printer By Flow. "The organizers of the show invited us to work with the chef Wouter van Laarhoven to design a gourmet menu using 3D printing," says Frits Hoff, director of the Dutch fablab specialized in research on new printing materials such as ceramic, silicon and edible ingredients.
FabLab Maastricht's Michelin-starred recipes
The ephemeral kitchen sports a line-up of household robots, microwaves and, of course, the 3D printer in the process of producing little meringues—delicious from the start. "The advantage in cooking is that you can 3D print things that are impossible to make by hand," Hoff adds. The former physics teacher, currently president of the Dutch Fab Foundation grouping MIT-branded fablabs from Belgium, Netherlands and Luxemburg, is proud of this latest achievement: "Our fablabs are pretty poor, we don't have the means to buy the table of a star chef, so this is our chance!"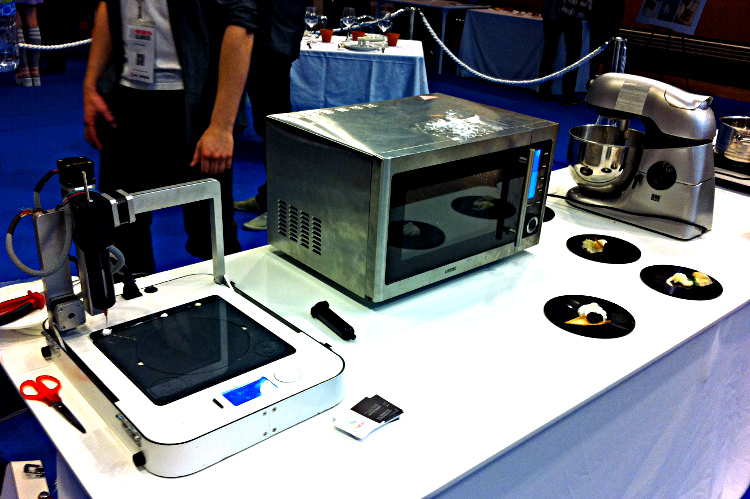 Using adapted printer heads and silicon molds, Dutch chef Wouter van Laarhoven, a Michelin star on his hat, concocted a few recipes involving printed yogurt and goat cheese, as 3D printing allows for ultra-geometrically designed plates. Small glitch: only visitors on Friday the 17th were able to enjoy these gourmet dishes, as the lack of a cooling facility made it impossible to repeat the experience on Saturday.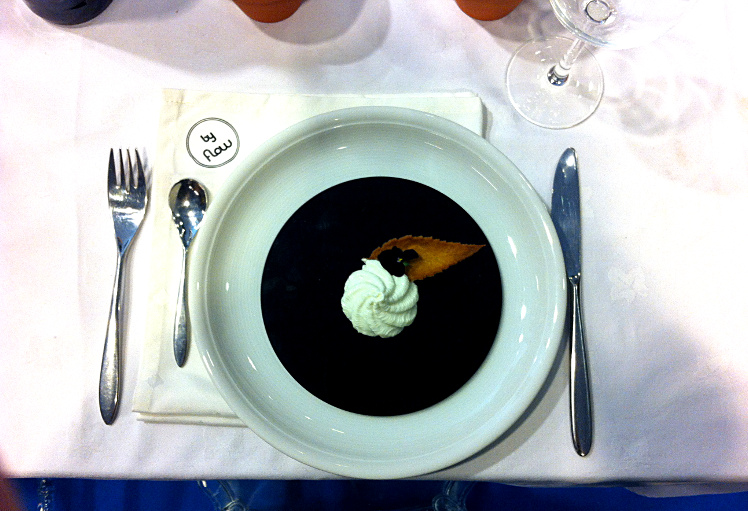 The By Flow 3D printer, created at FabLab Maastricht by designer Floris Hoff (also the director's son), which premiered at the show, will officially launch in a Kickstarter campaign two months later. This little portable printer made of aluminum offers a whole series of interchangeable printer heads to print with both conventional ABS, PLA or nylon threads and more delicate materials, such as porcelain… or chocolate.
"At the moment we're mainly focused on silicon printing," says Hoff. "We opened the fablab four years ago, and we mainly develop new accessible 3D printing materials. We work with recycled materials such as paper, or used tires from Africa, because they don't have the money to recycle them over there. I also believe that 3D printing has enormous potential to create jobs…"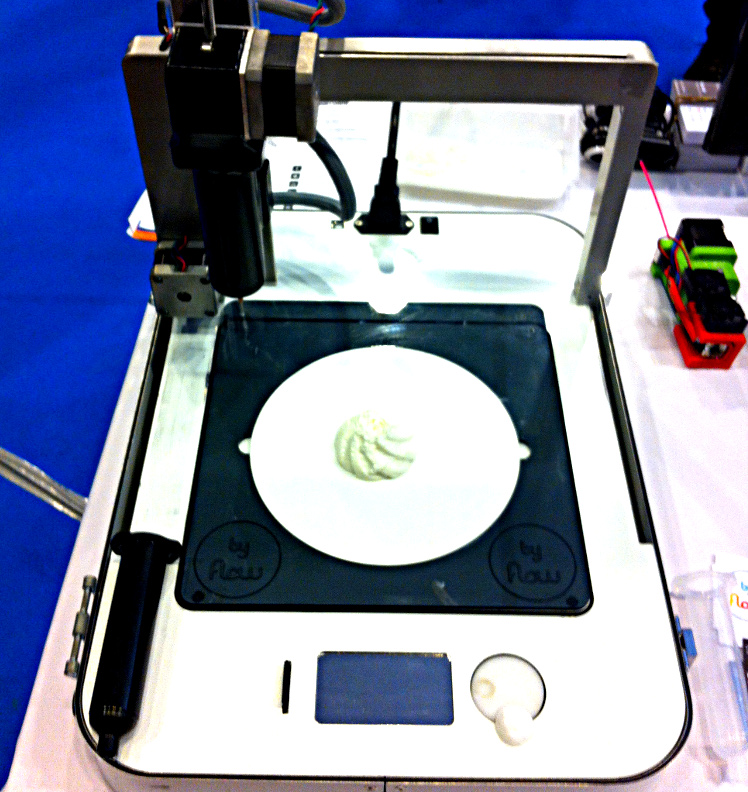 Other gourmet projects at the show, with purely commercial interests: Robots in Gastronomy, who print ice cream; and the Choco Creator printer. Launched in September 2014, it can produce luxury truffles by printing ultra-fine chocolate designs with its 0.5 mm point. The result is dentelle that should inspire more than one pastry chef. Or, at least those who can afford it, as the beast sells for 4,500 euros.