/ News
&Fab, customization corner at MUJI and Loft, in Tokyo, is operated by FabLab Shibuya. © Cherise Fong
In Tokyo, fablabs are more fab than lab
Far from university campuses and MIT, digital fabrication spaces in Tokyo are adapted to local culture: anybody can come in with a product, an image, an idea, and pay to create their own unique, fully personalized object.
(Tokyo, from our correspondant)
Could DIY culture catch on in Japan? We toured three spaces dedicated to digital fabrication, inspired by the fablab model while adapting the concept to Japanese society, where buying is the first resort, far from the eco-recycling waves in Europe and America.
FabLab Shibuya, created in 2012
FabLab Shibuya, situated in the heart of Tokyo's design and fashion neighborhood, is more fablab in initiative than in concept. Like every good makerspace, it offers everyone's favorite digital fabrication machines (3D printer and laser cutter), as well as a paper cutter and a digital sewing machine. But up until September, people came primarily for technical training and service. Every Friday, anyone can take a course to learn how to operate each machine, while participants were free to come back during Wednesday's OpenLab to work on their own project. However, those who came back were mostly retired designers or engineers with time and money (and curiosity), but who rarely talked about their project and even less among themselves.
"For them, it's too personal, they don't share," explains Keisuke Inoue, director of FabLab Shibuya. It's this absence of community that led him to reorient the fablab, from October 2014, toward DIWO (Do It With Others). Designated Sunday OpenLab sessions are now dedicated to collaborative projects, beginning with "Specimens of Mechanism" this month.
"It's kind of like Make-a-thon style, but without the corporate colors," says Keisuke. "As we've been running our lab for almost two years, and other Fab spaces have since opened in Tokyo, we're now considering to purify our mission."
Meanwhile, the FabLab Shibuya team continues to consult big design-hardware stores such as Tokyu Hands, occasionally hosts travelling workshops, and especially, operates and curates talks at &Fab, the customization corner equipped with a laser cutter and UV printer within MUJI and Loft—in Shibuya, of course.
FabLab Shibuya and &Fab presented by Keisuke Inoue, director:
"The most important concept of &Fab is to sell this experience of creative time," Keisuke reflects. "We spend between 30 minutes to an hour with each customer. Factories are basically the black box of fabrication. Consumers know what they bought, but not how it's made. Hopefully through this experience they can at least lightly feel the essence of fabrication."
"Japan is wealthy, most people here solve their problems by buying things. We have no garages or basements, so much less space to DIY things." Keisuke Inoue, director of FabLab Shibuya
"Fablab culture is based on universities and Euro-American society," Keisuke adds. "It's meaningless to just import the same ideas and same methods to Japan. We have totally different backgrounds. [After FAB9 in Yokohama], I know I share this opinion with fablabs in Taiwan and Korea."
And as FabLab Shibuya is 100% independent, the &Fab concept also constitutes its financial model. Customers pay Loft/MUJI for the customization in addition to the product, and Loft/MUJI pays the fablab for its partnership. But what hapens if we take the big store out of the equation?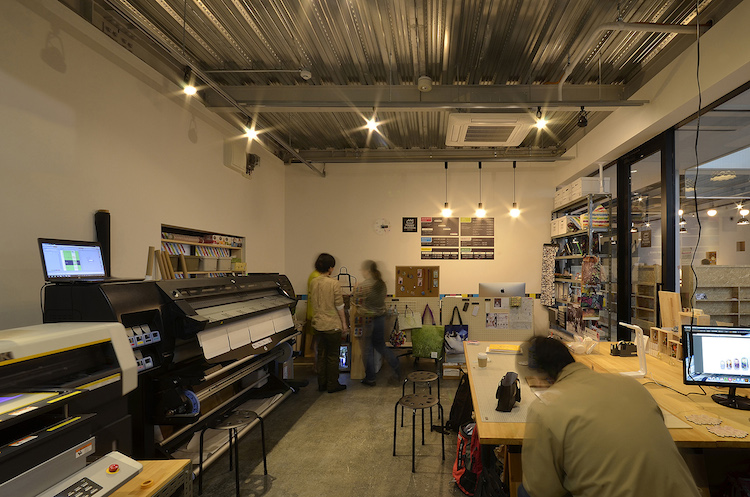 HappyPrinters for printing on leather and latex
In the even younger and trendier neighborhood of Harajuku, right next to Shibuya, lies HappyPrinters, a small shop with UV and latex printers that can print original images on leather, vinyl and more delicate textiles. Like Fablab Shibuya, HappyPrinters has its niche on the street level of a co-working space, so open to the general public, but still integrated within a professional design environment. People can come with their image and even material to create a perfectly unique object, thanks to the paid service and specialized staff. For those in need of inspiration, plenty of prototypes are on display. The big table in the middle of the space creates a workshop atmosphere in a tiny building full of offices and shops.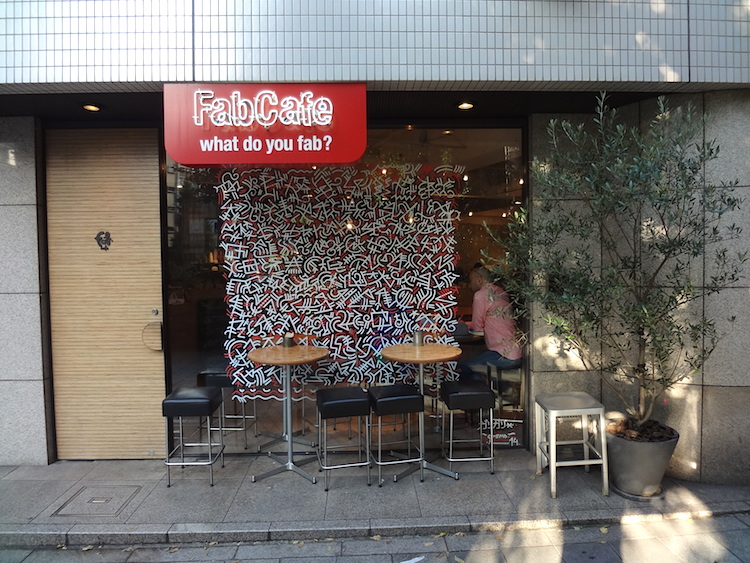 FabCafe, the 3D-printing, laser-cutting cybercafé
On another corner of Shibuya, FabCafe is a true café that recalls the atmosphere of mid-1990s cybercafés, when people didn't have an Internet connection at home. As a precursor to the FabCafes currently in Taipei and Barcelona (and soon Bangkok), the concept of the original FabCafe Tokyo was born in a container exhibition for Tokyo Design Week 2010, conceived by FabLab Japan. In 2011, in partnership with the Loftwork collective, the concept was reborn as a two-day camp, and finally materialized into a permanent café.
The space offers not only machines (laser cutter, 3D printers, 3D scanner, etc.) but also a proper menu (including an excellent raspberry smoothie) and lots of creative activities in an atmosphere that is just as professional as it is friendly. Unsurprisingly, the café swarms with trendy young people and their Macbook Air and iPhone 6, and their enthusiasm is palpable. You can even print on macarons!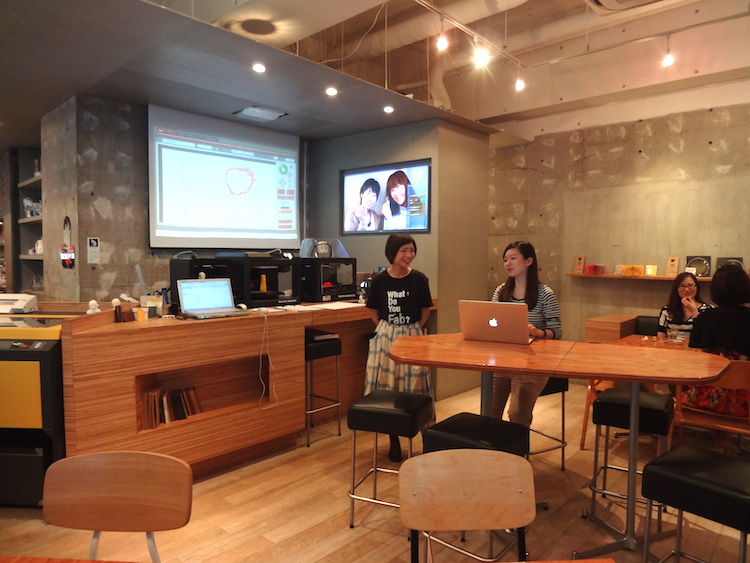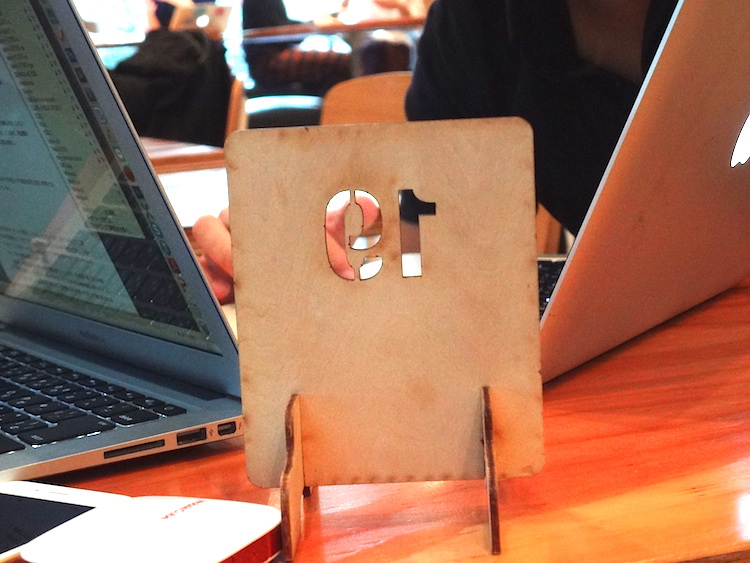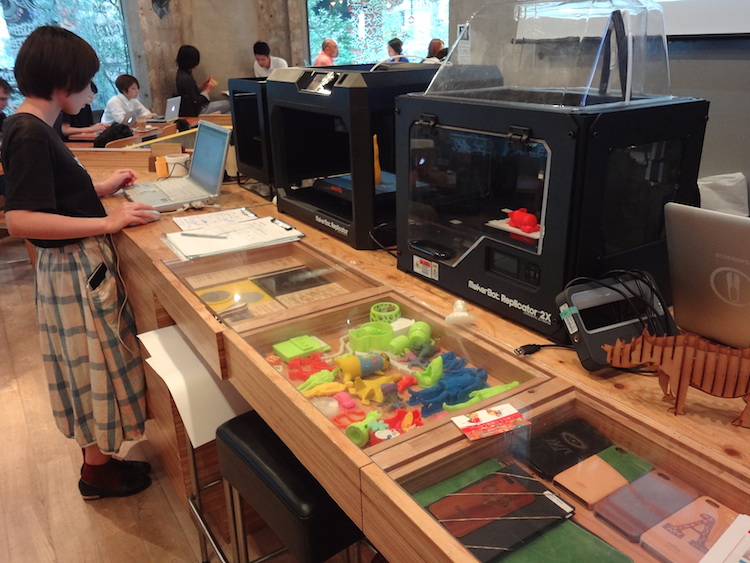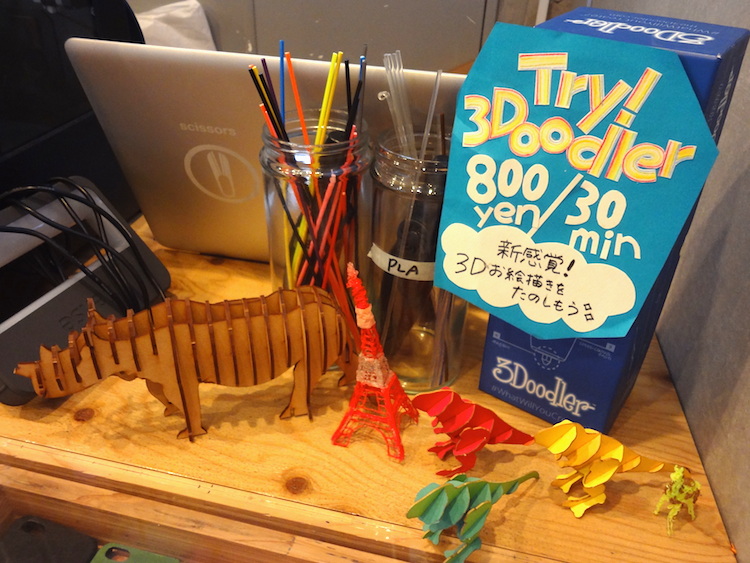 Words, sound and photos by Cherise Fong