/ News
This is a lab. © DR
A boat-lab packed with prototypes tours the Mediterranean Sea
This lab almost sunk. A few months ago, the sailboat was navigating 10 kilometers off the coast of Brittany with a 20-centimeter hole in its hull. We met Adrien Marchandise, who initiated the project.
Friends with a passion for sailing
The story of Lab-REV (Laboratoire de Re-fit Eco Voile), is above all a story about a group of friends in love with sailing who, at the age of 20, pooled 5,000 euros to buy a boat. In three years of yachting, they accumulated damage and repairs. The students were shocked by the necessary costs of the least bits of maintenance. "One day we found a model for a cleat [T-shaped piece used to attach ropes] on Thingiverse, a site for sharing 3D printable objects. Once we printed it in the lab and tested it, we found that its mechanical resistance was too weak. So we improved it, and our own PLA model has almost the same mechanical qualities as a commercial cleat. But ours cost only 4 euros, instead of 15 to buy it in a shop." Thus the crew discovered the potential of digital fabrication for yachting.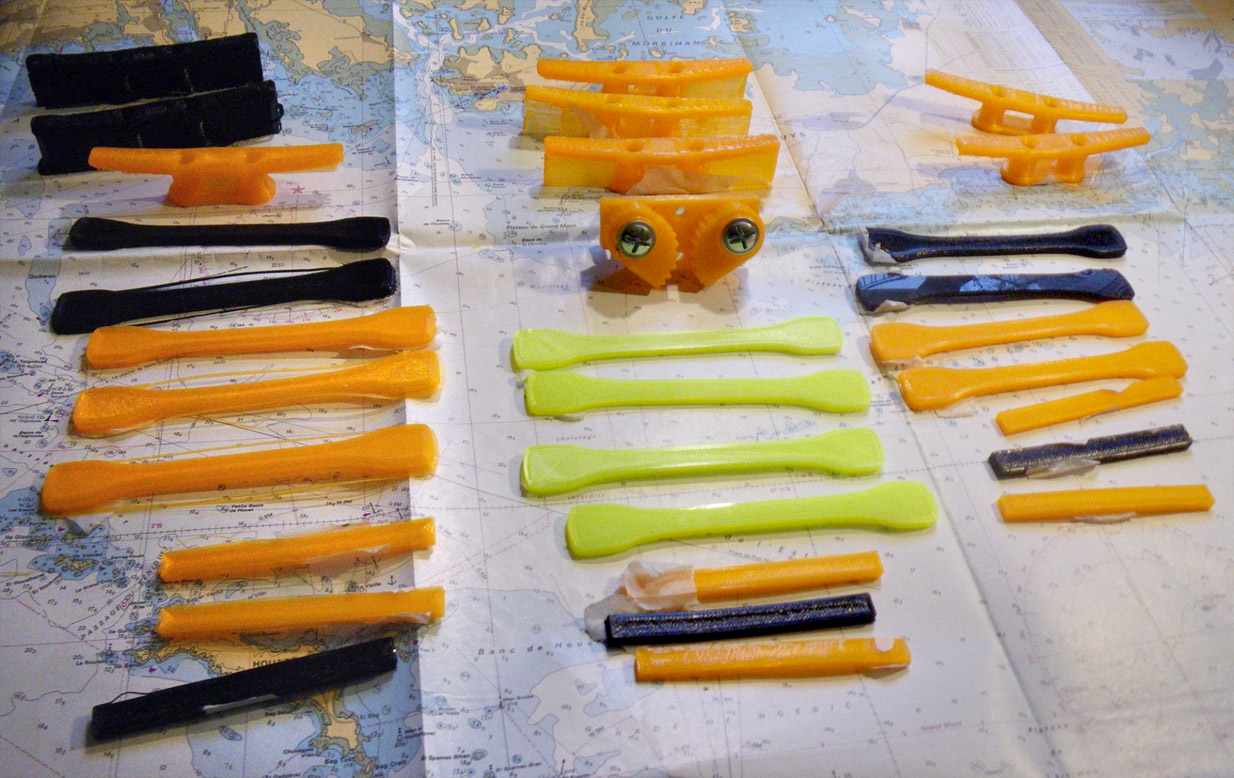 Proof by example
Last May, the boat failed navigation tests on the high seas. "A 20-centimeter crack was letting water in through the front of the hull. We were drowning! We had just enough time to turn around and head back." We often speak of margin for error in the labs, "but for us, this margin was only as thick as the hull, few millimeters." As this last bit of damage was too costly, the crew decided to buy a second-hand two-masted boat for 7,000 euros (retail value 200,000 euros).
In March 2015, the boat will depart from Lorient in Brittany for a 10,000-km journey, along the coasts of 8 countries, in 6 months. The goal is to prove by experience the relevance of associating digital fabrication, ecological activism and yachting. A mini-lab (handy tools, computer and 3D printers), as well as prototypes dedicated to navigation will also be on board.
Among the prototypes will be traditional boat parts (such as cleats, see above), but also energy sources, kitchen tools, desalination systems, etc.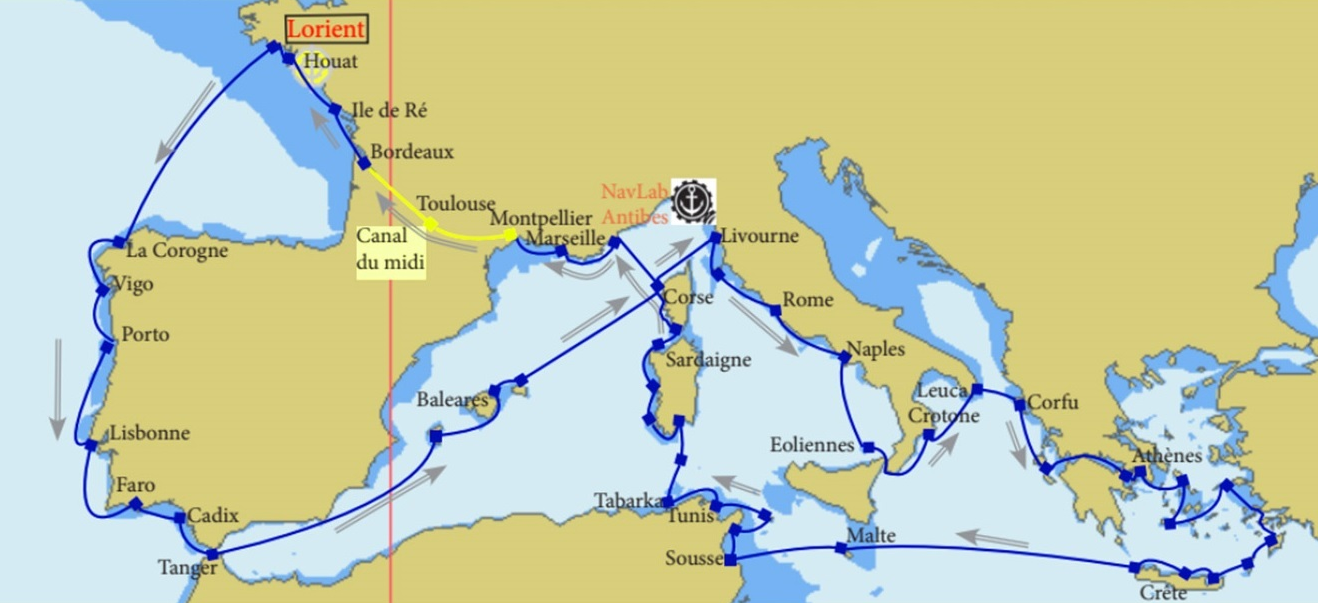 A boat is small, it sways, and it's isolated. The same restrictions apply to the prototypes. "It may seem like the obvious solution, but it wouldn't work to bring along a solar oven to cook our food. The boat sways all the time, which makes it impossible to expose the oven with the perfect angle to concentrate the sunlight," Adrien explains. Ordinary 3D printers don't stand up to the constant swaying and rolling of the boat either. "For that, we're using a Mondrian 3D printer, which was specifically designed for difficult spaces in motion. We tested it on board, it works very well, as long as you isolate it from the drafts coming from the cabin."
The "e" in Lab-REV stands for "ecological". The journey will be made without using any fossil fuels. Many of the prototypes on board will produce energy, while others will carefully monitor its consumption for cooking, navigation and recording scientific data. Homemade windmills, turbines and solar panels will create energy, complemented by an engine running on cooking oil. In order to feed this engine, the crew will go around restaurants in each port city to collect this precious fuel.
"This presents yet another challenge. Usually this oil needs to remain still for several days to decant, which is impossible on a boat at sea. We're working on a spinning system that could decant the oil faster with little energy." As for cooking, Adrien is still hesitating between a car cooker (which uses any 12V input) and the prototype developed by his grandfather: cooking on a computer-controlled heating element… "Our goal is to be as autonomous as possible."
The crew is even thinking about a waste box to collect methane. The boat could (if the prototypes are ready in time) use an automatic pilot developed by Les Fabriques du Ponant (fablab, Brest), or a homemade navigation station developed by someone who loves both electronics and sailing.
Finally, the Lab-REV will be a life-sized test station for participative scientific measurement. If this yacht succeeds in carrying a water measuring station (pressure, salinity, temperature'…), then an integrated module on any yacht could become reality. It's a real goldmine of information for marine scientists, and a good way to hold boaters accountable, by combining practicality with pleasure.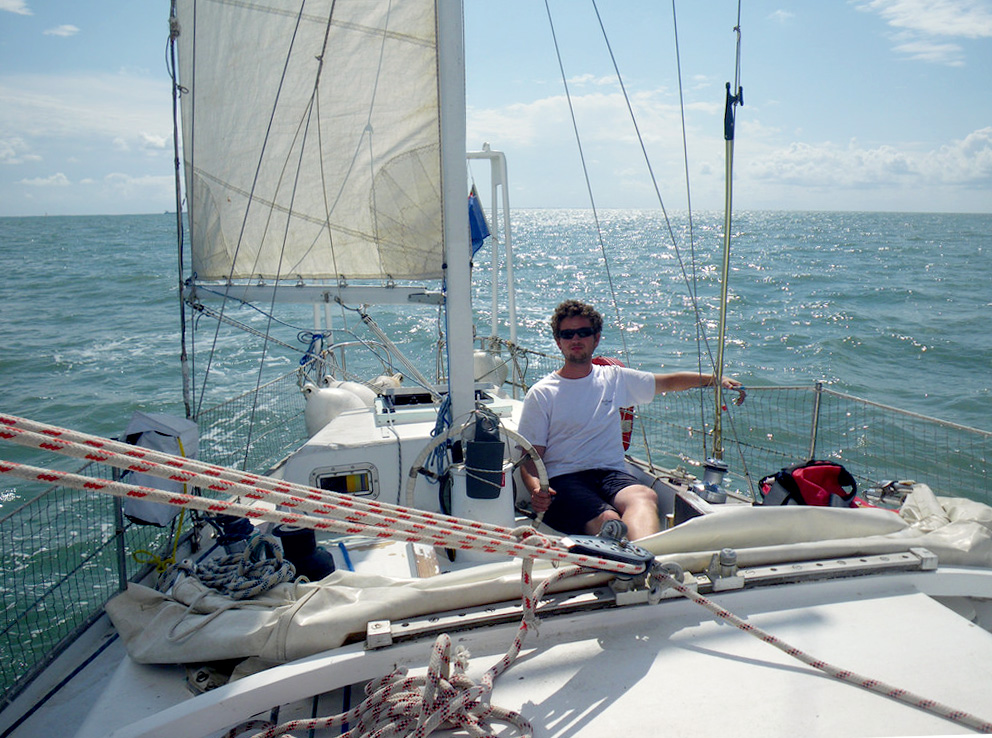 Lab-REV website, which will soon launch its crowdfunding campaign to finalize its budget.