/ Lab Life
Welcome to the "clean room" where the Smap satellite is assembled at Jet Propulsion Laboratory in Pasadena. © DR
Journey to the heart of NASA's Jet Propulsion Laboratory
Jet Propulsion Laboratory, a legend in American space research, explores Mars just as well as the collaboration between artists and researchers. NASA's oldest lab applies maker culture to build Curiosity and Voyager.
(Los Angeles, from our correspondent)
Visiting Jet Propulsion Laboratory (JPL) in Pasadena, California, when you're a space buff is a bit like visiting the Ferrari factory when you're into race cars… JPL is the oldest American space research institution, founded during World War II by the California Institute of Technology (Caltech) under the direction of the aerospace engineer and future kinetic artist Frank Malina. JPL deals with exploration missions for NASA, from incredibly complex robots such as the Curiosity rover currently operating on Mars to the Voyager probe exploring the outer solar system. So I was very excited to visit the lab and learn more about JPL's take on maker culture.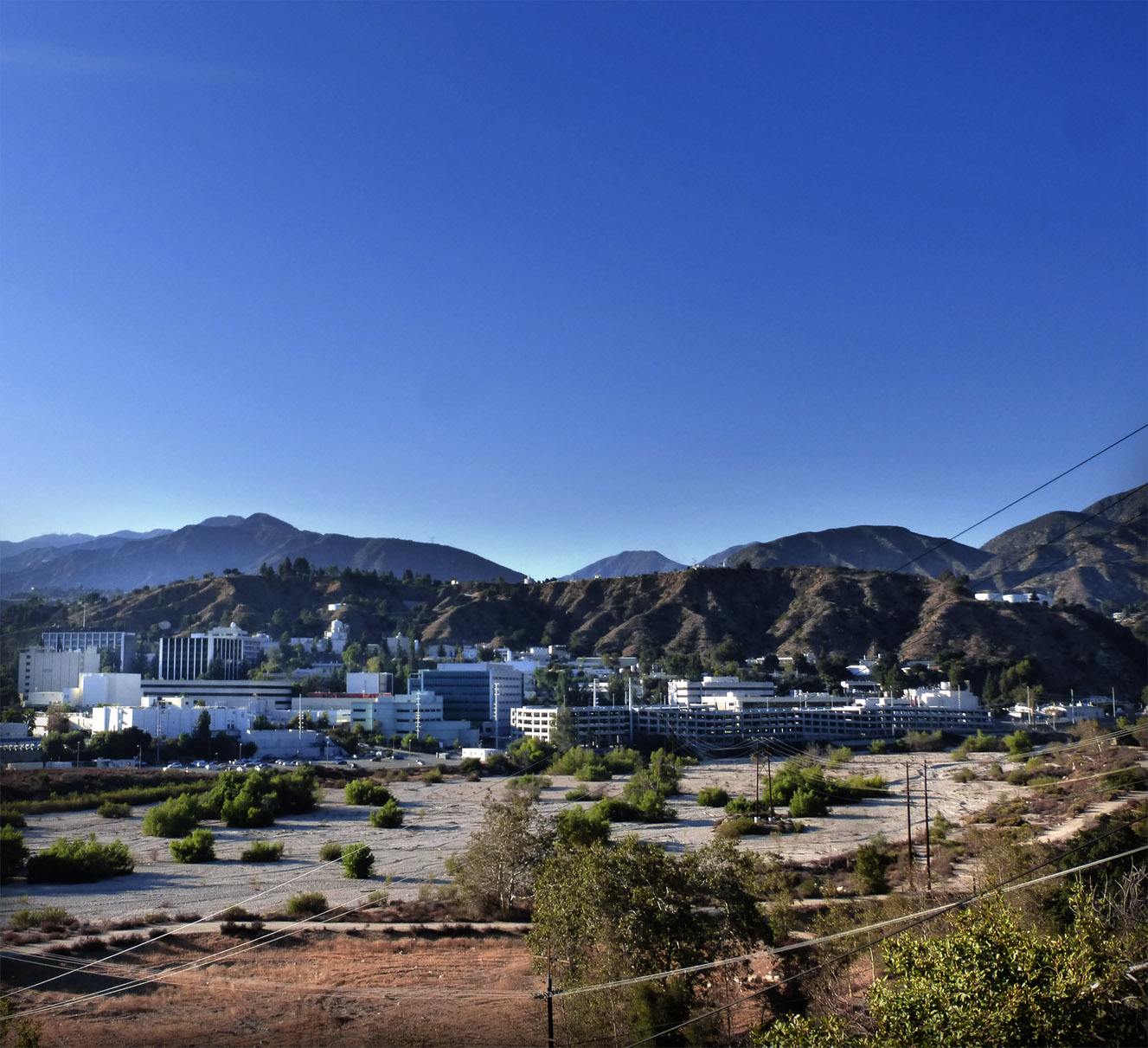 California is full of private space initiatives. There's Paypal co-founder Elon Musk's SpaceX launchers, which use 3D printing for certain stages of fabrication (as SpaceX announced in 2014 during the launch of the Falcon 9 rocket). Then there's Made In Space, a company located in NASA's Ames Research Park in Silicon Valley, which is about to send the first 3D printer to the International Space Station (ISS). There's also SpaceGAMBIT, a conglomerate of makers and hackers who intend to bring their hacker ethics to space engineering.
JPL is far from retiring. It's even quite avant-garde, and hopes to integrate 3D printing into its missions to Mars. This spring JPL launched the Mars Base Challenge, in collaboration with MakerBot, to award imaginary (i.e. 3D-printed) visions of Martian bases. The results were published in August.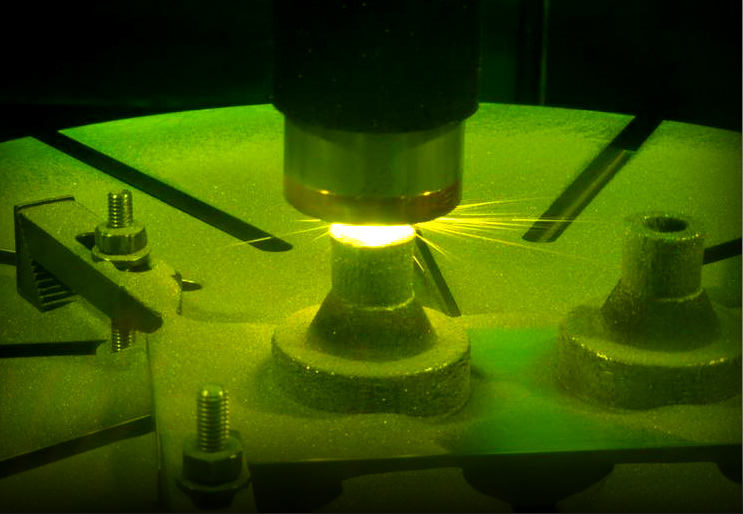 However, JPL is at the forefront when it comes to metals. In order to finalize the Curiosity rover sent to Mars in 2012, JPL had to be innovative in combining various metals and alloys into a single piece of metal. Since then, Douglas Hofmann has led new research in materials science and metallurgy. This summer his team passed an important milestone by perfecting a 3D printing process that moves from one metal or alloy to another as a unique object is being printed, by depositing layers of metal on a rotating stem. The metal transits from inside to outside, instead of by added layers from bottom to top. A laser melts the metal powder to create the layers. Among the printed objects is the frame of a spacecraft mirror composed of several different alloys.
"Everything is robotic for us, from the satellite to the rover to the probe," says Blaine Baggett, JPL's communications director. "With California's months-long drought, our terrestrial climate missions can provide answers. Right now we're building Smap (Solid Moisture Active Passive), a satellite that will measure the humidity of the soil."
To do so, JPL technicians go through several phases of design. The first take place at Left Field studio (Rapid Mission Architecture Room), a space equipped with paper, cardboard, rubber bands, crayons, Post-its, etc., a play room for engineers.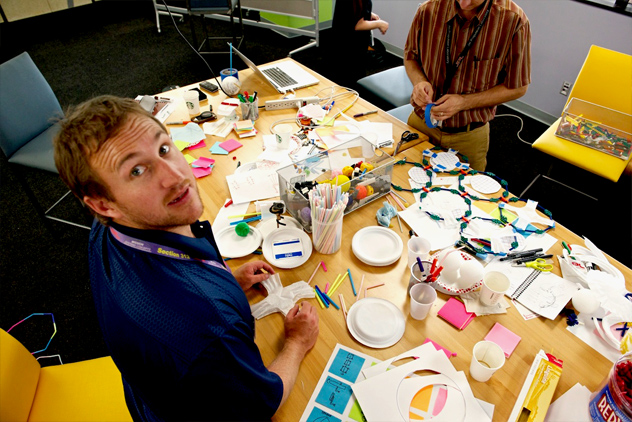 Left Field studio was designed by Daniel Goods' JPL creative studio. The artist, who came for a residency 10 years ago, now leads a team of five people. "Our role is to conceive unusual ways of communicating with the public. This is expressed through artistic installations and public events—working with scientists and engineers to help them formalize their thoughts, participating in design sessions for future missions," says Daniel, who gives artistic direction to the "rapid brainstorming" sessions by guiding the prototyping.
The atmosphere in Dan Goods' studio is quite playful and intuitive—design books, paper and scissors to quickly give form to ideas, a MakerBot in the corner. Portraits of Salvador Dali, comics and other vintage toys recall the Buck Rogers era of Frank Malina, Jack Parsons and Edward Forman, JPL's pioneering trio of sci-fi aficionados.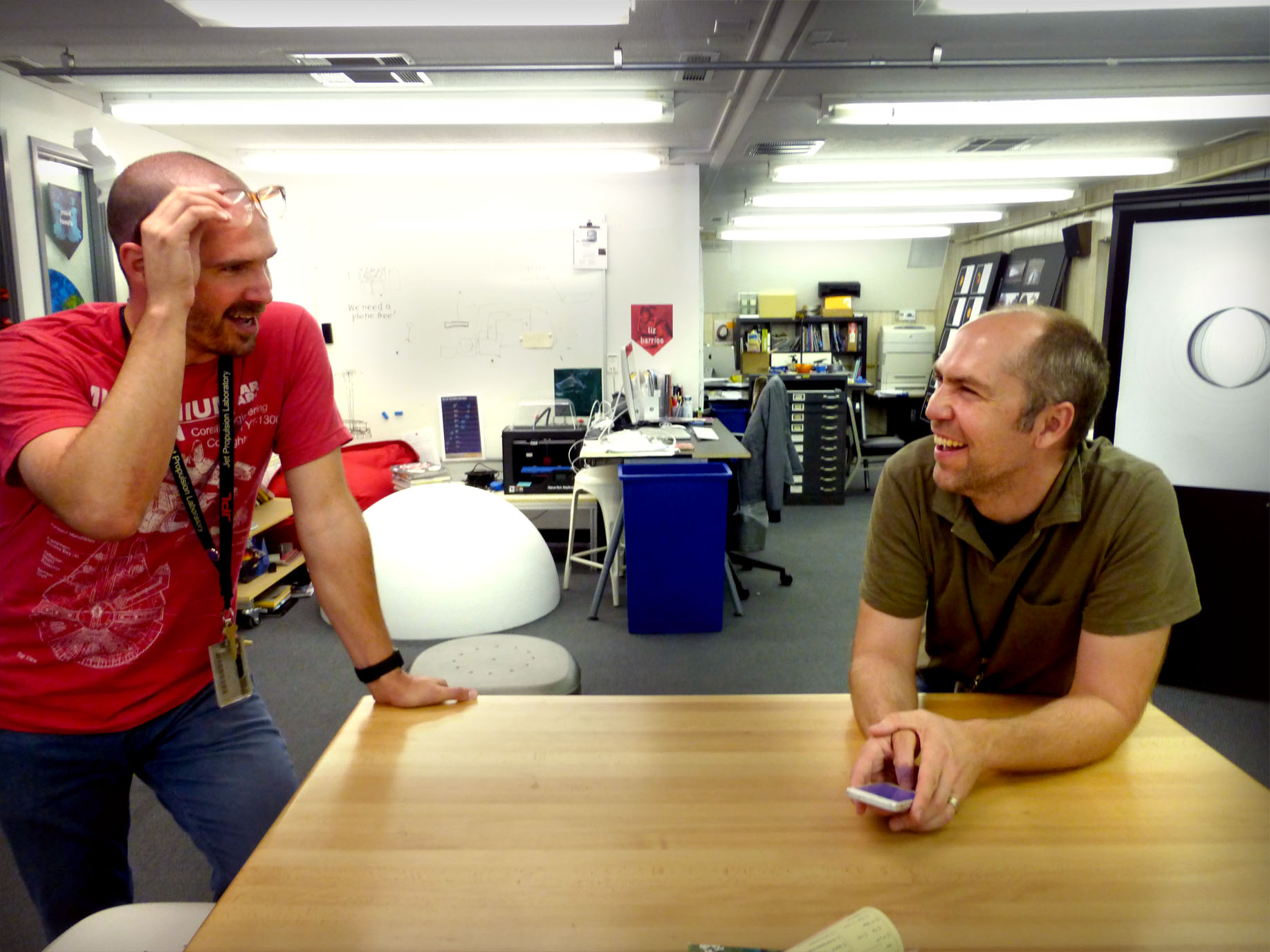 "We're also setting up art-science design installations. The last one, which was installed this spring on the Brooklyn Bridge Park waterfront in New York, explains the objectives of the Rosetta mission," says Joby Harris, special effects and modeling expert.
The Rosetta probe, a project led by the European Space Agency in partnership with a number of institutes including JPL, should land in the next few days after a 10-year journey on the 67P/Churyumov-Gerasimenko comet. "We're trying to modernize Jet Propulsion Laboratory's environment by doing a little interior design. Even if it's an old institution, it should always look like it came out of science-fiction."