/ News
A little empty? Pending the fablab, his future manager Szilard Kados develops its projects in the electronics lab of DEUSTO Tech. © Carine Claude
Bilbao's DEUSTO fablab ready for take-off
3-2-1… Spanish Basque Country will have its second MIT-approved fablab at the University of Bilbao. Launch scheduled for December 2014.
Bilbao, correspondent
Led by Szilard Kados, the Hungarian-born engineer who directs the Institute of Technology's Research Center at the University of Bilbao, the new fablab is set to open its doors in December 2014. After two years in the making, DEUSTO fablab will occupy 400 dedicated square meters on campus.
Fighting for funding
For now, the future fabmanager is in a frenzy to gather all the necessary equipment and negotiate with the providers. « One of the problems of setting up a fablab is that the majority of equipment comes from the Unites States—it's difficult to negotiate the prices, and importing costs a fortune. Otherwise, I know that the Barcelona fablabs are putting together a list of European equipment, which would make life easier for all of us… » says the engineer in a mixture of English, Spanish, Basque and Hungarian. He attended FAB10, the International Conference of Fab Labs in Barcelona, determined to learn more about the subject.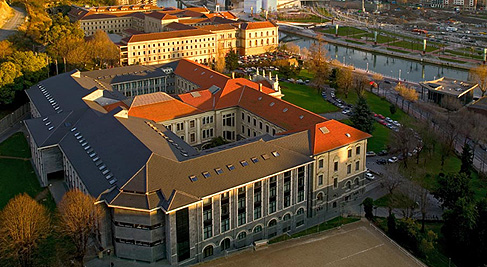 While the university's Engineering department actively supports the project, the issue of its funding is still unresolved. « We don't have any donors, so I'm lookng for any kind of discount, » he adds. Another big obstacle is the recently proposed Spanish law on participative financing that severely restricts the use of crowdfunding—a particularly sollicited source of fablab funding. The law would limit individual contributions to a maximum of 3,000 euros per project—needless to say, a mere drop in the bucket.
This announcement, which had Spanish startups and nonprofits up in arms, would be more flexible in the case of private companies, but so far the ceiling for individual contributions still stands.
Politicians from Spain (who never EVER setup a Company) trying to limit crowdfunding investment… The joke of the day.

— Miguel Silva (@MSilvaConstenla) February 28, 2014
A future Master of digital fabrication?
As he waits for the various departments of the university to release funds, Szilard Kados details his strategy: « I want to be able to do everything in this fablab, which also means buying equipment that you can't necessarily find in other fablabs. For example, I want to set up tests to measure the lifespan of a material, its surface or its capacity for extension. » His think-tank includes engineers from the seven departments of the universty's Research Center, who are also exploring issues ranging from mobility and education to energy and computer engineering.
"The fablab will be part of the engineering department's resources, but I also want it to be open to researchers, and of course, to students and the general public, because many spaces pretend to be fablabs even though they're not accessible to everyone!" In the meantime, he continues his tour of Spain's 15 fablabs (in Spanish Basque Country, there is already the Denokinn basque fablab in Santurtzi) to maintain the network and find good ideas for the future: "Ideally, we would establish a master's program in digital fabrication supported by the fablab, but that won't happen right away, as it takes two or three years to get a fablab up and running…"