/ News
5th NYC Resistor Interactive Show. © Cherise Fong
14 wacky projects at the NYC Resistor Interactive Show 2014
The best in photos of wacky, playful, experimental projects at the NYC Resistor Interactive Show 2014. This Brooklyn-based hackerspace, one of the most accessible in New York, held its fifth annual showcase on June 7.
New York, from our correspondent

The hacker collective NYC Resistor in Brooklyn, birthplace of now-famous MakerBot, shares a space dedicated to collaboration, creation, community and education using digital tools and electronic components. Now in its fifth year, their Interactive Show 2014 didn't quite have the spectacular charisma of last year's "digital archeology" edition, but the atmosphere was the same: playfully experimental interfaces, retro-obsolete devices, mannequins and machines, LEDs and LIFX. Like a nightclub/lair for hackers in show-and-tell mode, the NYC Resistor Interactive Show 2014 still gave us a good time. Best in show photos below.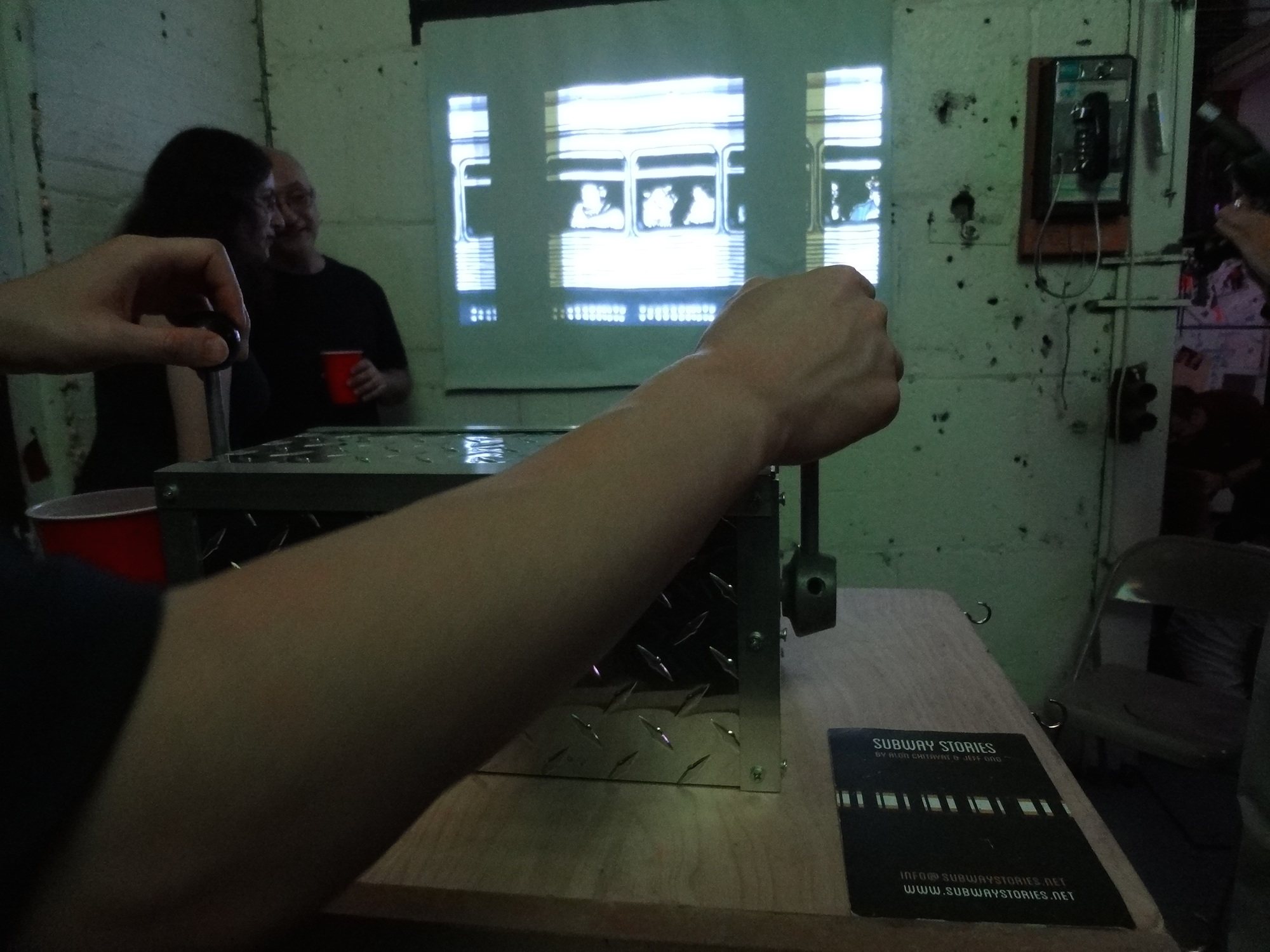 Subway Stories, interactive installation by Alon Chitayat and Jeff Ong, students at New York University's Interactive Telecommunications Program. By moving the levers on the left and right, the viewer can control the position of the subway car and zoom in on passengers in the adjacent subway car to hear snippets of inner voices. All the sketches were drawn by Alon during his daily commute on the C train between Brooklyn and Manhattan.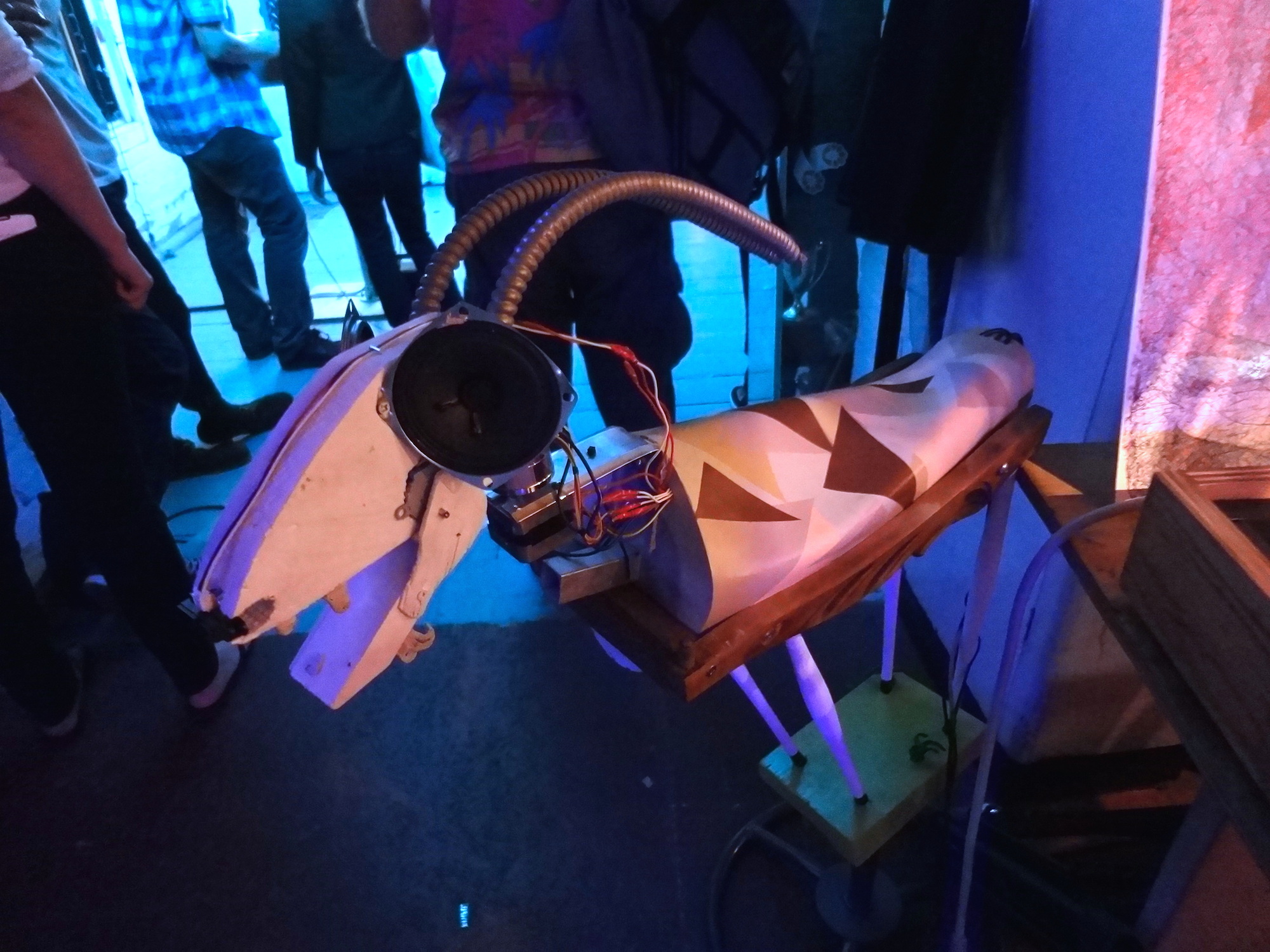 This smiling goat with motor-swiveling neck made by Jakob Theileis surveys the room like a security camera while talking through its speaker eyes.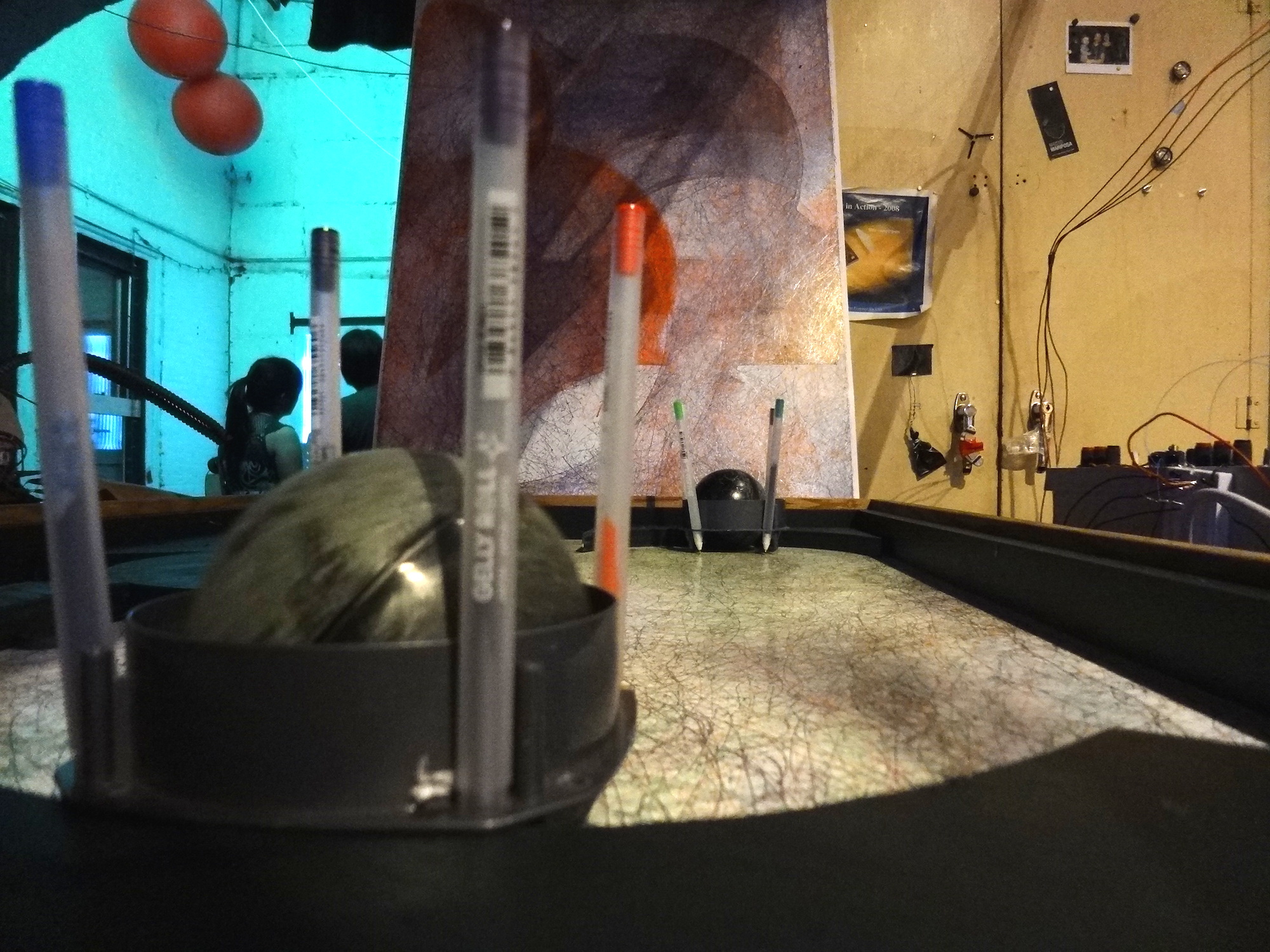 Jakob Theileis also programmed these randomly rolling balls, which change direction whenever they hit an obstacle, drawing forms that are just as abstract as they are nuanced with their attached ballpoint pens. Visitors can move around the black wooden blocks to modify the balls' trajectory.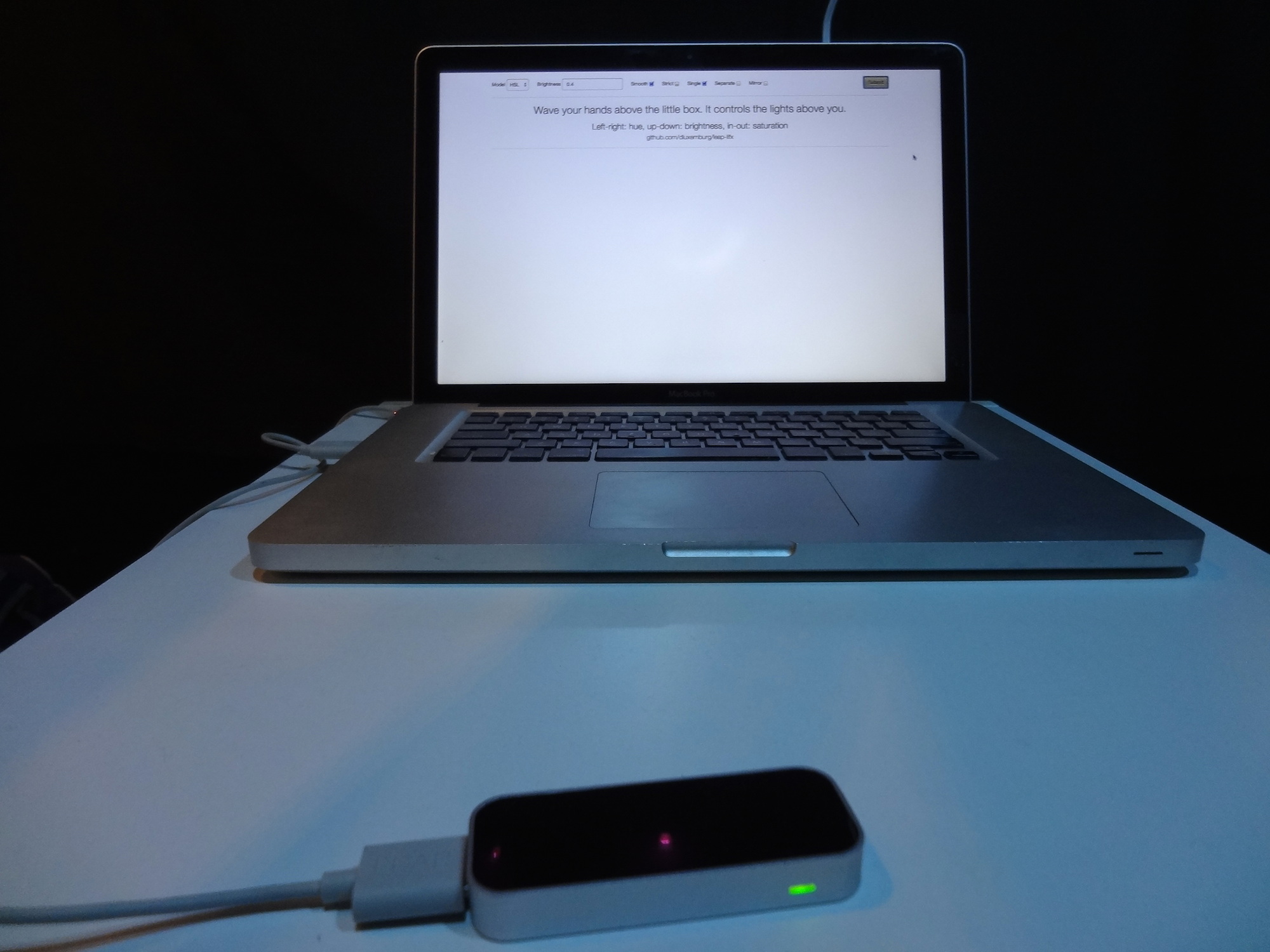 "A little application for controlling LIFX bulbs with a Leap Motion controller" by Daniel Luxemburg. Indeed, this raw little exercise lets you play with the hue, brightness and saturation of the lighting by waving your hands above the little box: left-right, up-down, in-out.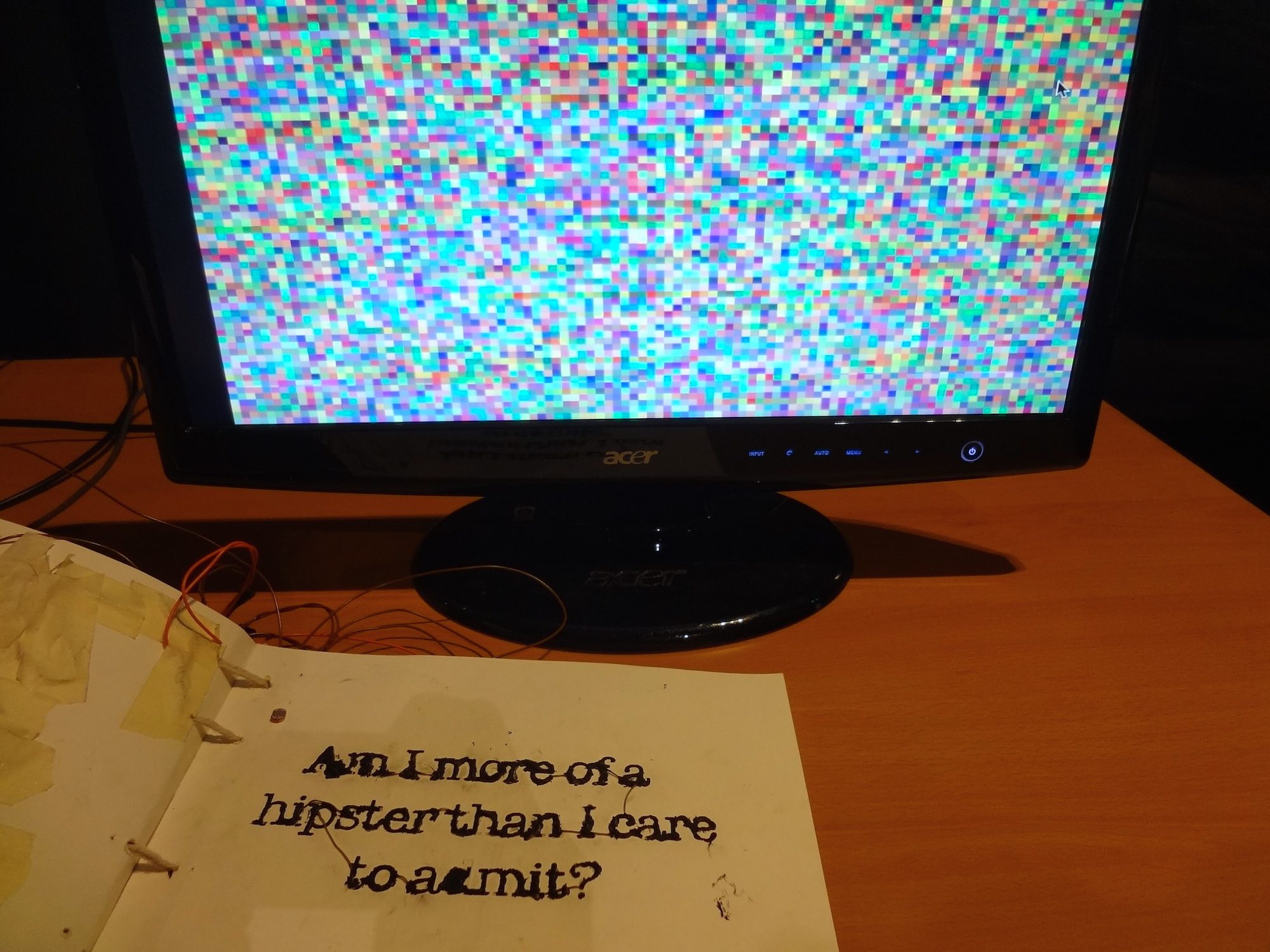 Interactive Journal by Ariel Cotton. Each time a page of this book-interface is turned, the monitor displays different graphics. Touching the letters triggers an electronic sound. No story, just an experimental application to transform a sentimental analogue object into a hi-tech controller.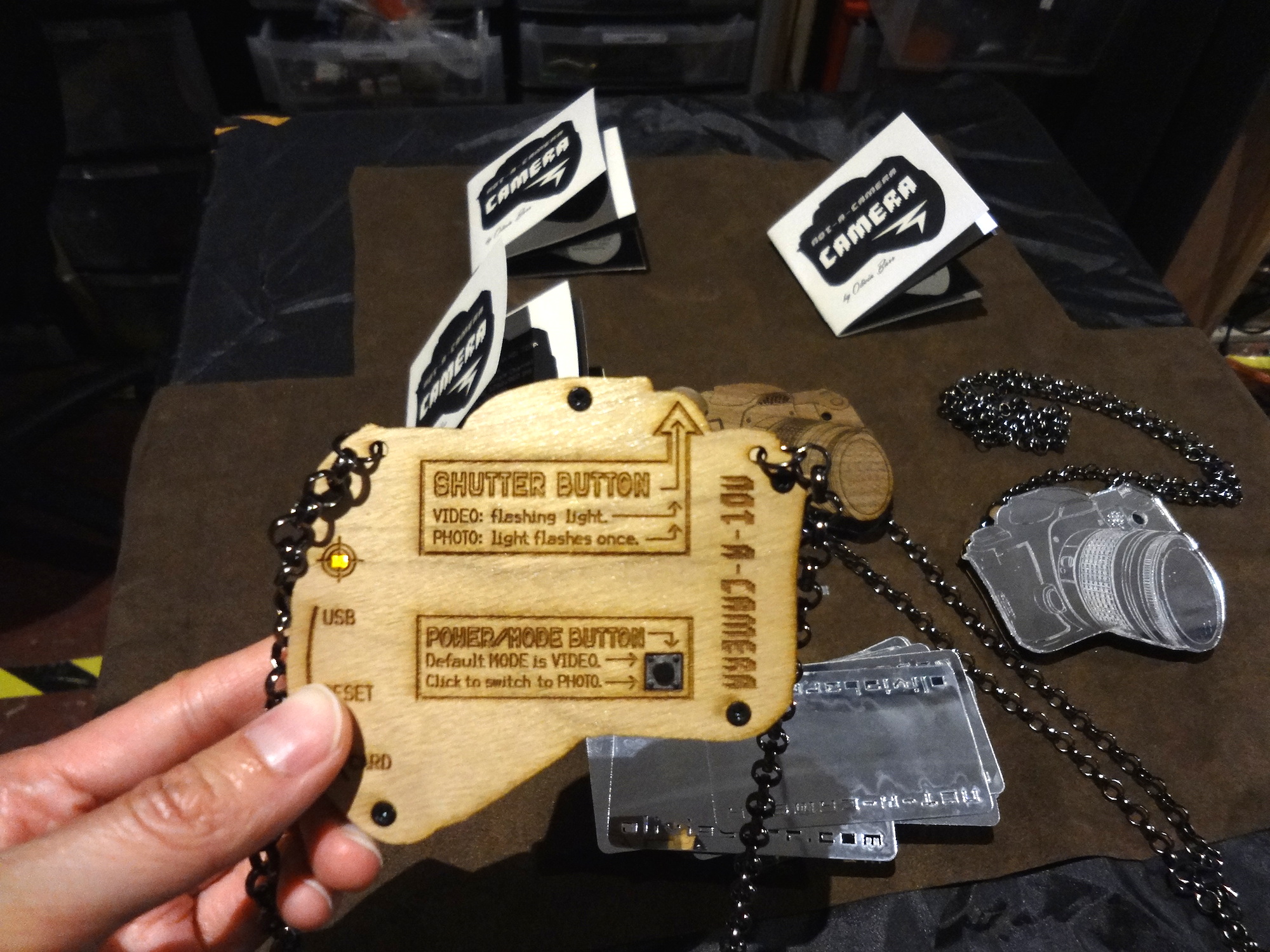 Not-A-Camera by Olivia Barr. This real camera disguised as a toy-pendant is a true spycam made of ultra-thin, ultra-light wood. Originally designed for the artist's 101-year-old grandmother, Not-A-Camera takes photos (1280×960 pixels), shoots HD video (1280×720) and costs $150 on Etsy.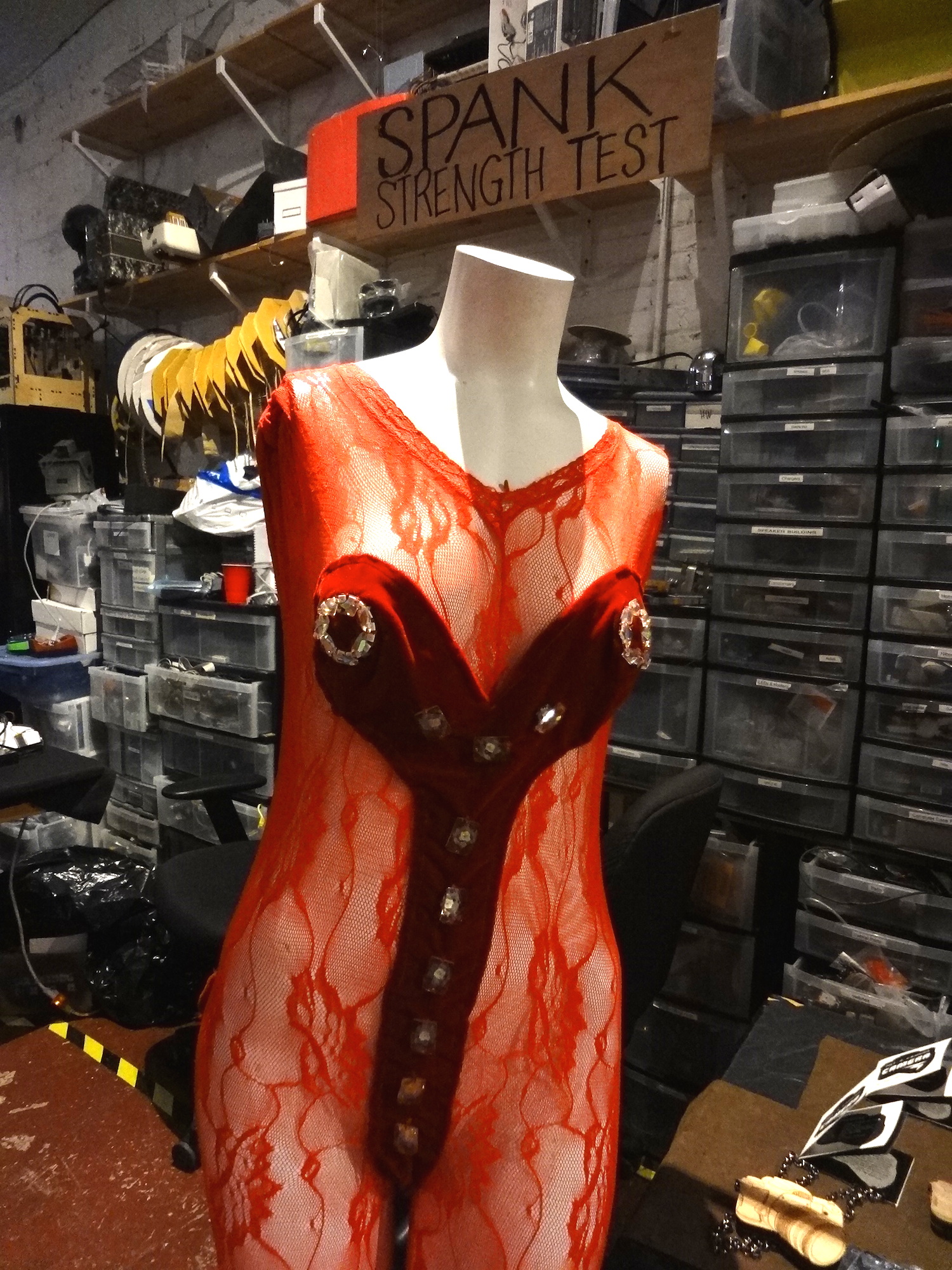 This mannequin by Sayaka Vermeer, perfectly in line with the evening's funfair atmosphere, wears lingerie that lights up according to how hard you spank it.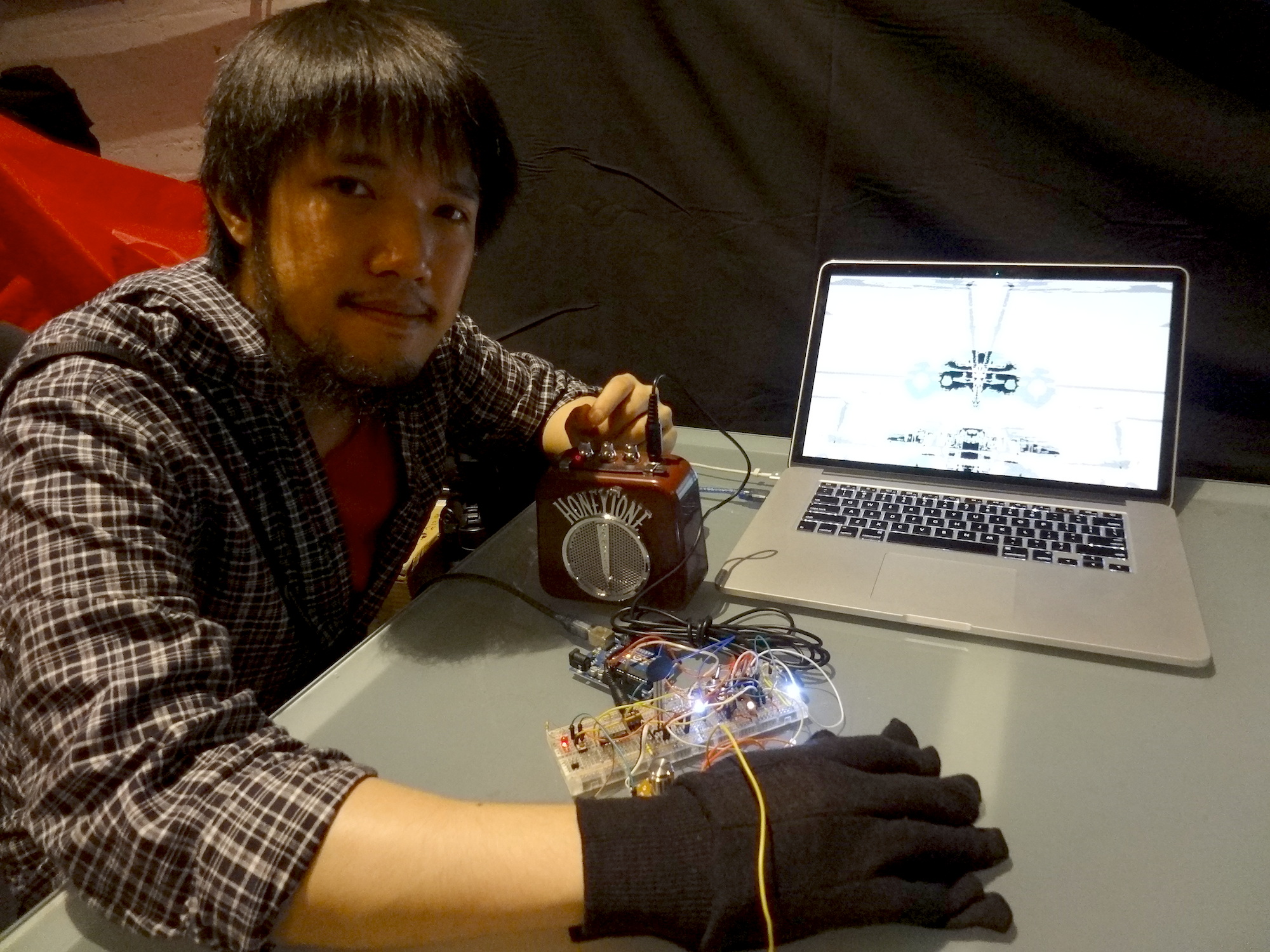 Tharit Tothong hacked together this eclectic interface that invites you to play electro-minimalist DJ/VJ by manipulating two gloves, one switch and the volume of a Honeytone. The Macbook's webcam captures your silhouette and moves, translating them into psychedelic 8-bit images to accompany the 1-bit music.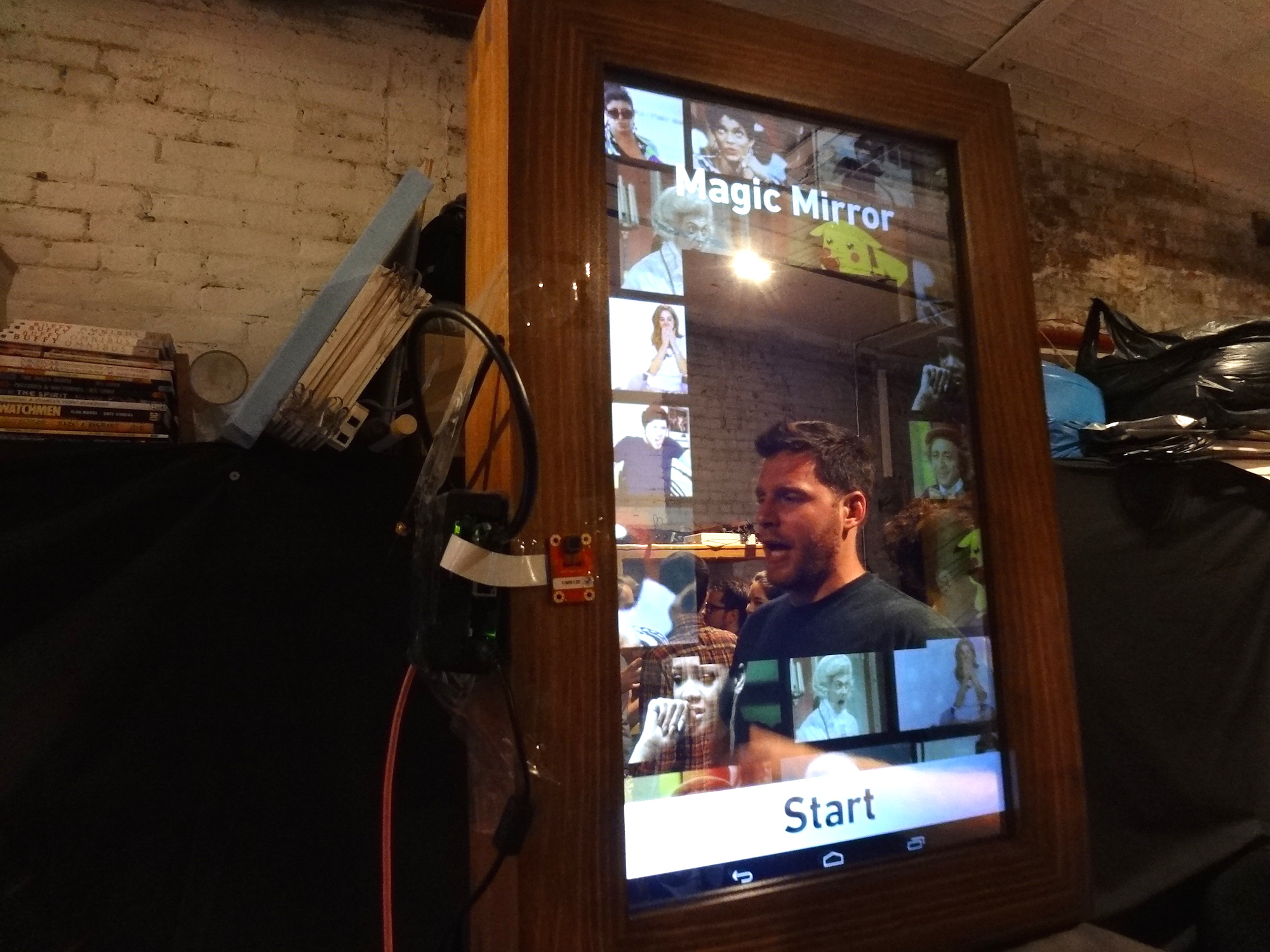 Amit Klein, co-founder of Startup Giraffe, presents the prototype of Magic Mirror, a smart Android-powered mirror that displays text, photos and videos, in addition to reflecting your own image. Applications wanted!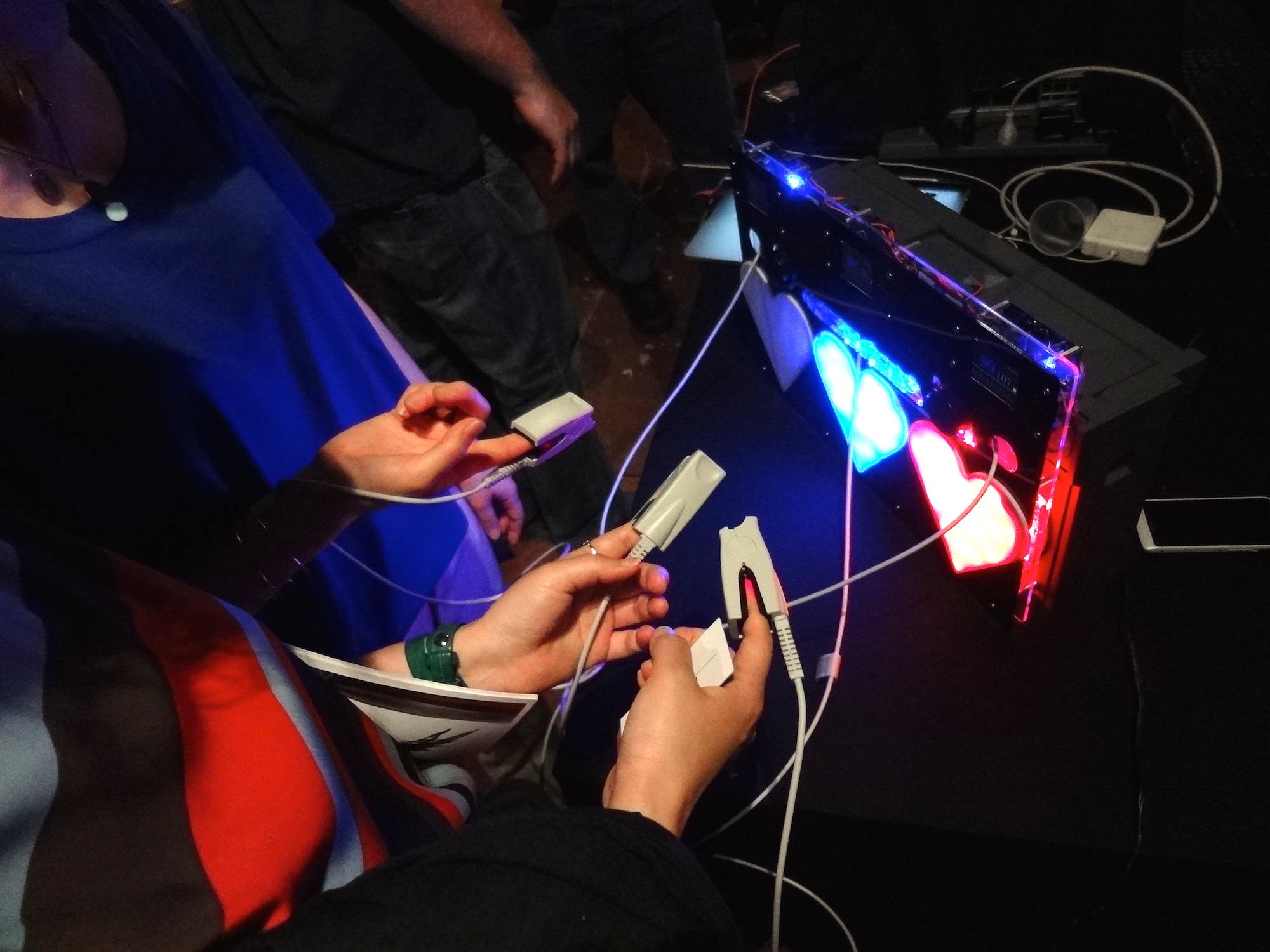 Insert your finger into one of three sensors of this modified boombox to hear hip-hop beats over blinking hearts, supposedly in sync with your biological pulse.
The good old Minitel is back for the 2014 show, reanimated by a Raspberry Pi, sempiternally displaying its 8-bit interpretations of images resulting from online searches.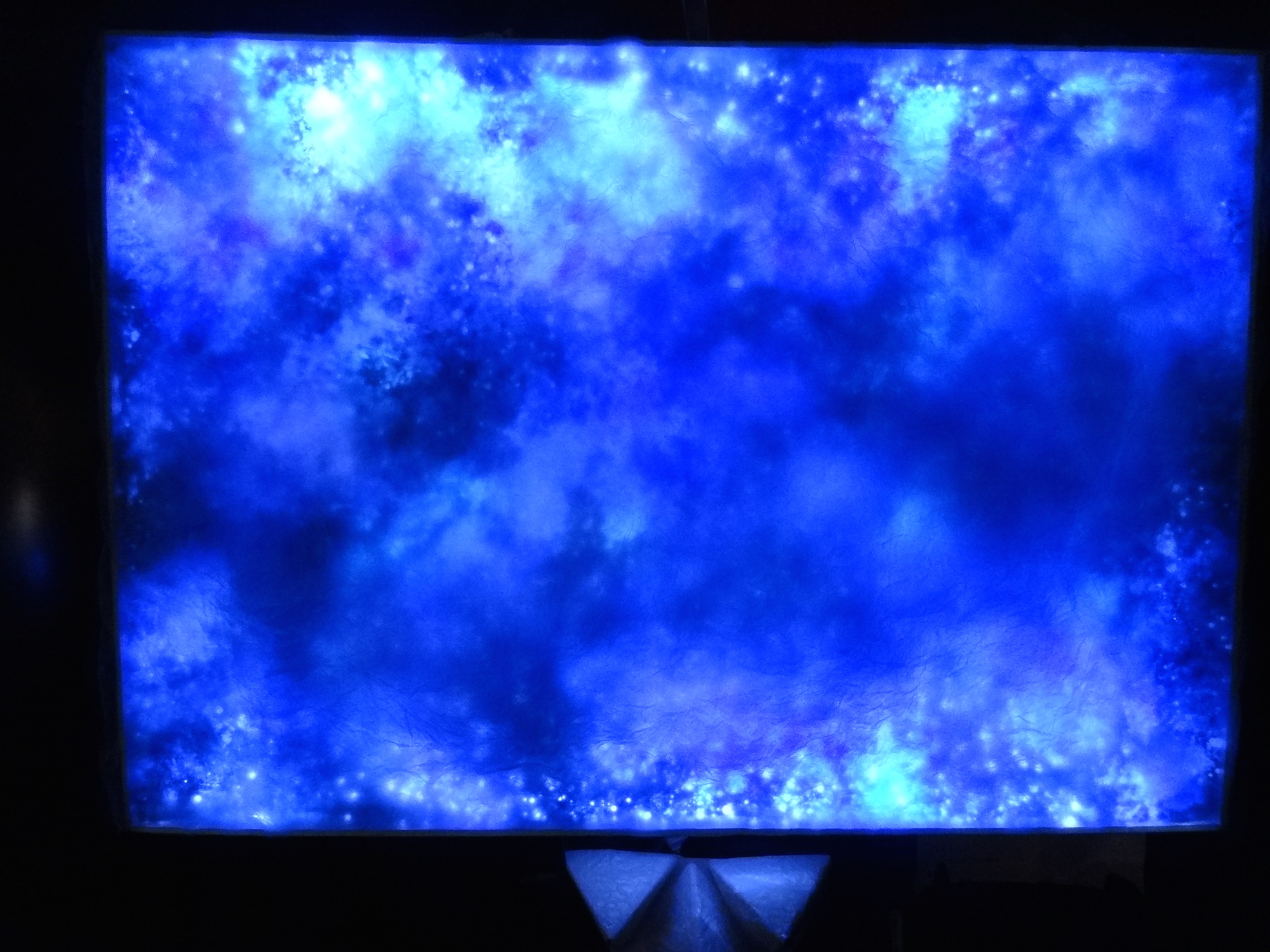 The Invisible Visible by Ekaterina Smirnova. Loosely simulating a perpetually changing sky, this light-sensitive, temperature-sensitive and sound-sensitive screen subtly reacts to the shadow of a hand, the touch of a finger and the volume of claps.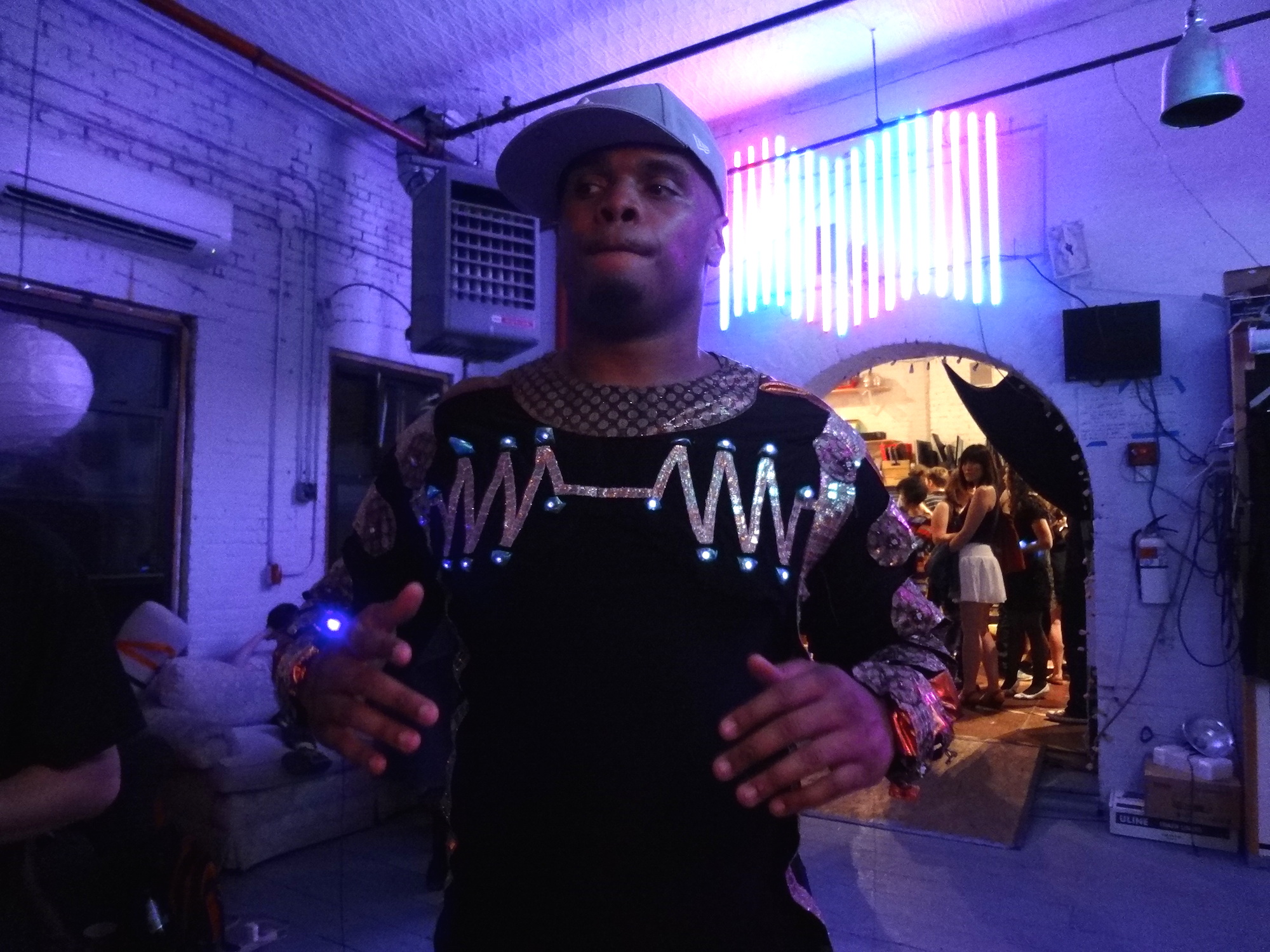 Mike "Supreme" Fields, both performer and professor of hip-hop, demonstrates his Pexel Shirt, a costume enhanced with LEDs conceived and tailor-made by NYC Resistor members Nick and Sayaka Vermeer, Olivia Barr and William Ward. The Pexel Shirt, which lights up his "pops" every time he flexes a pectoral or arm muscle, was already featured on stage in a production of "The Brooklyn Nutcracker" in April.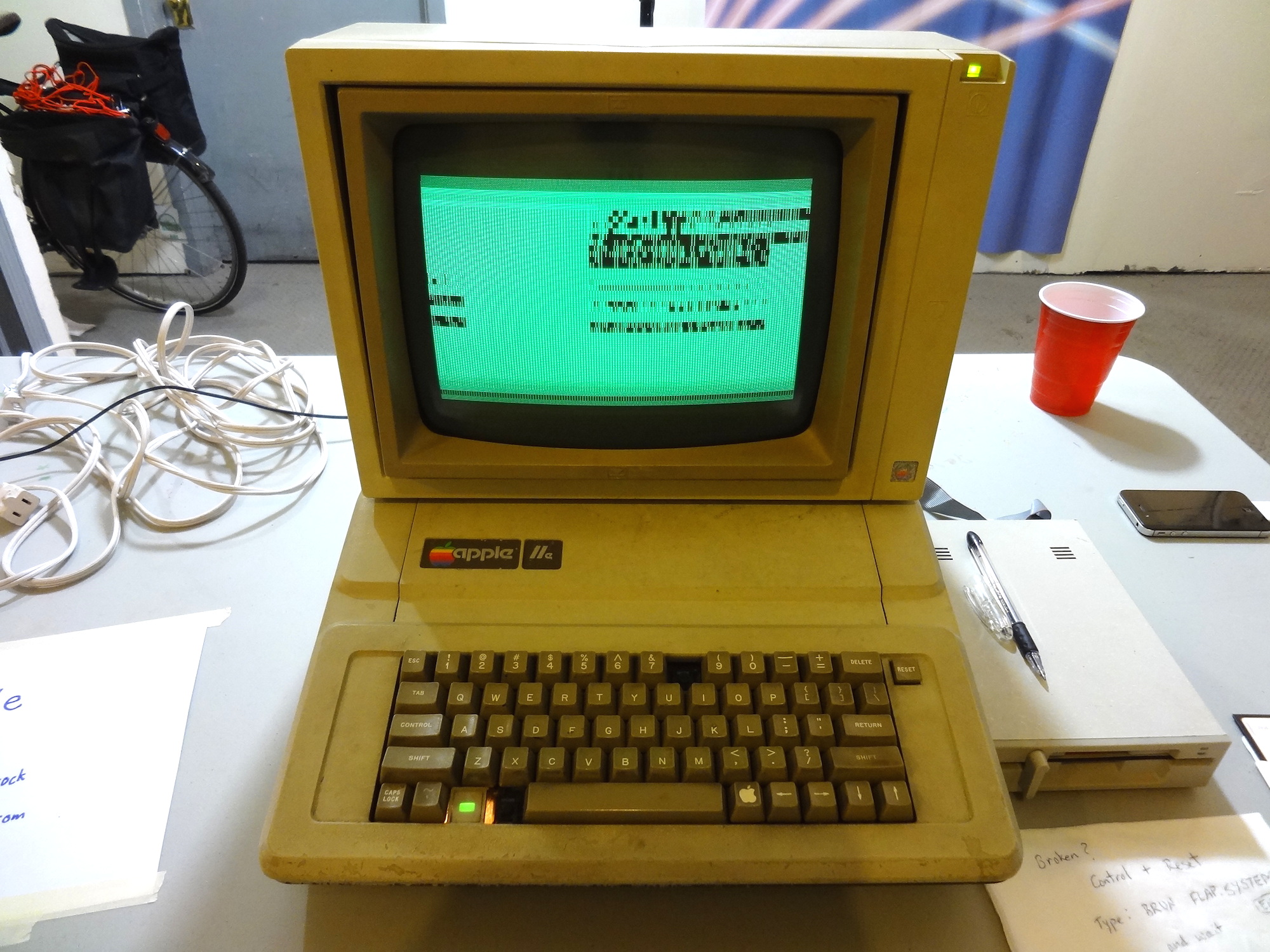 Flapple Bird by Dagen Brock. After the viral success of Flappy Bird, the simplistic app with the open-source gameplay had been adapted for every retro computer platform… except for the classic, iconic Apple II. Now, it's done.