/ Events
Workshop at SIRTA laboratory for atmospheric remote sensing © Célia Boutilier
Is the sky the future of water?
At "Garden the Sky Water", a symposium organized by Arts & Science Chair in Paris on June 12-15, various disciplines discussed the burning issue of alternative water sources.
As part of Exoplanète Terre, a "constellation of events" organized in several different venues around Paris in 2019-2020, the "Garden the Sky Water" symposium examined future perspectives on alternative water sources and their implications for the biosphere.
The symposium was coordinated by Arts & Science Chair, a program that brings together artists and scientists through creative-research, training and mediation regarding our interdependence with the natural environment, supported by École Polytechnique, École nationale supérieure des Arts Décoratifs-PSL and the Daniel and Nina Carasso Foundation.
Sky, fog, dew
Over four days, the theme of exploring alternative water sources in the sky, fog and dew was presented, performed, exhibited, workshopped and debated by researchers and artists—curated by Ana Rewakowicz, artist and researcher at École Polytechnique, and Jean-Marc Chomaz, artist, physicist and co-director of Arts & Science Chair.
One full-day workshop on the use of atmospheric data was hosted by École Polytechnique's SIRTA (Instrumental Site of Research by Atmospheric Remote Sensing) laboratory; talks in English took place at Cité Internationale des Arts; a screening and discussion of Jodorowsky's Dune at the Studio des Ursulines theater; another day of talks in French at Maison des Métallos, enhanced with video installations and cello concerts.
"Uncertainty is necessary to produce profit", posited Karolina Sobecka, artist, designer and researcher based between New York and Basel, during her presentation "Closure assumptions" on new narratives for the era of techno-optimism, where she claims that control over the atmosphere is playing a crucial, if not fatal, role.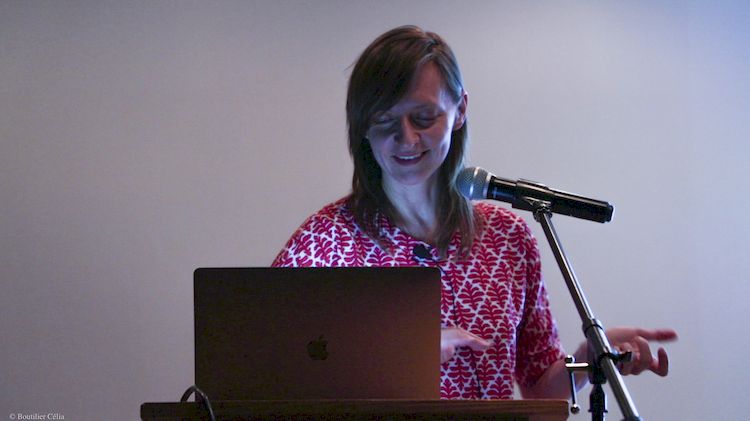 The notion that atmospheric waters can be a possible source of water is more recently gaining ground. Finding alternative water sources is already a reality in the tropics, where evaporated water is becoming crucial, and not only for economic reasons. In his lecture "An Ode Celebrating the Fog", Jamila Bargach from the nonprofit organization Dar Si Hmad presented the case of Morocco, where fog from the highlands is no longer considered an enemy that merely creates rust on farm tools but also provides precious water. With fog collectors installed on the mountaintops, the harvested water not only brings the villagers prosperity, it challenges the existing patriarchal order: women, previously tasked with the time-consuming chore of fetching water, now have free time to study. According to Bargach: "Civil society acts as a broker, a connection to the community, and as an in-betweener."
In addition to rain, dew is also used for drinking water. Daniel Beysens, president of the nonprofit Opur (International Organization For Dew Utilization), presented the case of collecting morning dew. Based on case studies in Croatia, India and French Polynesia, he reassured us that mechanical dew collectors have delivered water with a composition of biological and chemical elements that is indeed safe for human consumption.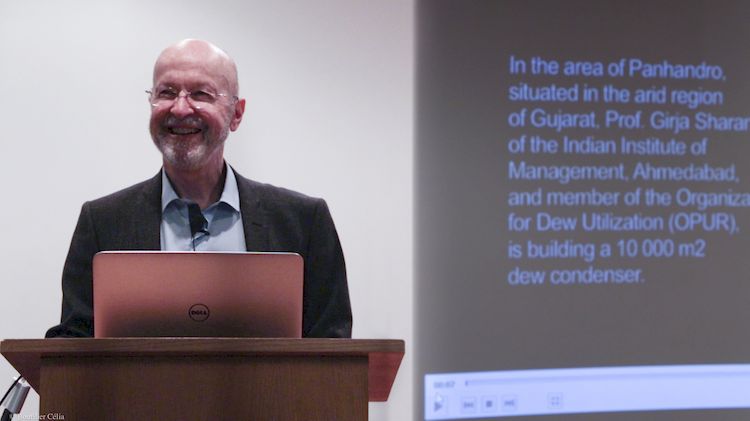 Occupy the sky
Natural phenomena are a never-ending source of inspiration for both scientists and artists. The rarely troublesome relationship between art and science could be considered one of the best marriages of two fields—perhaps because of the visibility of the arts' outreach, whereas science often remains sealed in its own world? The projects presented at "Garden the Sky Water" offered new perspectives on water, sky and clouds through multimedia, visual, literary, musical and performing arts.
While many presentations implicitly or explicitly indicated sky harvesting, works by Raphaële Bidault-Waddington, founder of LIID Future Lab, tackled the sky head-on. Occupy the Sky, the name of the project, presents four fictive situations of possible exploitation of water in the sky, in a context of a triple environmental transition (Anthropocene), digitale (augmented planet) and demographic one.
Fiction P, by Maxime Berthou, student researcher at Ensad Lab, was an attempt to artificially trigger rain at the U.S.-Canadian border. To do so, the artist designed special balloons to provoke rain, thus harvesting the last potable water resources without any legal status for the sake of art. This tongue-in-cheek endeavor challenges the current legal framework of the biosphere, as laws may soon be obsolete once water scarcity literally "reaches the sky".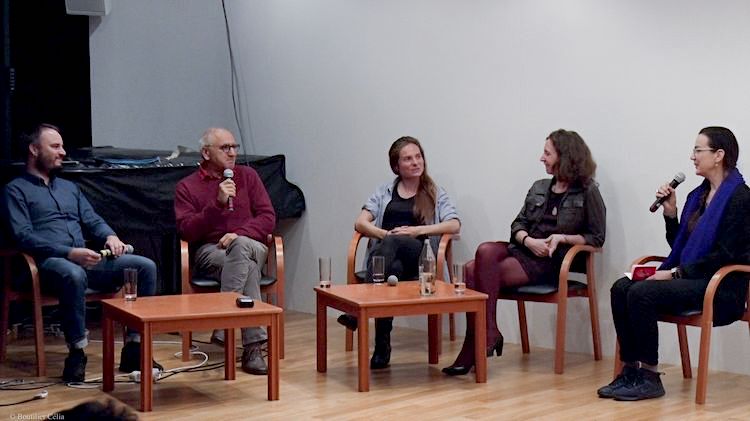 Meta-gardening perspectives
"Dragons incarnate the generative power of water," said Veronica Strang, anthropologist at Durham University and author of the book Gardening the World: Agency, Identity and Ownership of Water, offering a humanist perspective on the symbolism of dragons and gardening at the beginning of the symposium.
As our current planetary uncertainty feeds on constant fear, nothing could be more contrary to this than the metaphor of gardening, turning the logic upside-down: from an agent of fear, one becomes an observer. Gilles Clement, a vital horticultural engineer, gardener and writer, offered his firsthand insight into a form of "meta-gardening" the planet. In this context, gardening is a shared and participatory activity, where observation is key. "Planetary gardening" is a figurative way of seeing a garden where the landscape is free from serving the needs of humans. "Where there is a garden, there is a gardener," claims Clement, who prefers the term planetary gardening to landscape gardening.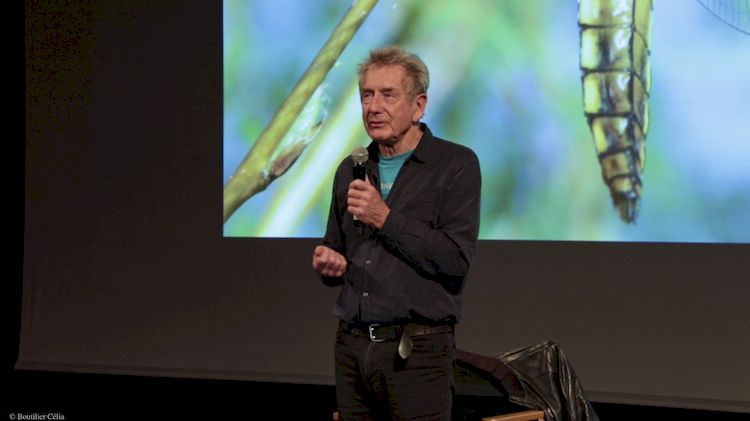 "Musicians and architects are among the first to pick up the ideas based on changes of paradigms in nature," said Nicolas Reeves, artist and researcher from Montreal. While presenting his work Cloud Harp, an instrument that creates music based on the shapes of the clouds above it interpreted by lidar, he gave a fascinating history of the harp and cloud observations, from Anaximander to Mitchell Feigenbaum's geometry of the cloud.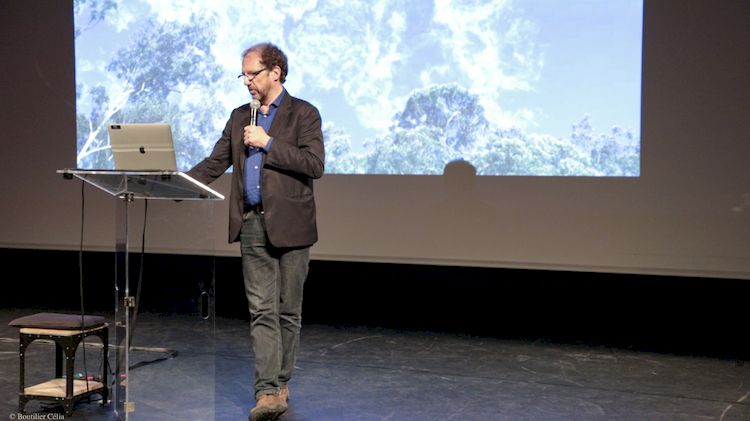 "Not all humans have affected the planet the same way," said the symposium's co-curator Ana Rewakowicz. Practices by Inuit and other aboriginal people from North and South America have tried to live with nature rather than fight against it. As the symposium and its organization might well have (consciously) followed the sustainable model of cultural ecology, it is our task to take it as an example of good practice.
More information on "Garden the Sky Water", Arts & Science Chair and Exoplanète Terre