/ Proto
The LED Ocean Dress on the catwalk. © Makery
Fashion Tech: LEDs under the frills
At the closing show of the Fashion Tech Showroom in Paris on the 26th of September, the illuminated Ocean Dress caused a sensation. An ethical and chic hi-tech prototype.
Difficult for the illuminated prototype Ocean Dress to go unnoticed during the closing show of the Fashion Tech Showroom, the ethical and tech fashion fair organised at the Parisian lab la Paillasse on the 26th of September. In a rustling of waste plastic bags, its half-slip comes to life with multi-coloured light variations boosted by a network of LEDs that its three creators patiently fixed.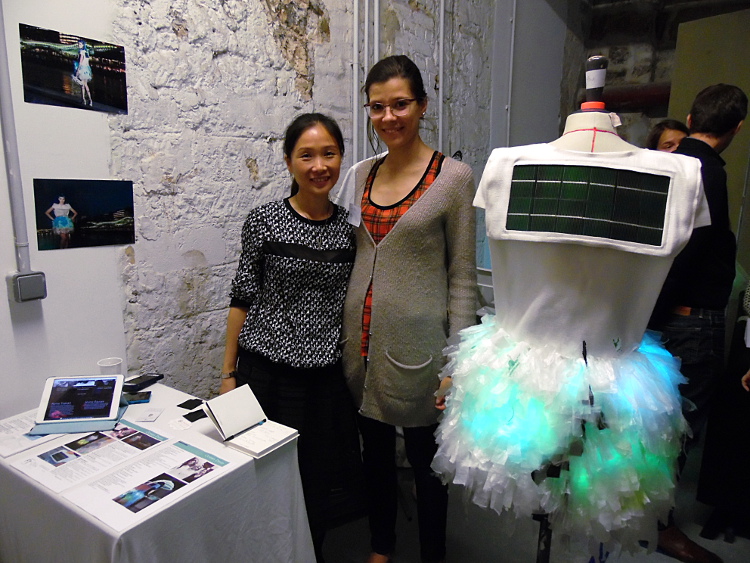 "The dress was born here, so to speak", explains Alice Giordani, a fan of electronic textile and co-founder of this unique garment. With the dress designer Fang Yang and the fashion designer Valérie Marsaudon, they met a little more than a year ago during the Textilab meetings, these hacking and sewing tinkering workshops organised on Thursday evenings in the premises of Hall Couture, in the basement of La Paillasse.
"The Ocean Dress is a rather spontaneous and multidisciplinary project that seizes well the environmental and technological issues."

Alice Gras, founder of Hall Couture, who initiated the Fashion Tech Showroom
Solar energy and waste materials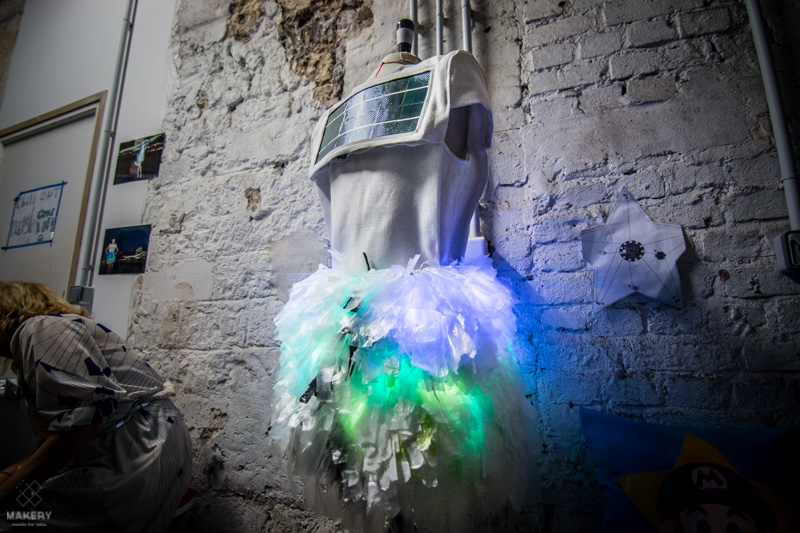 Consisting of a jacket and a dress made of neutral pattern fabric, the lot is enlivened by a frilly half-slip made of thongs of used plastic bags, woven on a fishing net. Thus the name Ocean Dress, its creators having decided to develop the "thematic of ocean preservation through waste scavenging and a more ethical fashion".
Under the net, 42 programmable LEDs are controlled by a Lilypad Arduino USB card. And to manage the light effect of the half-slip, a solar panel fixed on the back of the jacket supplies the necessary energy charge. "Depending on the lithium polymer battery used, the dress lasts 8 to 12 hours", clarifies Alice Giordani.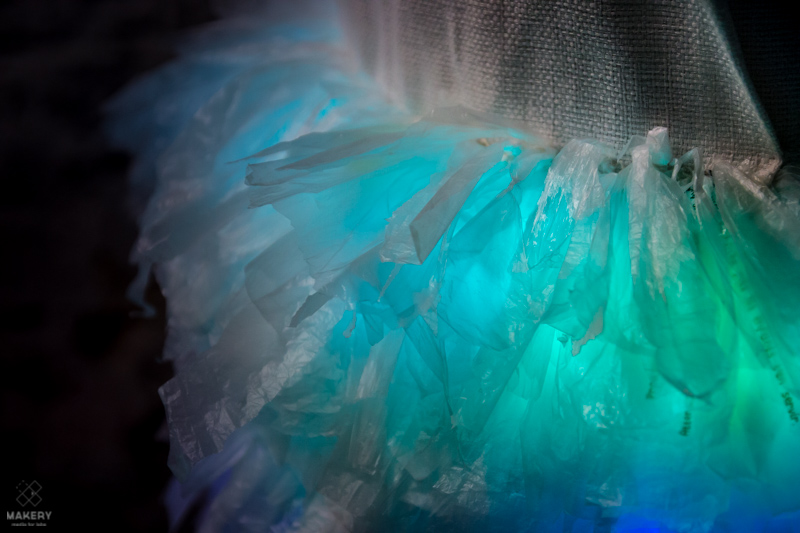 The trick: the top is thought out to be totally detachable, turning the outfit into an evening dress that is sure to draw attention in semidarkness. For the time being, the garment is intended to stay unique. But Alice Giordani does not rule out the possibility of producing the jacket in small series. "You could just as well use it to charge a smartphone, for example."
In the meantime, the Ocean Dress is travelling to China. The day after the closing show, Alice Gras and Claire Eliot, vice-president of the brand new Fashion Tech Federation, are taking it to the Beijing Design Week to demonstrate French know-how in terms of hi-tech fashion. "Our objective is also to promote these creations internationally, adds Claire Eliot, and show in a single garment all the values that we care about, ethics, a collaborative spirit, creative technology, and environment."
All the electronics and programming of the dress on Alice Giordani's GitHub