/ News
Chris "Akiba" Wang in the rural community of Kozuka in Chiba, Japan. © Cherise Fong
Hacker Farm: sustaining the DiY lifestyle in rural Japan
Amidst the rice paddies of Chiba in Japan, three co-founders of Tokyo HackerSpace created Hacker Farm, a rural hackerspace to build stuff and live green.
Kamogawa, special report (words and photos)
In the beginning, it was about artisanal cheese, rice paddies, organic food and sustainable farming. Then it was about cheap rent in the countryside.
Two years ago, Hacker Farm was the new project of the three Chris, all former founding members of Tokyo HackerSpace: Chris Harrington, 28-year-resident of Japan, saxophonist-engineer-translator who moved to Chiba several years ago to live a sustainable lifestyle; Chris Shannon, engineer and restaurant chef; and Chris Wang, a.k.a. "Akiba" (the nickname of Akihabara Electric Town in Tokyo), 12-year-resident of Japan, engineer and consultant specialized in environmental monitoring, cheese-lover.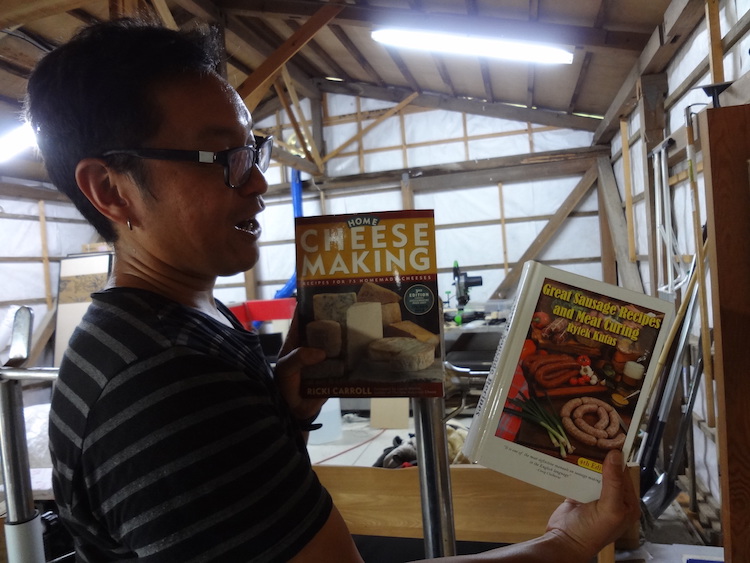 Today, Hacker Farm is not a farm but a concept, a lifestyle spread out over several spaces, and above all a community of individuals who decided to ditch the city in order to devote themselves fully to DiY country life. Notwithstanding, Hacker Farm aspires to be a hackerspace specialized in agricultural projects that hosts hackers-in-residence.
Situated amidst the rice fields of Kozuka, a rural commune within the seaside city of Kamogawa (pop. 34,000) in Chiba, two hours east of Tokyo by train and half-an-hour from the station by bus, Hacker Farm is nestled in the hills, and consists of a few distinct spaces in constant communication.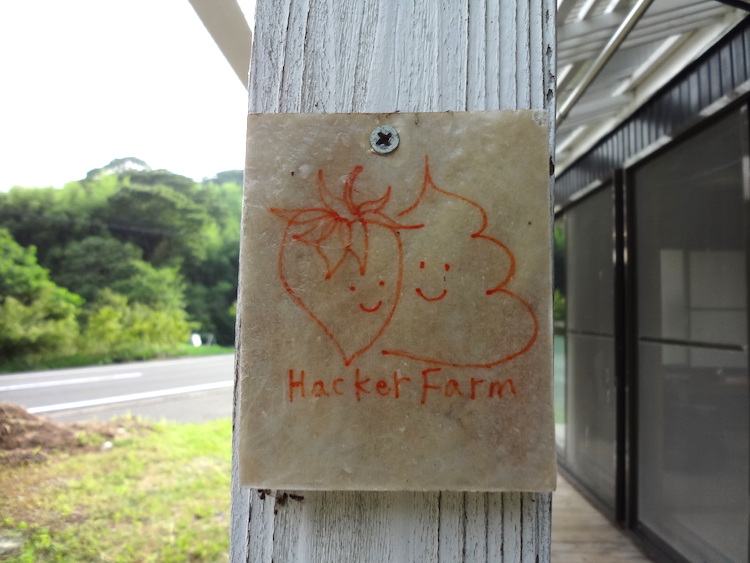 First, there was the original eponymous site—three little buildings on the side of the road rented for the equivalent of a few hundred euros per month, inhabited and managed mainly by Akiba, who moved in a year and a half ago. He and Chris Harrington spent several months fixing things up and installing gigabit fibre, server racks, electronics, etc. (Bonus: free land for whoever wants to cultivate it!) The place known as Hacker Farm proper includes the lab, the storeroom and a co-living space.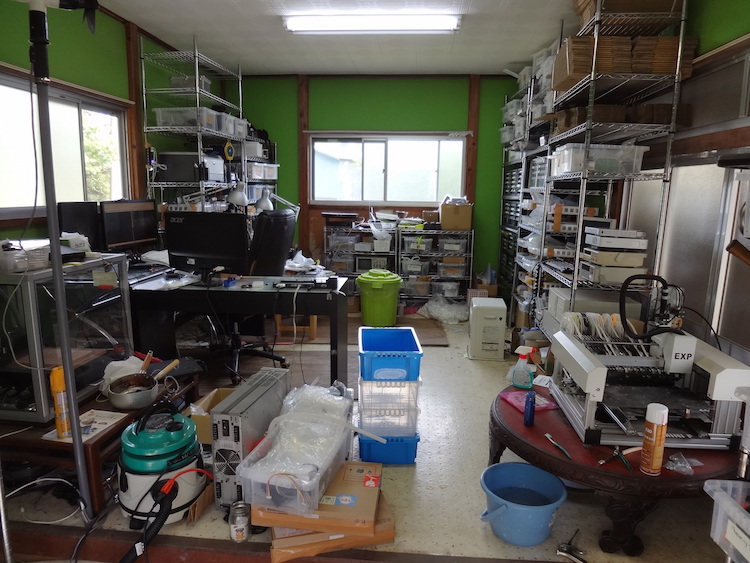 The lab is a sort of fablab teeming with machines, materials, tools and components—a scanning electron microscope, five oscilloscopes, a CNC for milling out copper boards, a pick and place machine for the automated assembly of printed circuit boards, all kinds of hand tools, projectors, woven fibre-optics for luminous fabric, boxes filled with old cell phones and tablets for a mobile device repair workshop, compact cameras for a photo shoot-retouch-layout workshop for children in the Himalayas, other projects in waiting… and Akiba's PC, which contains 12.5 terabytes of mirrored storage, including e-books and video training archives, all shared on the local network.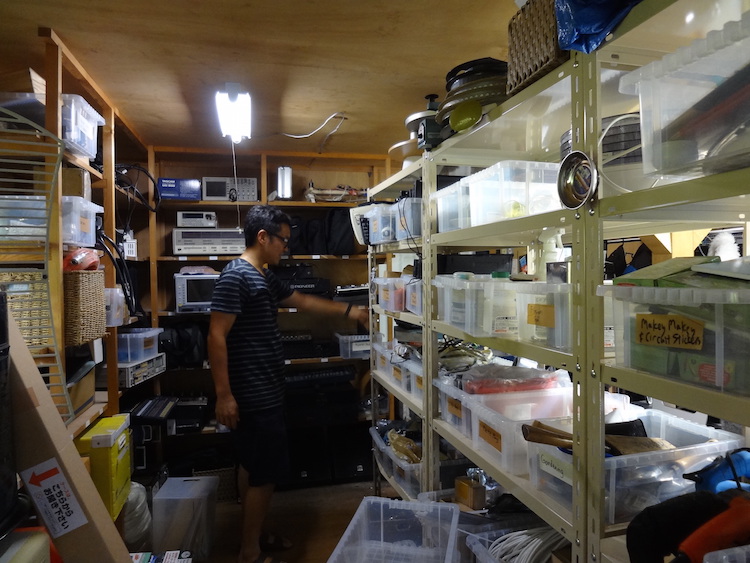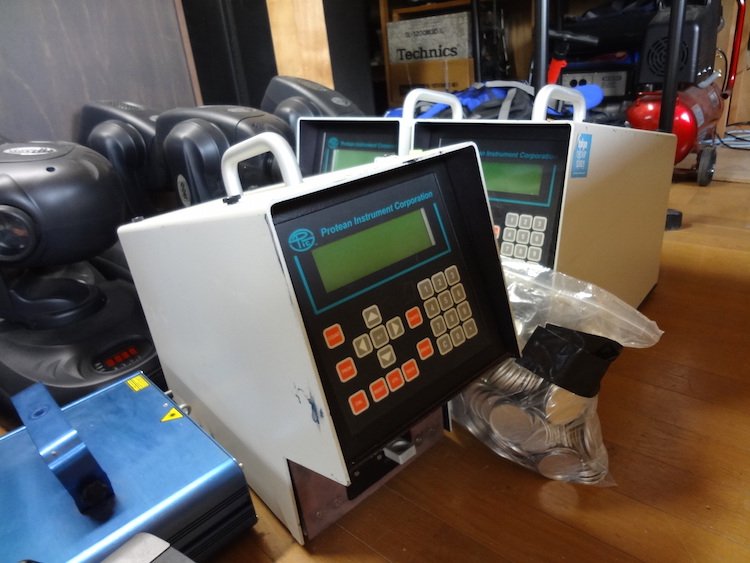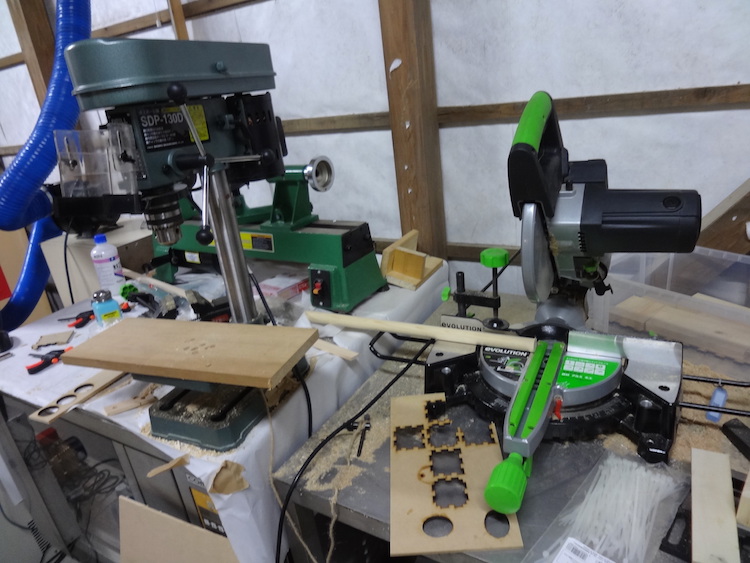 Next to the lab, just as well organized with its diligently labeled boxes, the storeroom holds the bigger fabrication tools (laser cutter, wood lathe, wood cutter, industrial oven and refrigerator), home repair tools, farm hand tools (pitchfork, shovel, hoe…) and stage equipment (laser lights, fog machine, amplifiers, audio mixers, turntables and more projectors). (Akiba is a former dancer who still works with performing artists—most famously Wrecking Crew Orchestra, a Japanese group of "luminous" hip hop dancers.)
Among other recycled or refurbished items are Thinkpads, docking stations, keyboards, monitors, kinects… As for the books, Akiba shamelessly says that he will burn a lot of them (here everyone burns their own trash), because he has electronic copies.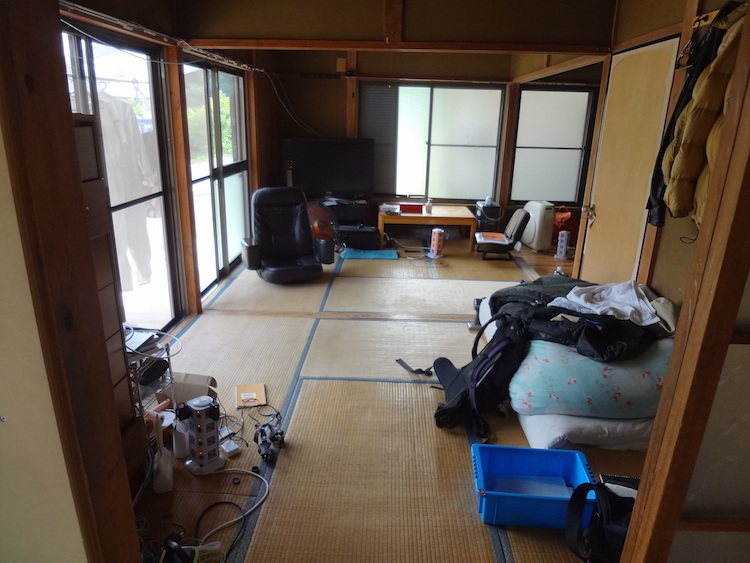 The co-living space takes the form of a small traditional Japanese house. At night, a bat-sized cicada greets us in the entrance. This weekend, four of us sleep together on the tatami mats under industrial fans in the summer heatwave. We chat till late, appreciate the super high-speed 600 Mbps fibre-optic connection, then drift off to sleep in the rural calm.
Projects
The next morning, little solar lamps begin recharging right after sunrise around 5 AM.
They were originally designed by Akiba, in the general chaos that followed the earthquake, tsunami and nuclear explosion of March 2011 in northeastern Japan—one project among many, of which the most high-profile became Safecast.
The latest revised model of the "Kimono Lantern" consumes significantly less energy thanks to a Chinese chip, for a total fabrication cost of about US$1.50.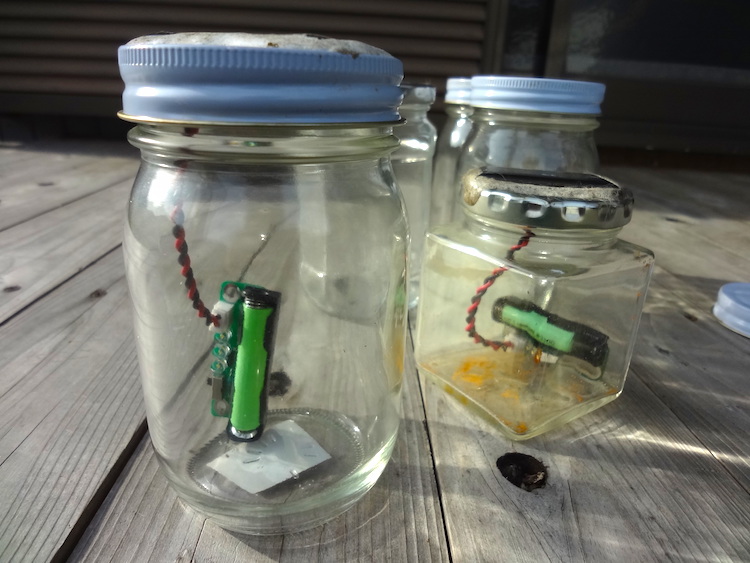 But Hacker Farm's first star project is Techrice, in collaboration with Freaklabs, Akiba's own "open source wireless" company, and Future Lab, a small team of young engineers and designers within the Digital Garage corporation in Tokyo. Techrice is a system that allows farmers to immediately check the status of their rice fields, which are sometimes located far from their homes, without having to go there every day.
A waterproof box contains sensors to detect water level, temperature, humidity or other customizable variables, as the circuit sends the data into the Cloud, where it can be accessed online or from a smartphone app. Cutting-edge technology for an ancient culture.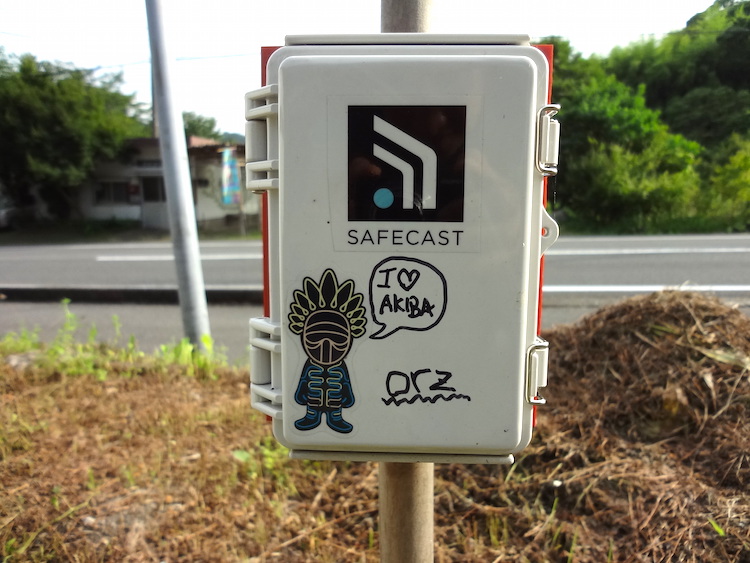 Akiba hopes to eventually attract other people to collaborate on catalyzing projects, like Safecast in times of emergency, but also that bring together artists, engineers and local residents around the common goal to improve everyone's quality of life. Another project in discussion : tracking wild boar for legal hunting, as these invasive creatures can destroy entire crops.
Spaces
Serendipitously, in addition to the original Hacker Farm domain, other interesting spaces became available in Kozuka over time, just a 10-minute walk away. Among these reappropriated buildings, the most laid-back is perhaps the space called Maison Bleue, named after the French song describing a house perched on a hill in San Francisco (and also to avoid the haunted name of Suicide House, or the unfortunate reason for the exceptionally low rent…)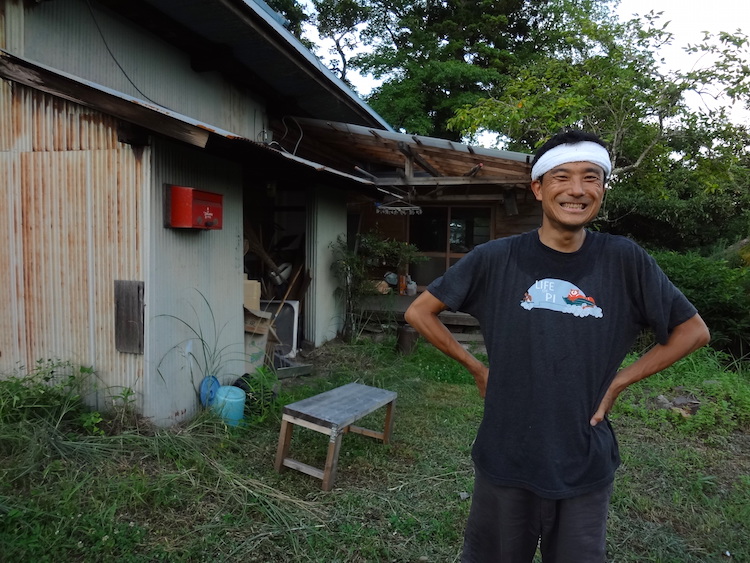 For the past several months, a new spirit occupies the premises : Masa, computer engineer and automobile enthusiast who used to commute three hours round-trip in his Mustang every weekend to help renovate the space… before quitting his salaryman job and his outer-suburb apartment to live at Maison Bleue full-time. In parallel with the repair work on the house, Masa will also continue his freelance programming work remotely.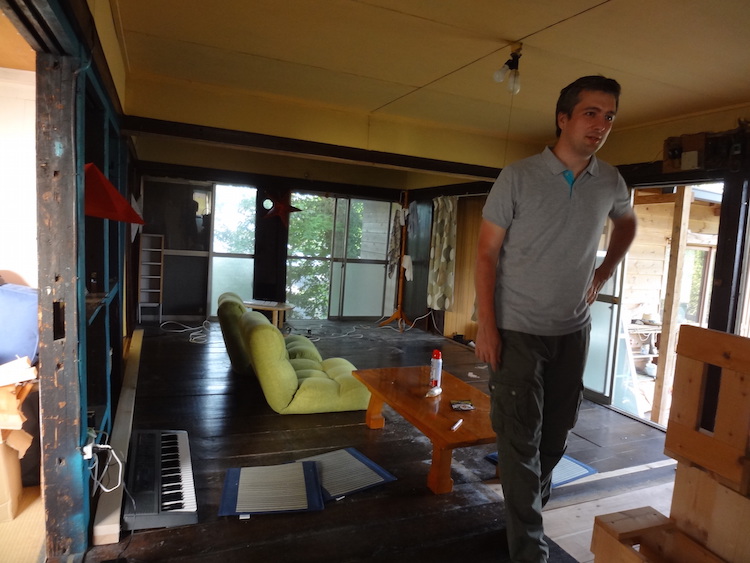 The re-installed flooring, large open living room and low sofa-chairs assimilate this evolving co-working space to a mountain chill-out lounge surrounded by forest. For Masa is not alone.
Every day, Yves, former member of Tokyo Hackerspace and instigator of hackerspaces in Lyon and Grenoble in France, comes to work on engineering robots that build structures, virtual reality through goggles, and quadricopters. As a new resident of Kozuka, Yves lives in an air-conditioned house with his wife and young son, but comes to this rustic co-working space under construction to work in peace on a refurbished computer. In exchange, he also helps with the housework, both inside and out.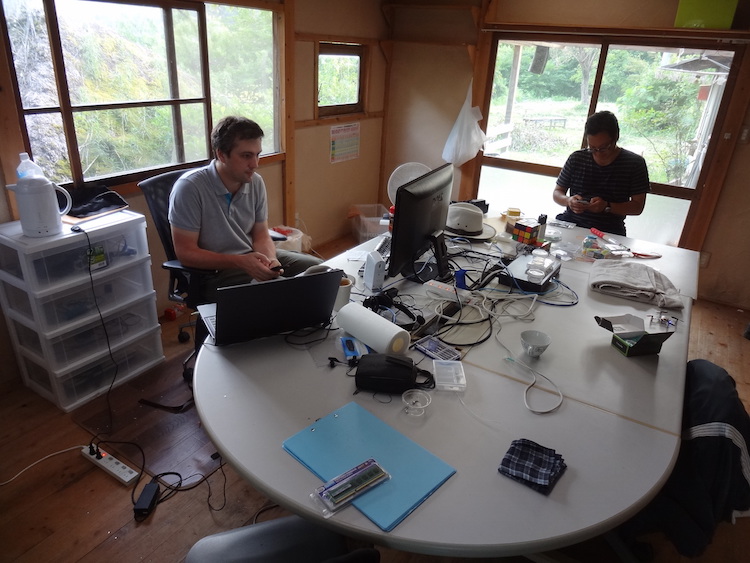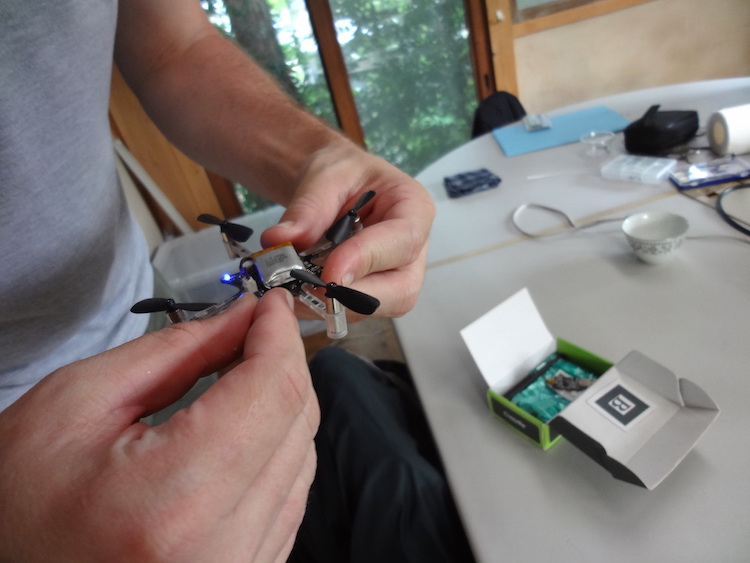 Arts
For several years in Kamogawa, also known as a hippie enclave, at least three artist collectives come together every summer to organize the Kozuka Art Festival. This year, Hacker Farm was part of it. Or rather, it participated via its third space, baptized Satoyama Design Factory (SDF). This former café at the center of the community closed down, but Akiba and a few other local residents now co-rent the venue, and since its re-opening in October 2014, have re-introduced it as a space for performing arts and the community.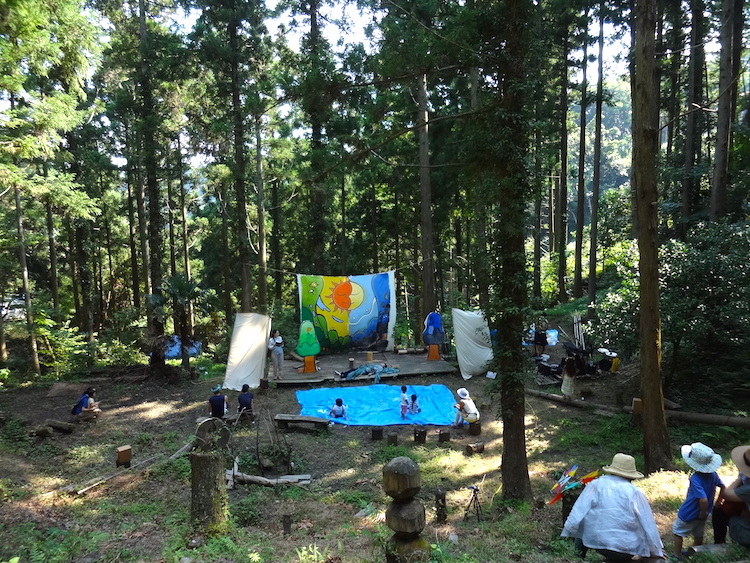 In addition to resuming the traditional farmer's market outside, SDF shows films, lends the venue to local musicians, hosts large feasts in winter and intimate barbecues in summer. Last autumn, Chris Harrington's wife and professional belly dancer Elli organized a one-day Awa Belly Dance festival there.
For this summer's 6th Kozuka Art Festival, Miyo Tomizawa, an artist who often stays at Hacker Farm to draw, occupied SDF to present a projection of hundreds of portraits she sketched of people met randomly in the street, on the train, in the city or elsewhere.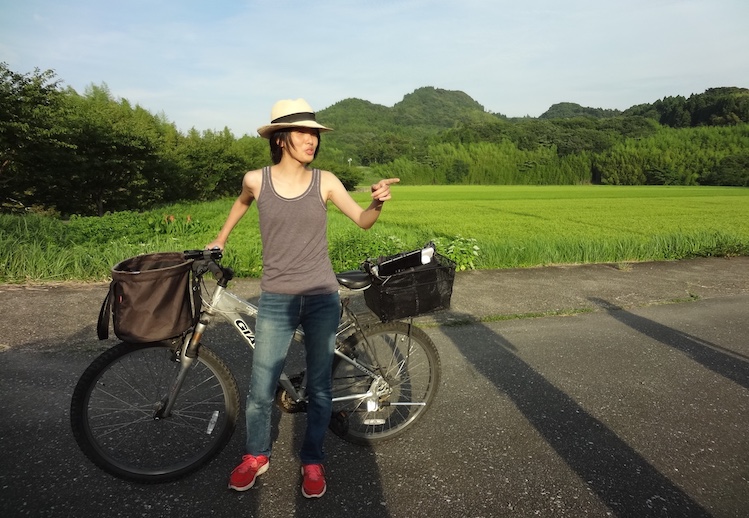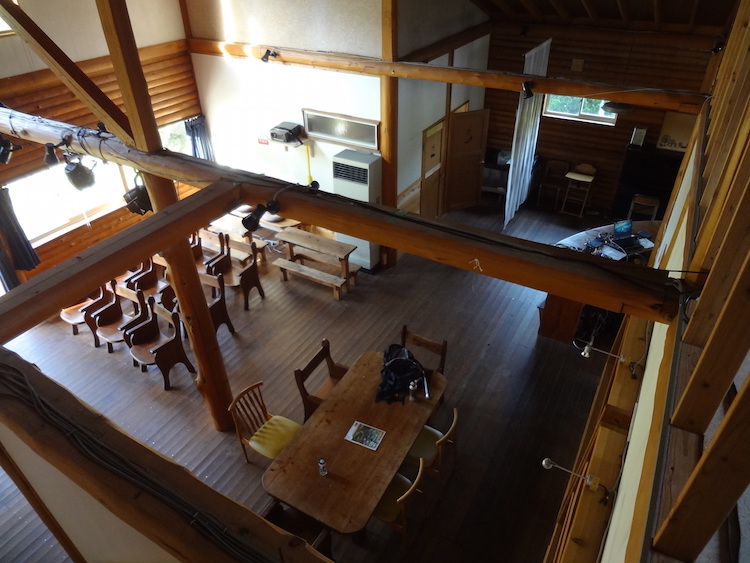 Considering the open-air space around the café (almost one acre of land), Hacker Farm's exponentially growing community talks about organizing a music festival, experimenting with silent theater using headphones (so as not to disturb the neighbors), star-gazing parties through modified telescopes… Once liberated from financial demands and urban stress, here in the countryside, ideas flow, projects multiply and opportunities abound.
Even without Akiba, who spends several months of the year outside Japan, for example to consult on a project in the Himalayas or to provide training in Shenzhen in China, the spirit of Hacker Farm spreads through word-of-mouth, both in Tokyo and locally, intriguing the residents.
At the Hacker Farm domain, the owner stops by to drop off some cucumbers as a friendly gesture. The next-door neighbor greets Akiba as he prunes his trees. Farmers regularly give Akiba fruits from their experimental crops, which are not for sale. In front of SDF, another neighbor introduces himself and offers us one of his gourds. At the art festival or at the supermarket, almost everywhere he goes, Akiba-san is recognized and appreciated for his contribution to the community, even if people don't always understand exactly what he does.
If someone had told him a few years ago that one day he would be living in the countryside, Akiba would never have believed it. Today, "It's the best decision I've ever made… It's actually not that difficult to do what you want, to live the way you want to live."