/ Proto
The Rub-A-dub architectural spores. © AADRL Spyropoulos Design Lab
A design lab revisits the game of life in architecture
The Spyropoulos Design Lab in London explores a "conscious" architecture driven by design and Arduinos according to behavioural patterns.
The "game of life" is a simulation of cellular life developed by the mathematician John Conway in 1970. Using several cohabitation rules, pixels are born and die in clusters that fascinated even the physician Stephen Hawking.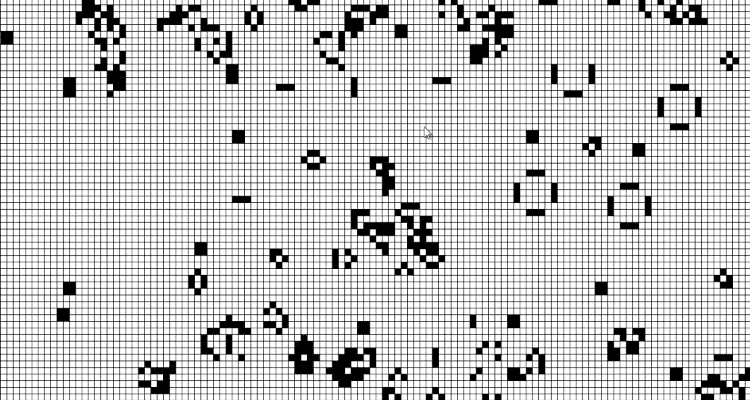 Inspired by this impression of life, Theodore Spyropoulos, an architecture teacher from London, and his students designed a horde of little machines that, combined in swarms, regenerate spaces inhabited by man.
Theodore Spyropoulos and his brother Stephen head Minimaforms, an experimental architecture and design studio in London. Theodore's hobbyhorse is adaptive ecology that he theorised in the book Adaptive Ecologies: Correlated Systems of Living, published in 2013.
2015-03-18 Minimaforms: Stephen Spyropoulos + Theodore Spyropoulos: https://t.co/5316aeoKDp via @YouTube

— Lei GUO (@lei910) April 5, 2015
Adaptive ecology and generative urban planning
This is not about energy conservation or protection of the environment. Ecology must be understood in an etymological sense: a science that studies living beings in their environment and the interactions among them. The architect states in his book that the mingling of information, life and matter suggests the possibility of a better synthesis between machines, humans and their context. According to him, the architecture of today must embrace a model of adaptive and participative life.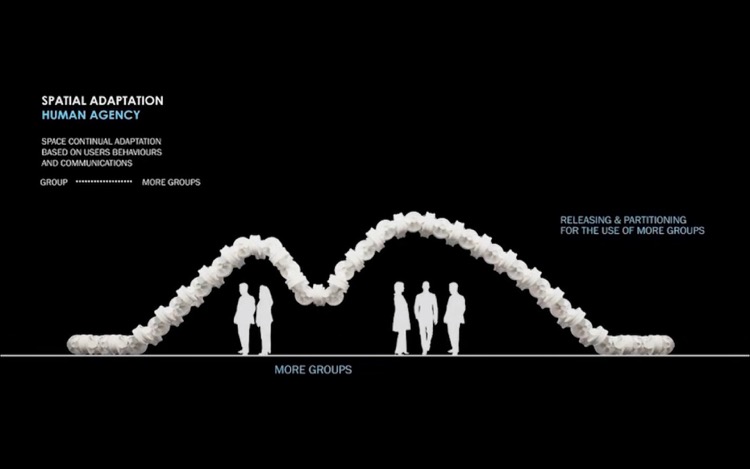 In response to urban planning models that favour bottom-up planning, Theodore Spyropoulos, assisted by the designer Mustafa El Sayeda, gave his students completing a master's degree in architecture at the AADRL (Architectural Association, Design Research Lab) the opportunity to explore a generative approach to urban planning. Through the comprehension of behaviours and layout possibilities, the objective was to be in a position to meet the public's needs and create new means of consumption in the city.
The video that recounts two years of research at the AADRL Spyropoulos Design Lab:
Behaviours and features close to the living
On the basis of computer models, Arduino maps and 3D printing, the students in architecture designed systems capable of learning, assembling themselves on their own and structuring spaces. Rub-a-dub, Hypercell, noMad, are among the ten or so proposals of architectural agents who, according to Theodore Spyropoulos, "go beyond the set and finished" to become driving forces for evolution.
In terms of behaviour, on a micro scale, magnetism was used as a priority to generate the interaction between items. On a macro level, projects favoured stigmergy, a mechanism of indirect coordination that can be observed for instant with ants.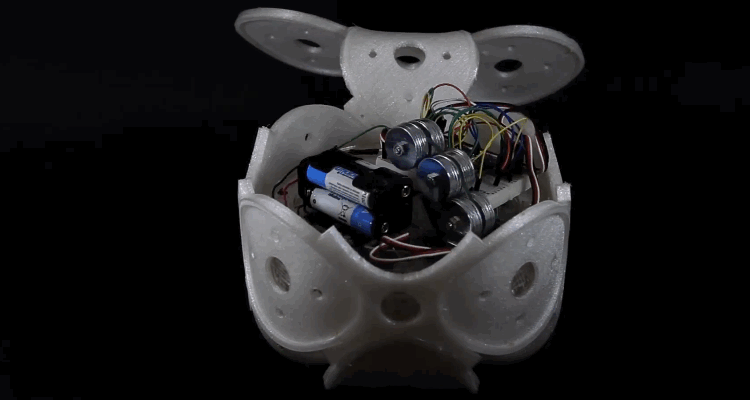 For example, the noMad project stages self-structured polyhedrons. On a small scale, an item can rotate to agglomerate with another polyhedron to develop into a nomadic body: features and a specific behaviour close to the living that constitute the ecology of machines so important to Theodore Spyropoulos.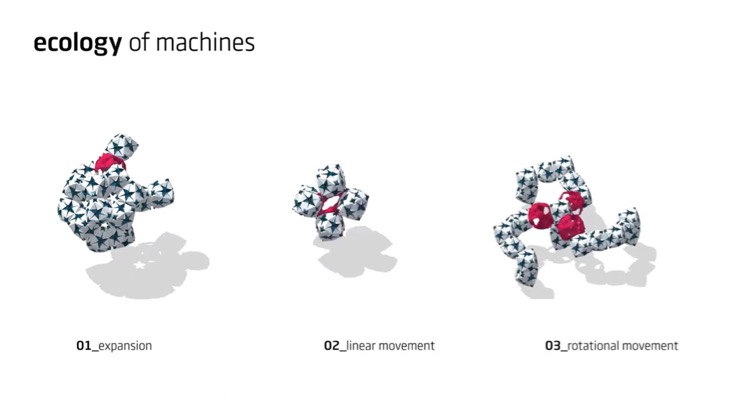 In large populations, items gather the digital layer of the city in real time to synchronise their transformation and obtain flexibility of space on the scale of a district. In theory for now, but waiting to observe the city twisting itself to anticipate our wishes, the AADRL Spyropoulos Design Lab constitutes, with the classes of students, a swarming bestiary worthy of a Cronenberg film.
More about AADRL Spyroulos Design Lab