/ Lab Life
Tokyo Hackerspace has occupied 4 spaces in 6 years. © Cherise Fong
Tokyo Hackerspace: hack this space
Why is there only one hackerspace in Tokyo, home of legendary Akihabara Electric Town? Tokyo HackerSpace has moved around a lot over the past 6 years, all the way to this quiet garage northwest of the city, where Makery paid a visit.
(Tokyo, from our correspondent)
Every Tuesday night from 7:30 PM, in a garage situated along the river not far from Naka-itabashi station, 4 stops outbound on a small private train line departing from the northwestern hub of Ikebukuro, Tokyo HackerSpace holds its weekly open meeting in English. First to arrive, Henri, an engineer from Finland who has been living in Japan for 17 years, tinkers with his motorcycle.
"I've been a member of the hackerspace for about 2 years," he says. "I do electronics, Raspberry Pi, motorcycle. Other members make ice cream, their own cheese. We're a bunch of people who just like to make things. This is the garage space, there's an office space upstairs. We just chat upstairs. All our tools are downstairs, for people who want to get their hands dirty. We also do movie nights, retro game night, when we drink and play. We have about 20 active members. On Wednesdays everybody speaks Japanese, whether you're Japanese or not. About 5 to 10 people come on both nights. It's varied, people are busy… All this stuff takes time. Getting here takes time. I think time is the most precious resource, in Japan, at least."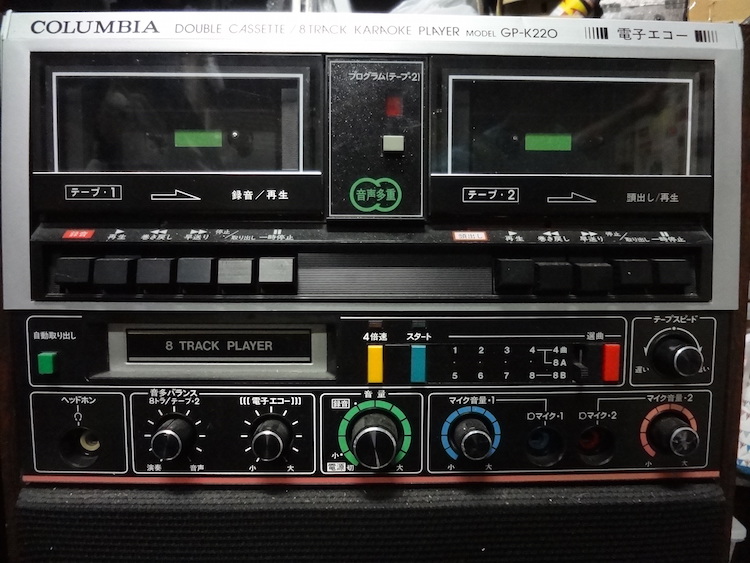 Henri is currently working on a Raspberry Pi, connecting it to an LCD panel, sensors for temperature, humidity… Charlie, a new member from Seattle, wants to do an Arduino project to test the resistance of USB cables. Many of the components are sourced from Akihabara, but the shelves are full of boxes and discarded equipment : 8-track/cassette karaoke machine, vending machine, oscilloscope, solar panels, orphaned motherboard, lots of cables… And of course, the resident laser cutter, metal cutter, wood cutter, drill, mill and other power tools. The more fragile 3D printer lives upstairs.
A large metal cabinet plastered with stickers from around the world shows off the hackerspace's visits from overseas : Hackaday, Ultimaker, Lonestar, Maker Faire and Noisebridge, but also hackerspaces in Prague, Brussels, Stuttgart, Singapore and Pittsburgh.
Tokyo HackerSpace has also come a long way since its launch in 2009, inspired by Mitch Altman's speech manifesto in Tokyo, explaining his determination to start hackerspaces everywhere he goes.
Mitch Altman evangelizes the cause for hackerspaces at TED (2012):
Emery Premeaux, an engineer from Arizona who has been living in Japan for 9 years, is the chairman and a co-founding member of Tokyo HackerSpace, as well as the author of the book Arduino Projects to Save the World, published after the success of the collaborative Safecast project to independently measure nuclear radiation levels in 2011.
Emery Premeaux, co-founder, on Tokyo HackerSpace:
Indeed, the big difference between a hackerspace and dispersed individuals each tinkering away alone in their room (as seems to be the norm in Japan), is space. Tokyo HackerSpace's turbulent youth has passed through 4 spaces, from upmarket luxury to down-and-out.
Expelled
The group's very first (self-financed) space was a 2-storey house with a huge kitchen, 5 rooms, garden and carport in a high-class central neighborhood. The weird foreign collective with the noisy tools was expelled as soon as their lease expired 3 years later. Then they shared an office inside a coworking space, but didn't get along with their more conservative coworkers. So they rented a small garage downtown, but again were asked to leave at the end of their 2-year lease. Four months ago, they moved into this quiet, more spacious garage (with kitchen upstairs) in northwestern Tokyo, where so far they have received no complaints.
Among their Japanese members: a classic car engine otaku who was so happy to have a space where he could bring in his engine to cut, drill and weld that he co-signed the lease; a teenager who dropped out of school to pursue his passion for electronics and computers ; a divorced woman who is aiming for a new career in software development, while taking the opportunity to learn about Raspberry Pi, functional hardware applications and practice English, and who also brings along her teenage daughter to initiate her to DIY culture too. The common value shared by all? Independence.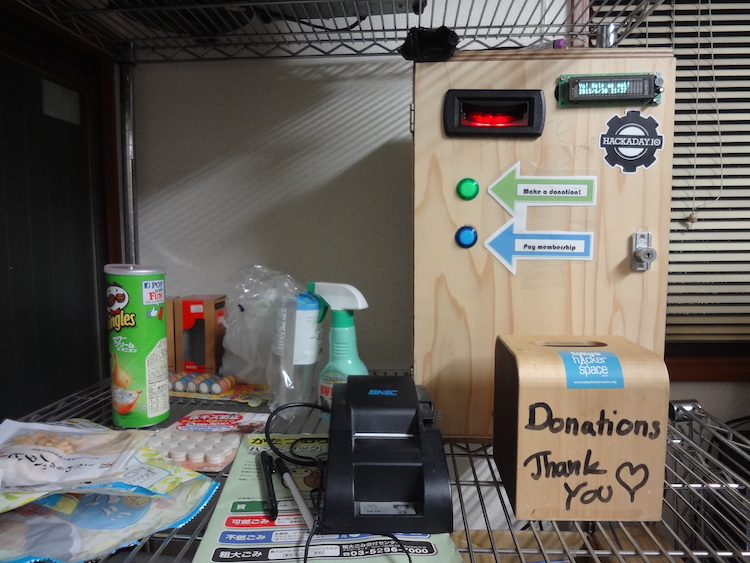 A few weeks ago, the hackerspace was finally facilitated with a sitting toilet. Electricity, lights and optical cables are still being wired… The current lease is for 3 years.
"This is the only place where I feel like at the end of 3 years, there will be no problem," says Emery. "It's only been a few months, but I have a feeling, fingers crossed, that we'll be here for 6 years."
Next general meetup is on July 26, to literally "Hack the Hackerspace"!
More info on Tokyo HackerSpace website
Read "Arduino Projects to Save the World" in PDF