/ Proto
How do you know if there's horse meat in your lasagna? La Paillasse biohacklab has a solution. © CC freepix.eu
When biohackers detect horse meat on your plate
Is it possible to know what you're really eating? Biohackers and start-ups are making prototypes to reveal the hidden side of our food.
Industrial meat scandals, random traceability, explosion of GMOs, food products' declining nutritional content, pseudo-organic… For consumers, knowing what they're putting on their plates comes down to a safari hunt. But these questions titillate biohackers, who from green hackathon to food hacking are making an increasing number of prototypes to analyze food, manage waste and return to a reasonable economy of agricultural production—somewhere between public health issue and citizen awareness. Because the race for efficiency always comes at the cost of food quality and the diversity of cultivated products.
In his study Still No Free Lunch, Brian Halweil, independent researcher at Worldwatch Institute, analyzes ten academic studies published since 1997. The edifying conclusion confirms "the rise of the 'empty calorie' : fat, sugary, but useless to our health". According to the French online journal Rue89, "Even in foods reputed to be healthy, vitamins A and C, proteins, phosphores, calcium, iron and other minerals or oligo-elements have been slashed in two, 25, even 100, in half a century." In short, today we would have to swallow 100 apples to get the same level of nutrition as in a Golden apple from the 1950s !
Tracing DNA on our plates
In 2013, Paris-based biohacklab La Paillasse developed a "quick and dirty" version of DNA barcoding, which biologically analyzes food in order to determine its genetic fingerprint—and by extension, to know if a food element has been genetically modified or where the meat came from.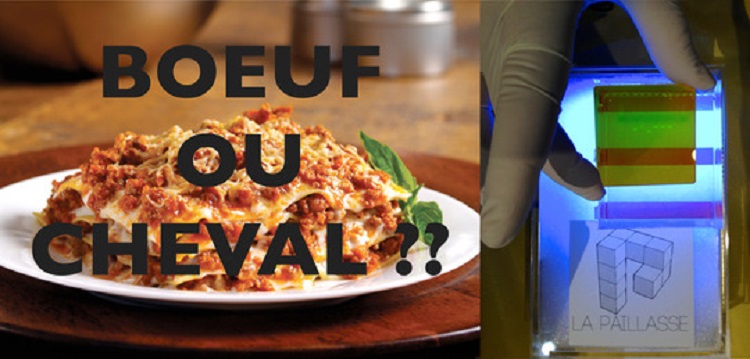 The only problem is that this method, while very practical for "determining what your lasagna is made of", is long and costly when it comes to European industry leader Eurogentec, which charges 200 euros and requires three days to analyze each sample. So Thomas Landrain, co-founder of La Paillasse, came up with the idea of "cracking the current methods and developing the cheapest, fastest DNA barcoding method possible in Quick and Dirty mode! By sacrificing sensitivity in the method, we managed to reduce analysis time to 4 hours (instead of 3 days) for a cost of 3 to 5 euros (instead of 200 euros) per sample," as he explains on the biohacklab's website. The protocol is documented on La Paillasse's wiki, as they offer DNA barcoding workshops for those who want to get their feet wet.
Putting food through the lie-detector
The other parade to know what's really inside your fruits and vegetables? Give them the lie-detector test. Long reserved for the food-processing industry, nutrient analyzers are gradually emerging on the market. In 2014, Israeli start-up Consumer Physics raised 2.8 million dollars on Kickstarter (for a goal of $200,000) to make the prototype of their SCiO, a pocket molecular sensor that will go on sale for $249 by July 2015.

The concept is simple—using Near Infrared Spectroscopy (NIR), the device scans the food and analyzes its molecular fingerprint directly on a smartphone. Sugar, fat, presence of allergens, it analyzes not only food but also medicine, soil, etc.
Demo video of SCiO prototype :
On another, much less "maker" scale, Lapka Organic is a U.S.-made "organic" analyzer of fruits and vegetables that sells for 79 €, designed to identify the quantity of nitrates due to the use of synthetic fertilizers. So it can tell you if the "organic" apple you bought was indeed grown according to the agricultural standards of organic produce.