/ News
10 prototyping kits scanned by Makery. © DR
Top 10 hardware prototyping kits (continued)
As the Internet of Things takes off, prototyping kits are all the rage. Makery shows you what's new in 2015.
Mini or moveable? Prototyping circuit boards are everywhere, especially supported by crowdfunding campaigns—to the point where the heavyweights of the electronics industry are following suit. Makery selected 10 for their promises and qualities, including 7 newbies and 3 on the radar since late 2014, which have since confirmed their success.
See the Top 10 of December 2014
7 prototyping circuit boards to follow closely
Raspberry Pi 2: most awaited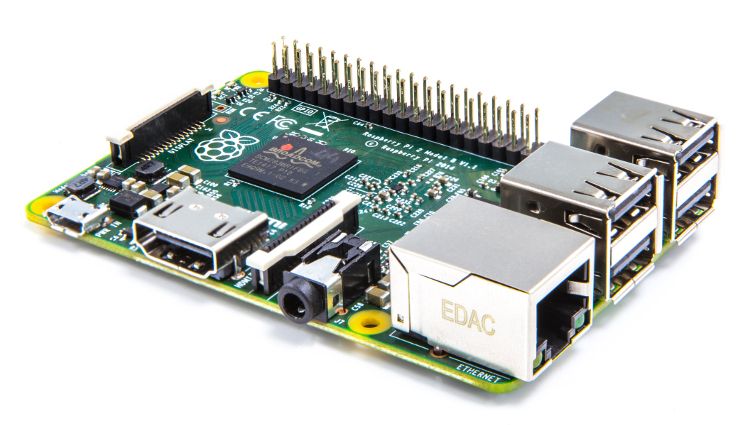 What is it? The second generation of Raspberry Pi 2 nano computers was launched on February 2, 2015. Its predecessor's success was global with 5 million distributed worldwide.
What can it do? Faster and more powerful, Pi 2 now supports Windows 10, whereas the previous model ran only under Linux.
How does it work? It has a Broadcom BCM2836 processor and 4 ARMv7 ARMv7 cores running at 900 MHz along with 1GB of RAM. It's delivered raw, i.e. without screen, power supply, keyboard or MicroSD card for internal storage.
Who makes it? The designer of these low-cost computers is David Braben, British video game programmer. In 2009, he created the Raspberry Pi Fondation, a charity promoting basic programming skills in schools.
How much does it cost? 35-40 € depending on the vendor.
More info on the Raspberry Pi Foundation website
Pozyx: most mobile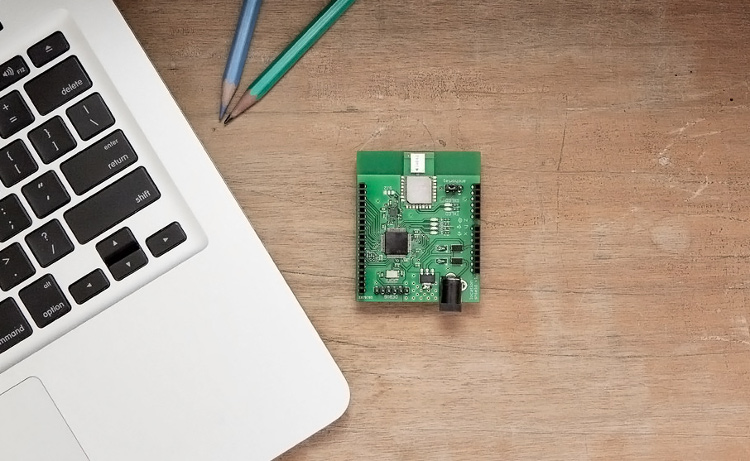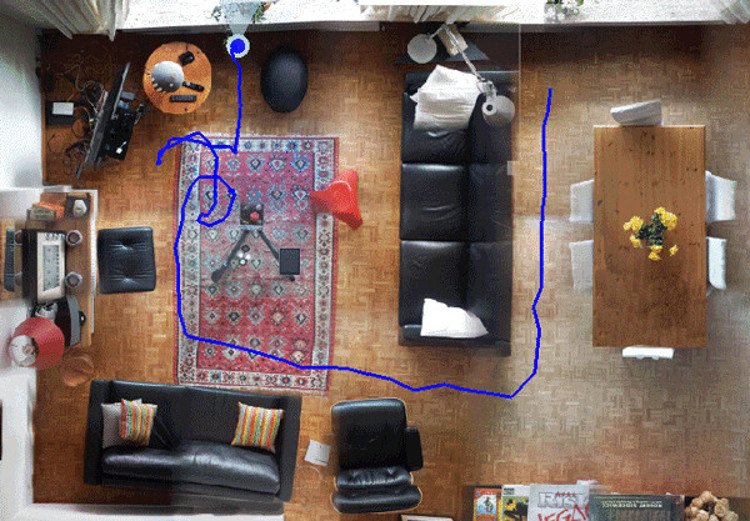 What is it? Compatible with Arduino, Pozyx is a module that localizes and detects motion, both indoors and outdoors.
What can it do? Accurate to the centimeter, Pozyx stands out from other positioning technologies such as Bluetooth, RFID and Wifi, whose error margin varies from 1 to 5 meters, or GPS, which varies from 6 to 10 meters. Another advantage is that its signal goes through walls, making it ideal for indoor use.
How does it work? The system uses ultra-wideband (UWB) radio technology. Similar to GPS, it positions 4 sensors inside the room to localize the board, which records position and orientation data in real time.
Who makes it? Belgian doctoral candidate Samuel Van de Velde, who worked on indoor localization technologies for 5 years at Gand University, as he found no accessible platform to test his algorithms and applications. So, might as well make his own…
How much does it cost? More accessible than a satellite, but not exactly cheap, ranging in price from 179 € for the basic 2 modules to 899 € for the complete developer's kit.
More info on www.pozyx.io website
Ongoing Kickstarter campaign: so far, it has raised 14,800 € of its 27.000 € goal. Campaign ends on July 1, 2015. Launch date: October 2015.
Intel Curie: most mini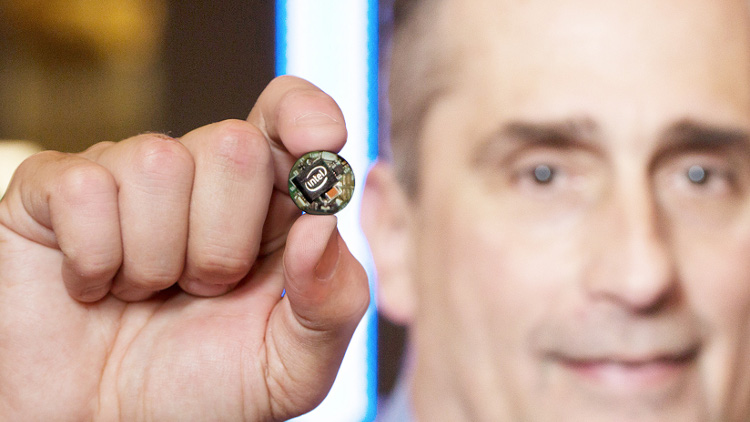 What is it? Unveiled at the latest CES in Las Vegas in January 2015, Intel's latest addition is the size of a button.
What can it do? Perfect for developing wearables and their many applications in the clothing industry, jewelry and other fashion accessories.
How does it work? Intel Curie is based on the same technology as Intel's Quark chips launched in 2013. It comprises a 32-bit microcontroller with 384K Flash memory and 80K SRAM. Equipped with a gyroscope and a 6-axis accelerometer, the board is also powered by Bluetooth Low Energy and runs the open source software Viper.
Who makes it? Intel.
How much does it cost? Still in prototype, it should launch by late 2015.
Intel's CEO directs a battalion of robot spiders at the launch of Intel Curie:
More info on Intel website
Bluz: most in the clouds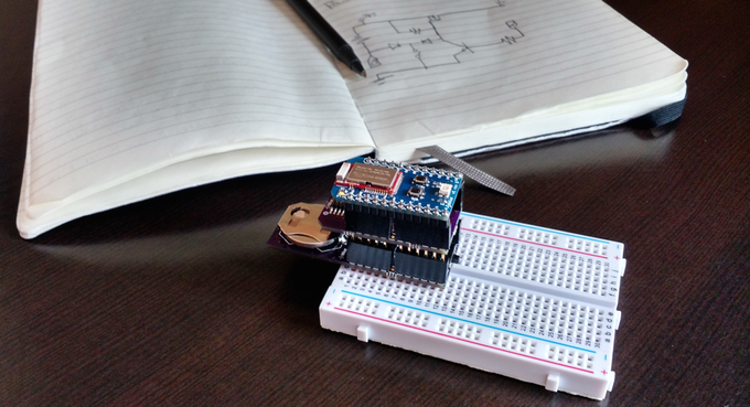 What is it? Bluz is a Bluetooth development kit that connects to the cloud.
What can it do? Make connected, low-energy objects that can be programmed remotely.
How does it work? It's powered by Bluetooth Low Energy, a flat battery that can last several months, even years. Its compatibility with Spark means that Bluz can be entirely programmed from the cloud. Accessible via REST API, the hardware can be programmed remotely from anywhere.
Who makes it? The project was launched by Ben Harris, cofounder of Easier to Use, a company based in Boston, which developed, among others, the Bluetooth GoGlove, to control musical apps such as iTunes, Spotify and Google Play with your fingertips.
How much does it cost? $19 pre-order.
No more need for keys with Bluz and the intelligent lock Open Sesame:
More on the Bluz website
The Kickstarter campaign ended on May 18, 2015. The $67,542 that surpassed its original $20,000 goal was funded by 1,047 backers. Launch date: August 2015.
Apollo: most multi-functional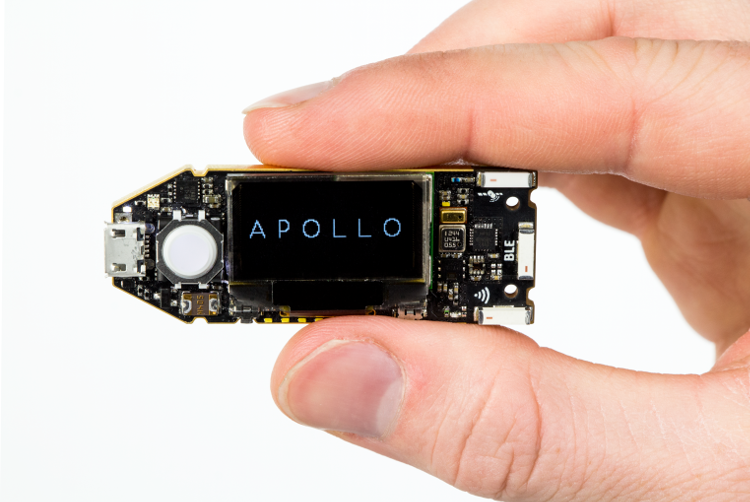 What is it? Mini-sized, yet equipped with 11 sensors, Apollo connects via Wifi or Bluetooth. The board was presented at Maker Faire New York in 2014.
What can it do? Apollo is a real Swiss knife of sensors: temperature, pressure, humidity, light intensity, infrareds, ultraviolets, accelerometer, gyroscope, GPS, magnetometer.
How does it work? It also has a microphone, trackball and comes with an OLED 128 x 64 pixel screen to navigate apps and display data.
Who makes it? Carbone Origins, a little aerospace start-up in California. The project was initiated by a group of students who enjoyed launching rockets in the Mojave Desert. Why call the board Apollo ? Because of its 11 sensors, of course.
Rocket launch demonstration by Carbon Origins:
How much does it cost? N/A (launch date N/A).
More info on Apollo website
LightBlue Bean: most smartphone-friendly
What is it? LightBlue Bean is a Bluetooth-Arduino low-energy microcontroller.
What can it do? Convenient for developing Arduino projects controlled by smartphone, compatible with most platforms.
How does it work? Wirelessly programmable, it uses Bluetooth 4.0. It includes a temperature sensor, accelerometer and supports Windows 8.
Who makes it? Punch Through Design, a hardware design company based in San Francisco.
How much does it cost? Starts at $30.
More info on LightBlue Bean website
Olimexino-Nano: least expensive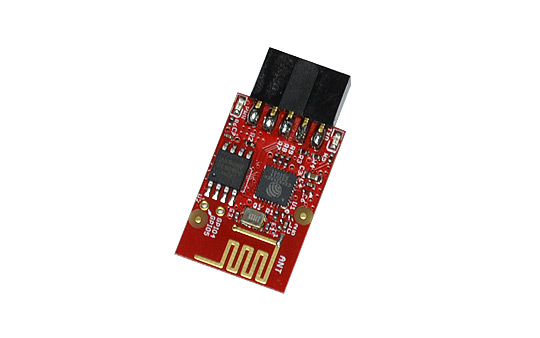 What is it? The Olimexino Nano model (ref. MOD-WIFI-ESP8266 MOD-WIFI-ESP8266) is a small board with an integrated Wifi antenna at very low cost.
What can it do? Given its small size (about 3cm x 1cm) and its integrated Wifi connectivity, it can be used almost anywhere.
How does it work? It runs on all systems. Equipped with an Xtensa LX106 processor, the module comes with 2MB of SPI Flash.
Who makes it? Olimex, a Bulgarian manufacturer of development tools and programmers on the market for embedded products.
How much does it cost? Sells for 5 €, whereas an Arduino combo with the same functions can sell for 40 to 45 €.
Tutorial for getting started with the ESP8266 board:
More info on Olimexwebsite
3 prototyping circuit boards that have confirmed their success
WeIO: most French Touch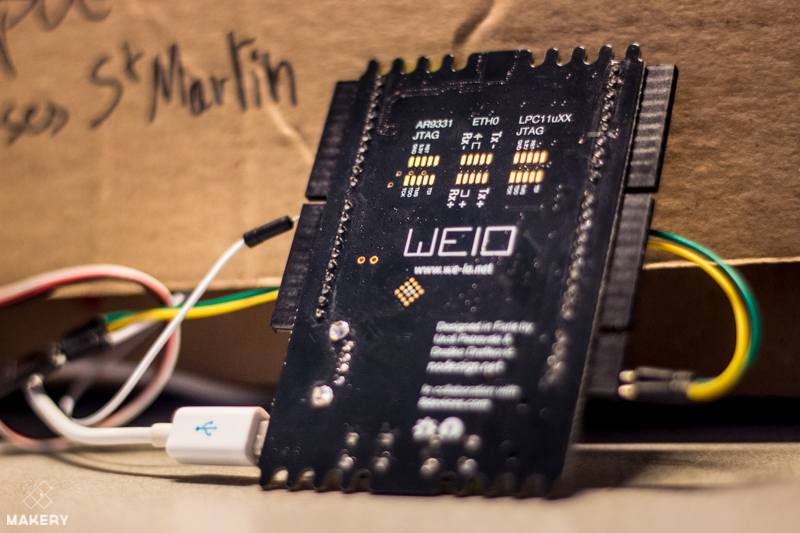 What is it? WeIO is a new programmable circuit board for designers of connected objects.
What can it do? This board is aimed primarily at designers of household objects, so that they can go directly from electronics to application. Makery wanted to see it up close: The WeIO team lent us one of their 10 prototypes for a beta test.
How does it work? The board integrates a wifi connection and a server. It can be coded directly in a Web browser, without dedicated software. WeIO connects to your household wifi, smartphone and any computer within reach of the network.
Who makes it? Uroš Petrevski, Draško Drašković and Jean-Louis Frechin have been working on this project for two years, supported by a rather successful Indiegogo campaign that raised more than 30,000 €.
How much does it cost? WeIO is sold by 8devices for $91, including shipping.
More info on WeIO
Open BCI: the most brainy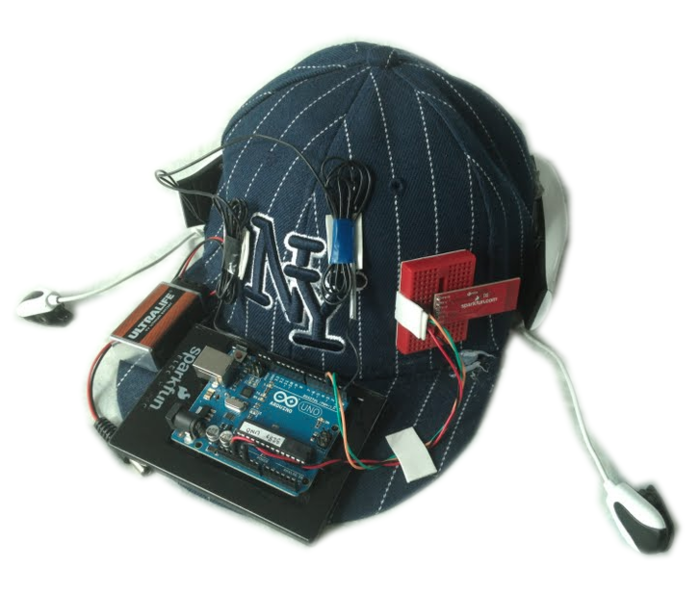 What is it? Open BCI is a customizable brain-computer interface that lets you access data generated by brainwaves. Launched on Kickstarter in 2014, the funds raised doubled its original goal of $100,000, collecting a total of $215,438.
What can it do? For those who dream of exploring the bulb, the Open BCI board is a (relatively) low-cost, programmable electroencephalographic platform for measuring brain activity.
How does it work? The Open BCI board can be attached to the back of a 3D-printed headset, connected to passive and active electrodes.
Who makes it? The initiative comes from a student at Parsons School in New York and his professor. In the beginning, the novice in neuroscience and electronics wired a baseball cap to a smartphone that stored the EEG data. The hack later evolved to the OpenBCI prototype, which was awarded at Maker Faire New York 2013.
How much does it cost? Despite its high cost ($449,99 for the 8bit Arduino compatible kit and $799 for the developer kit), the Open BCI board is a victim of its own success, as the website is currently out of stock. Meanwhile, you can always buy a T-shirt…
Presentation of Open BCI on Kickstarter:
More info on Open BCI website
SAM: the most promising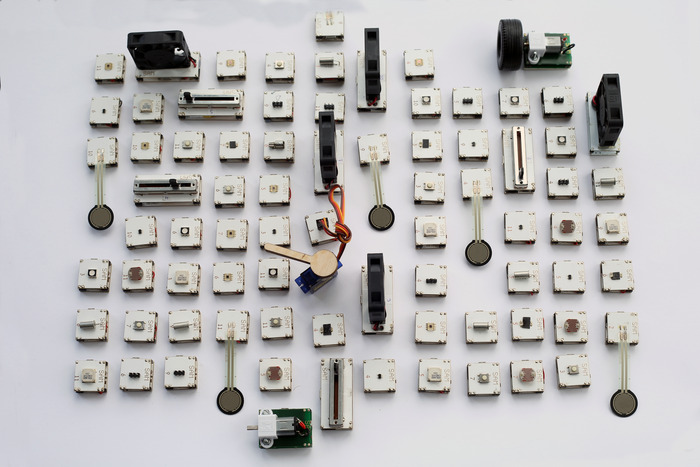 What is it? SAM is a developer's kit for the Internet of Things. In late 2014, its Kickstarter campaign successfully raised over 170,000 €, more than doubling the original goal of 68,000 €.
What can it do? SAM allows you to design objects that react to light, move or vibrate according to pre-established commands.
How does it work? Its simple graphical interface relieves novice users from the learing curve of coding. All the modules integrate a Bluetooth chip and can be connected to each other and the Internet (switch, lamp, motor, thermometer, light sensor, cloud module…) without any existing knowledge of electronics.
Who makes it? The concept was developed by the Belgian Joachim Horn, whose start-up is based in London. SAM was already awarded 3 prizes at the last Maker Faire in New York.
How much does it cost? The SAM series includes 5 kits, from the simplest comprising 3 modules (129 €), to the pro kit priced at 489 €. The first kits will ship in June 2015 according to the pre-order website.
Presentation of SAM on Kickstarter:
More info on SAM website